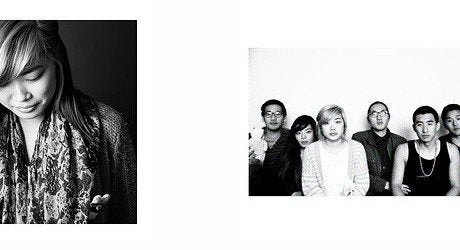 If you caught Jimmy Kimmel Live! last Wednesday, you may have wondered about the night's mysterious musical act. This indie band didn't have longtime fans clearing their DVR queues in anticipation. Neither were they on the show based on the strength of a million dollar record deal a la Kreayshawn, the rap phenomenon who performed on the show the night before. In fact, Monsters Calling Home, the likeable indie folk band who made their national debut last week, still have no record label behind them at all. They do, however, have Hondas.

"We thought it would be an interesting gimmick if we recorded in our Hondas," Alex Hwang, the band's lead singer, told the Huffington Post over the phone. The gimmick in question -- a video for the band's breezy track "Fight To Keep" -- worked. In it, Hwang and his bandmates Daniel Chae, John Chong, Sally Kang, Joe Chun and Jennifer Rim, who at the time couldn't afford a studio space, switch off playing their instruments inside the cramped interiors of their Honda Fit, Accord and CRV.
Why such particular taste in car brands? "We always joke that maybe it's because we're all Asian," Hwang laughed, a nod to the Asian blogger line that "Honda Civics are an Asian car." Hwang's and his bandmates' parents emigrated from Korea, a move that inspired the West Coast band's name. Not quite American, and no longer Korean, their parents are "monsters trying to figure out where they call home," Hwang said.
The band uploaded the video experiment in April and didn't expect much, but the footage ran an upward viral course charted by "a series of random people sending it" to Rubin Postaer and Associates, Honda's advertising agency, Hwang said. In September, Honda booked the fledgling band for a show purportedly in front of hundreds of executives. For Hwang and his bandmates, this seemed like a lucky break. But when the band arrived, they were told -- while being filmed, naturally -- that the booking was bogus. The good news? They were to perform live on Kimmel's show.
Take a look at the "Surprising Monsters Calling Home" video, posted below, and tell us you aren't rooting for the heroes of this automobile-inspired fairy tale. If you find yourself wanting to buy a Honda by the end, you probably aren't alone. At least -- Hwang insists -- "they're dependable."
Correction: In an earlier version of this article, we misspelled Alex Hwang's last name. We apologize for the error.
Popular in the Community