Monster cookies are classic for a reason. Perfect for inspiring back-to-school smiles!
When my son started school last year, I was obsessed with trying to be the perfect mom packing the perfect lunches. I even made a spreadsheet to keep track of what I was packing, to make sure he got both a fruit and a veggie, that I never packed him the same thing two days in a row, and that there would be enough tasty things to keep him happy and trucking through his day.
That lasted about two weeks.
There were a variety of reasons for this, but the end realization is that my son likes what he likes, and sometimes he just wants to eat the same thing every day, much like his father, who packed the same lunch for work for approximately two years.
While I concede I won't ever win an award for bento styling, coming into this school year I'm determined to make those home-packed lunches at least a little special. It doesn't mean embarrassing him with a handwritten note. It means cookies.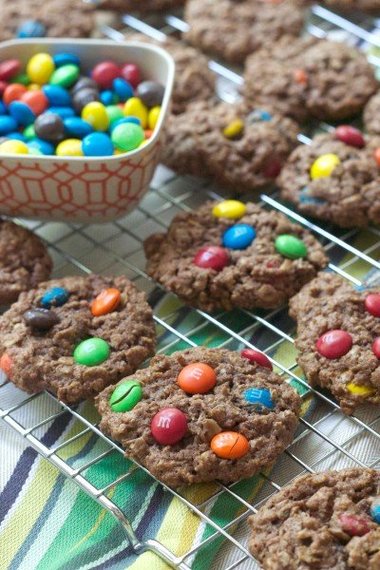 The biggest hits of last year's lunches were baked treats like these super chocolatey raspberry cookies, so I know he's going to be thrilled to see these monster cookies in his lunch this year. What's not to love about a monster cookies recipe? Packed with oats, chocolate, peanut butter, candy, and more chocolate, these cookies are a cookie lover's (or kid's) dream.
I couldn't resist going the extra mile on these, so I used chocolate peanut butter rather than the standard kind. It's a must for those who love chocolate as much as my family does, but other flavored nut butters would be fantastic as well.
Another great thing about these cookies is that they're easily gluten-free. There's no flour, so you just need to make sure your mix-ins are certified gluten-free and you're set!
About Megan
Megan is known for her commitment to eating local, fresh food and leading a well-fed life, as documented on her blog,
. Around these parts, though, she's known for her commitment to phenomenal
recipes.