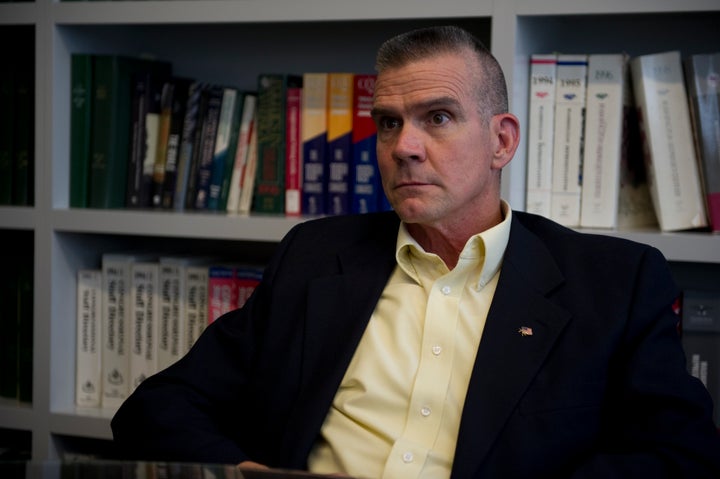 Montana Auditor Matt Rosendale will face Democratic Sen. Jon Tester in November after dispatching three Republican primary rivals on Tuesday. 
Rosendale will seek to unseat Tester, who is running for a third term, by following in the footsteps of President Donald Trump, who won the state by 20 percentage points. Tester has proved a thorn in Trump's side, and toppling Tester is one of the president's top priorities in this year's Senate battles.
The Montana race is one of the crucial battles in the fight for Senate control. Republicans want to add to the 51 seats they hold in the 100-member chamber, targeting Tester and nine other Democrats in states Trump won. Democrats hope to pick up seats in Arizona, Nevada, Tennessee and Texas. A Tester loss would deal a serious blow to any hopes the Democrats have of gaining a Senate majority. 
Rosendale defeated former judge Russ Fagg, businessman and Air Force veteran Troy Downing and state Sen. Albert Olszewski to win his party's nomination. He had the backing of the Club for Growth and GOP Sens. Ted Cruz of Texas, Mike Lee of Utah and Rand Paul of Kentucky. 
The Club for Growth aired ads attacking Fagg and Downing, Rosendale's two main rivals in Tuesday's vote. Rosendale focused on positive advertising, selling himself as a political outsider in the mold of Trump. 
"Montana needs a conservative who's willing to back the Trump agenda, and not kowtow to [House Minority Leader] Nancy Pelosi," Rosendale said in one ad, in which he also kicked a TV with Tester's face on it into the mud. 
Rosendale's campaign hopes to benefit from Trump's pledge to defeat Tester after the senator, the ranking Democrat on the Senate Veterans' Affairs Committee, played a key role in sinking the nomination of White House Doctor Ronny Jackson to lead the Veterans' Affairs Department.
Montana Democrats have made clear they plan to attack Rosendale, who was born and raised in Maryland, as a carpetbagger. They've questioned his credentials as a rancher and dubbed him "Maryland Matt."
A new digital ad from the Democratic group American Bridge features one of his GOP primary opponents, Fagg, attacking Rosendale. 
″They don't trust Matt Rosendale," the ad concludes. "Neither can Montana.
REAL LIFE. REAL NEWS. REAL VOICES.
Help us tell more of the stories that matter from voices that too often remain unheard.