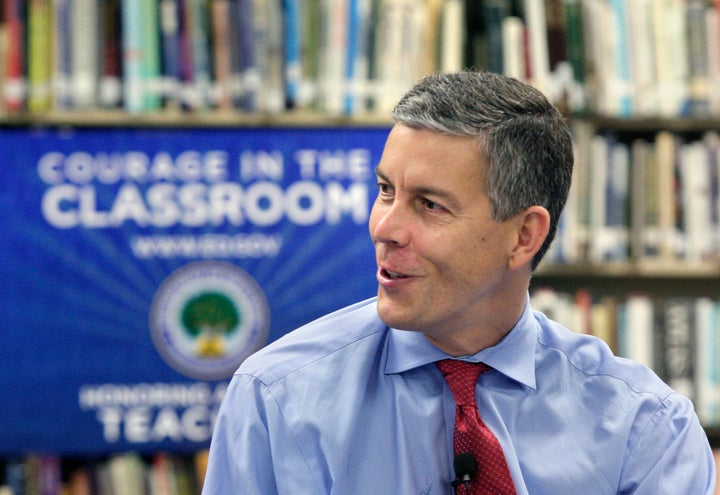 Montana could face a withdrawal of federal education funding if it doesn't improve compliance with No Child Left Behind, U.S. Secretary of Education Arne Duncan wrote to the state in early July.
The DoE told Montana that it is "out of compliance with the statutory requirement ... with respect to the annual measurable objectives that Montana used to determine adequate yearly progress for the 2010-2011 school year."
The state's Title I funding is conditioned on its submission of a "written report to the Department describing how it has come into compliance with" NCLB requirements by August 15. Failure to comply could lead to the DoE withholding federal education money from the state.
In the absence of a new bill, the Department continues to hold states and schools accountable under the current law although the ESEA accountability system does not conform to the Department's new priorities, particularly around growth models for student learning. The split in priorities, established under your leadership and those established in the current ESEA, has Montana reeling from additional data collection and uncertain about the path to continuous improvement.
The DoE's letter saying it would condition Montana's funding comes in response to Juneau's defiance of the law's statute about increasing intermediate goals for Annual Yearly Progress.
Juneau's office did not return requests for comment.
The back-and-forth comes as Congress lags in its reauthorization of No Child Left Behind -- legislation that most parties agree needs to be overhauled because of its unrealistic goals. The holdup stems, in part, from a disagreement between House and Senate members on the best means for overhauling the law. The House committee in charge of the reforms has already begun to introduce piecemeal components of NCLB reform, while senators have said they intend to address NCLB through a single, sweeping bill.
Because of that delay, Duncan has said he wants to find a "Plan B" to stop the "slow-motion train wreck" of NCLB by waiving some of the requirements for individual states in exchange for a commitment to a "basket" of accountability-focused reforms.
That plan, paired with allegations that congress has dropped the ball, upset Rep. John Kline (R-Minn.), chairman of the House committee in charge of NCLB reform. He teamed up with Rep. Duncan Hunter (R-Calif.) to pen a June 23 letter requesting more details about Duncan's plan and a report on his legal authority to enact it.
On Tuesday, Duncan sent a letter back to Kline's office.
"Many states have responded to the law's perverse incentives by lowering their academic standards," Duncan wrote. "This means that each school year, many students in States around the country are told that they are ready to compete in the 21st-century economy when in fact they are not."
That is why we have begun to consider how to exercise our authority, if Congress does not reauthorize the ESEA soon, to invite requests for flexibility to support State and local reforms under section 9401 of the law, which authorizes the Department to waive most statutory and regulatory requirements if needed to "increase the quality of instruction for students; and improve the academic achievement of students." This would not be a permanent solution, but a temporary one, while reauthorization moves forward, as it must for the long-term good of our nation's students and educators. As part of our consideration, we have begun to reach out to educators and other stakeholders around the country for their views, and of course we welcome your views as well.
Kline's spokesperson told Education Week the congressman's office was none too pleased with the lack of details in Duncan's response, accusing the secretary of eluding questions about his plan.
In light of what they call "unrealistic" student growth goals and penalties, three states -- South Dakota, Montana and Idaho -- have said they plan to defy the requirements set out by No Child Left Behind, the federal education law that sets benchmarks for public-school performance.
As it turns out, Idaho was still in compliance with the law: they kept the same target for two years, which is permitted by NCLB. Montana kept the same targets for three years, which violates the law.
Calling all HuffPost superfans!
Sign up for membership to become a founding member and help shape HuffPost's next chapter