The pine branches gently grazed my jacket sleeves as we swooshed through the treelined trails blanketed with unbroken, fluffy snow that covered our skis and boots. As it approached noon, grey January skies gave way to occasional bright spots and calm winds turned a bit pushy. In the distance, an indistinguishable muffled sound broke the calm silence echoing in Montana's Yellowstone National Park.
We followed Drew McCarthy, a seasoned Nordic ski racer, environmental educator, and our guide from Lone Mountain Ranch, in a tidy line - as six ducks would follow their Mom - along the undulating backcountry ski route. Nearly an hour later, the din turned to thunderous gushing at the base of a 200-foot cobalt blue frozen waterfall. Bold and beautiful, Fairy Falls elicited oohs and aahs as we clicked photos and admired its splendor.
So as not to get chilly, we quickly continued through the snowy woods toward our lunch destination. Tucking under branches and stepping over jutting stumps, we zipped past steamy, gurgling mud pots - that can heat up to 180 degree - and caught a glimpse of puffing Excelsior geyser. Upon arrival at Spray geyser, we took off our skis and huddled along its warm, misty flanks.
As wide-eyed as a kid at a magic show, we nibbled our trail mix and sandwiches, mesmerized by the "very active" geyser inhaling surrounding cloudy mist with uber-vacuum deft and then spoof! Erupting with surging, sprouting spray and hot, steamy fog that engulfed us with momentarily blindness and giggly entertainment.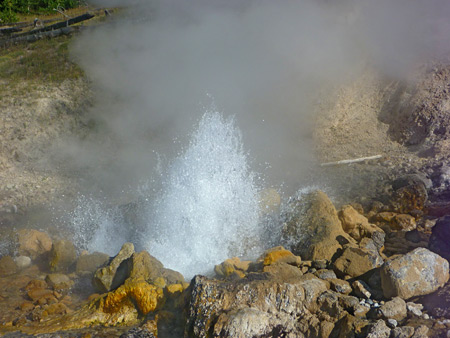 Our lunch stop was the halfway point of a snowcoach backcountry ski tour, offered by Lone Mountain Ranch, in Big Sky, MT, which is about a 50-miles to the entrance of Yellowstone Park.
Earlier that morning, our posse piled into a snowcoach - picture a tank on skis - which is the only way, other than a snowmobile, to access this interior part of the park between November and late-March. During the hour ramble into the park's underbelly, we passed a herd of furry Bison, two coyotes and a Bald Eagle perched atop a branch high above the rambling river where Trumpeter Swans and ducks paddled to keep their position in the frigid, flowing water.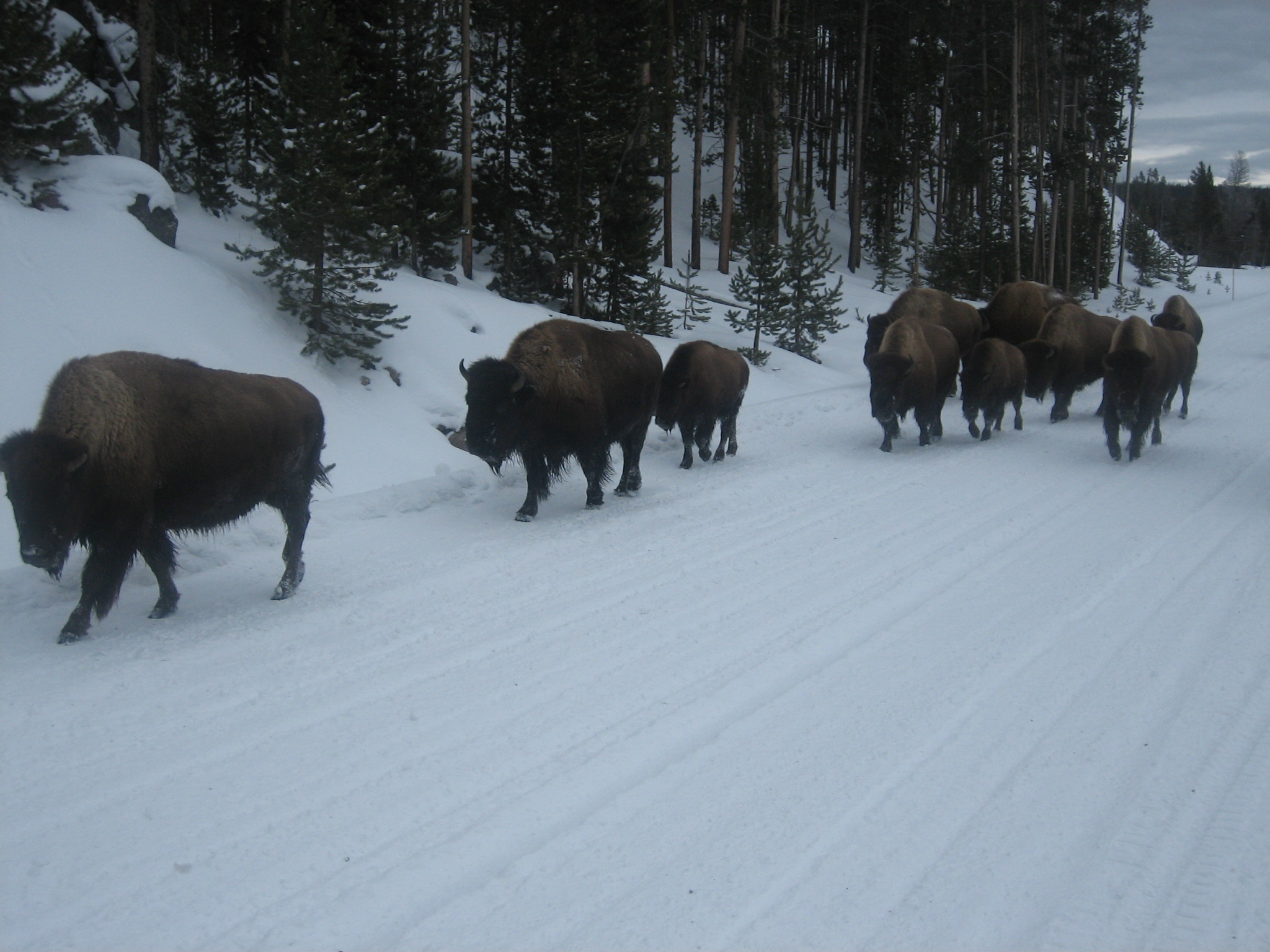 This was my third and final day as a guest at Lone Mountain Ranch, where I was cross-country and backcountry skiing with my New York City kayaking pal Joe Calto. A former lawyer, Joe prematurely retired and has been a seasonal resident in Big Sky for the past two winters. Prior to that he spent four Christmas vacations at the Ranch.
Its warm, welcoming vibe that makes you feel like family may partly explain the uncanny loyalty from Ranch guests and staff. Guests wear powder blue buttons noting their name, dates of stay and the number of years visiting Lone Mountain Ranch. Mine was "1." Then there was Gordon Goldsmith, a doctor from Iowa City, Iowa, who I met at dinner one night. His button boasted "32." The staff wears white round buttons. "We think the buttons foster a feeling of community here at the Ranch," says PJ Wirchansky, who has worked at the Ranch for 18 seasons and is now director of sales and marketing. "We want everyone to be on a first name basis with each other - whether it is crew or guests, we want everyone to feel like family."
Upon check-in guests also receive a colorful Nalgene bottle to stay hydrated at the 6,600 feet elevation - mine was Popsicle orange - and a mini-flashlight to find your cabin at night. I stayed in the Ouzel cabin, named after a local blackbird. A quaint, wooden cottage made from lodge pole pine taken from the property, it had a stunning view of the mountain and a coveted, cozy fireplace.
On my first morning, I trekked through the frigid 10-degree chill to meet Joe for a hearty breakfast of eggs, oatmeal, fresh fruit and wonderful baked goods crafted by Clint Wagoner, renowned for his delicious way with dough.
Later that morning, we joined Denise Wade, the Nordic and Trails Director at Lone Mountain Ranch who has been on staff for 20 years, to classic ski some of her favorite trails. With nearly 85km of meticulously trails groomed classic and skate skiing trails, Lone Mountain Ranch is skiing paradise offering endless options.
The sun quickly warmed things - as did chasing Joe's butt while struggling to keep my skis in the carved out rails along the wooded trails. Joe led us. Just like our kayaking days on the Hudson River, without warning, he sneakily sprinted away. It was good to see the mellow mountain lifestyle had not dulled trickster ways. I chased him for nearly a half hour, playing cat and mouse until we were both red faced, sweaty, out of breath and ready for a hot lunch.
Refueled and rearing to go, we swapped our classic gear for skate skiing gear at the shop - fully stocked with top-of-the-line rental equipment and very cute clothing. Drew, who is originally from Anchorage, Alaska, guided us for an afternoon skate ski, which is my preference. With ballet dancer grace, he swished up the hill. I staggered like a drunk duck, awkwardly stepping ski heel to arch, desperately planting my poles for power and leverage, until my triceps softly ached.
The glistening snow was delightfully grippy and we caught good rhythm on the level ledge, winding along the mountainside with a breathtaking of view of 11,253 feet Lone Peak Mountain across the way. We explored the web of twisty turny trails until we lost afternoon sun and apre' ski was calling.
Wine and bruschetta was the happy hour theme. The wine director Kelly Star, a graduate of the Intensive Sommelier program at the French Culinary Institute in Campbell, California, has built a lovely wine program. While young and upcoming chef George Peirce, sources local produce and protein, giving his personal twist on flavorful farm-to-fork cooking.
At dinner, we sat with Dr. Sharon Ogawa and Dr. Bruce Bank, from Chicago, and their 21-year old daughter Caroline. Lone Mountain Ranch has been their annual family getaway since Caroline was seven. "There's a sort of detox of the mind that takes place at the Ranch." Says Caroline, who is a senior at Yale and typically splits her time in Montana cross country skiing and downhill skiing at nearby Big Sky and Moonlight Basin. "There's nothing quite like going on a long ski and stopping and hearing nothing but wind blowing through the trees."
Offering rustic charm with attention to detail, Lone Mountain Ranch has held onto its cowboy roots while staying contemporary. Once a working cattle, horse and hay cutting ranch, Lone Mountain Ranch, dates back to 1915. Many of the original cabins, barns, corrals and fence lines still remain. After trading hands several times, in 1977 the Ranch was put on the bidding block to a buyer with the best proposal for the 160-acre property.
Bob and Vivian Schaap won the bid, proposing to reposition the land into Montana's only multi-seasonal ranch. Offering trail horseback riding, hiking, fly-fishing, and much more in the warm months it transforms into a snowy playground for cross country ski enthusiasts all winter-long.
The Schaaps also created the Ranch's signature Sleigh Ride Dinner. A step back in time, half-dozen wooden sleds are hitched to teams of 2,000-pound draft horses and pulled up a moonlit, snowy trail to the lantern illuminated North Fork Cabin. Diners sip wine, savor prime rib dinner cooked on a century year old wood stove and singing-along with local folksinger Bruce Anfinson.
Late last year, Bob and Karen Foster, a delightful, engaging couple who are essentially hospitality royalty, took over as General Manager and Manager. Prior to taking the reins at Lone Mountain Ranch, they operated their family's 4-diamond guest ranch in Colorado for 38 years. "Most of our friends thought we would retire after leaving the guest ranch in Colorado." Notes Bob. "Two major reason why we wanted to continue: People and Service. We were not ready to withdrawal from these two influences and motivators in our life."
My second morning was spent backcountry skiing in a remote corner of Yellowstone Park. I led, swishing across quilts of freshly fallen snow deep in the barren white, tree-peppered forest. Our guide Martha Crocker, a lifetime skier who also volunteers for Disabled USSA races and Special Olympics, pointed out singed, sinewy trees that burnt in the massive forest fire in 1988 and shallow rabbit and rodent paw prints dotting the sparkly snow. We were the only people for miles and the brilliant sprawling meadows of undisturbed white fluffy snow looked like clouds turned upside down. I savored the clean, crisp mountain air and stark silence - a rare treat for this New Yorker.
At lunch, Joe told me about the "Brewski" that he and two Lone Mountain Ranch friends concocted three years earlier, which has become a weekly tradition. It starts with a two-mile ski from the Ranch to Lone Peak Brewery for pints of local suds and snacks. When skiing is no longer an option, a Lone Mountain Ranch staff member shuttles guests back for dinner. It sounded pretty great! So, after lunch, Joe and I hit the trails for an unofficial "Brewski" in the freshly falling snow. We skate skied for a few hours, ending at Lone Peak Brewery where Joe and I toasted with refreshing amber ale and fish tacos. It was a perfect ending to a perfect day!