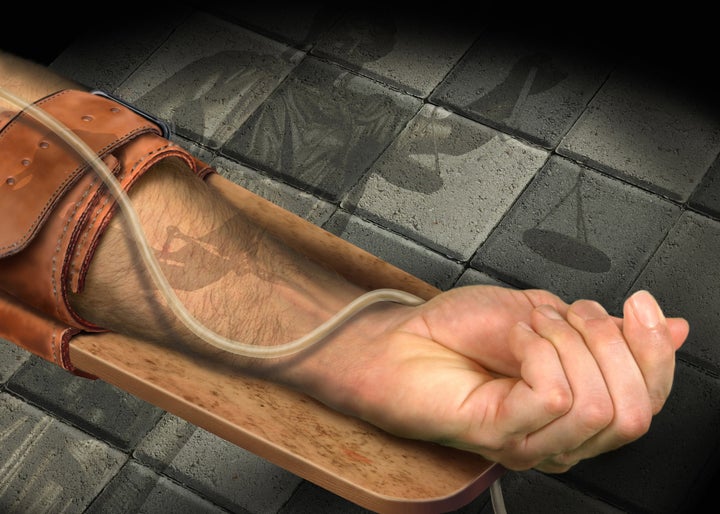 A Montana judge ruled Tuesday that the state's method of lethal injection is unlawful because it uses a drug that fails to meet the law's requirement for "ultra-fast-acting."
Judge Jeffrey Sherlock of the First District Court of Montana ruled that the state may not put inmates to death using pentobarbital, one of two drugs in Montana's lethal injection protocol.
The ruling means all executions in the state are postponed indefinitely, according to the Montana ACLU, which filed a 2008 lawsuit on behalf of death row inmate Ronald Allen Smith that led to Tuesday's decision.
"Montana remains in a de facto death penalty moratorium," the Montana ACLU said in a statement. Caitlin Borgmann, the group's executive director, added: "We are gratified that, in the short term, our state will be staying out of the business of killing people."
The Montana Department of Corrections referred questions to the Attorney General's Office, whose lawyer did not immediately respond to requests for comment.
Montana is the only state among the 31 states with the death penalty to propose a two-drug lethal injection of pentobarbital and pancuronium bromide. Other states either use a lethal dose of pentobarbital or a three-drug cocktail to sedate the inmate before administering drugs that paralyze and then cause a heart attack.
Montana also is the only state with a law stipulating that an execution be carried out using "an ultra-fast-acting barbiturate."
In his 11-page ruling, Sherlock was careful to note that his decision rests on whether pentobarbital, selected by the Department of Corrections, meets the legislative definition of "ultra-fast-acting."
"[W]hile pentobarbital may operate in a fast nature, it is not ultra-fast as is required to comply with Montana's execution protocol," Sherlock wrote. "Under the express terms of the statute, the state of Montana is not allowed to use the 'fastest acting barbiturate available' or a 'relatively fast acting barbiturate,' only an 'ultra-fast acting barbiturate.'"
Sherlock noted the state has changed aspects of its lethal injection protocol several times in recent years without modifying "ultra-fast-acting" or otherwise broadening the definition of permissible drugs.
Two expert witnesses who testified in the case had markedly different opinions on how quickly pentobarbital works. Dr. Mark Heath, a Columbia University Medical Center anesthesiologist who testified on the plaintiff's behalf, said pentobarbital is never used in a medical setting to put an alert patient into deep unconsciousness and takes longer to take effect than sodium thiopental.
"With thiopental, it's lights out," Heath testified, according to The Associated Press. "Whereas with pentobarbital, the prisoner continues to talk and increasingly slurs their words."
Dr. Roswell Lee Evans, dean of Auburn University's pharmacy school, who testified for the state, said pentobarbital takes effect in less than a minute and could therefore be considered ultra-fast-acting.
But the judge rejected Evans' opinion and ordered his testimony stricken from the record because of inconsistencies with his testimony in a 2012 Florida trial. Evans testified in that case that pentobarbital takes effect in "three to four minutes."
Tuesday's ruling deepens Montana's problems in determining how to lawfully carry out executions in the face of dwindling supplies of drugs used for lethal injections.
When lethal injection became Montana's sole execution method in 1997, sodium thiopental was listed as an acceptable barbiturate. The drug, widely used in other death penalty states, became unavailable around 2009, when drugmakers stopped manufacturing it. The Food and Drug Administration has banned its import from other countries as an unapproved drug.
Tuesday's Montana ruling means that for executions to resume, either state lawmakers will have to change the law or the Department of Corrections must find sodium thiopental.
Montana has two men on its death row. The state hasn't executed a prisoner since 2006, when David Dawson became Montana's third prisoner put to death since the death penalty resumed in 1976.
Earlier this year, a bid to repeal Montana's death penalty fell just one vote shy in the state House.
Popular in the Community