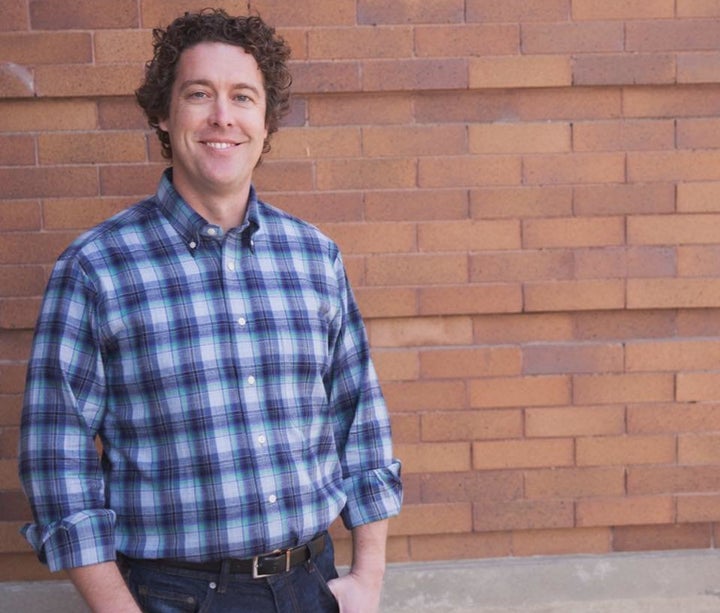 Montana Democrat John Heenan is blasting Sinclair Broadcast Group for "using its power to take advantage of journalists" in paid advertisements on local TV stations owned by Sinclair.
Heenan, a consumer rights attorney and restaurant owner from Billings, is one of four Democrats challenging incumbent Rep. Greg Gianforte (R).
The 30-second spot highlights Heenan's populist bona fides, potentially providing a model for other Democrats trying to exploit grassroots' anger over Sinclair's support for President Donald Trump's agenda. Sinclair, which owns or operates more TV stations than any other company, drew fire earlier this month when it emerged that it had forced news anchors at all of its stations to read an identical message denouncing "fake news," which Trump has used to characterize coverage he dislikes.
"This station is owned by Sinclair Broadcasting, a powerful corporation that forces its journalists to read corporate talking points on the air," Heenan says in the advertisement. "A corporation using its power to take advantage of journalists, our democracy and the people of Montana? Not on my watch."
The ad is due to air on the three Sinclair-owned NBC affiliates in western and south central Montana, reaching viewers in the cities of Missoula, Butte and Kalispell. Heenan's campaign has made a four-figure buy that will run the spot during the "Today" show on Monday and Tuesday mornings, as well as during the evening and late-night news blocs on those days.
Tammy Wegman, general manager of KECI, one of three Sinclair-owned NBC affiliates, told The Associated Press that the station would air the ad, because its executives "don't turn away candidate ads."
Earlier this month, the liberal group Allied Progress succeeded in buying airtime for an ad on at least one Sinclair station, attacking the company's coordinated "fake news" scripts and encouraging the Federal Communications Commission to deny Sinclair's proposed acquisition of 40 additional TV stations. Sinclair, which says it now operates 193 TV stations in 89 markets, would control stations that reach more than 70 percent of the country's homes if the acquisition wins approval.
But Sinclair bookended the 30-second Allied Progress spot with 15-second disclaimers noting that the "ad was purchased by a group known for its liberal bias and we hope you won't buy into the hysteria and hype."
Wegman did not immediately respond to a question on whether Sinclair stations would show Heenan's ad with similar disclaimers.
Since the 2016 election, Sinclair has joined Fox News and conservative talk radio as a media bogeyman for Democrats and liberals. Trump's son-in-law and senior adviser Jared Kushner revealed in December that the Trump campaign had brokered an agreement with Sinclair to provide greater access to Trump and the campaign if the company's channels aired uninterrupted interviews with Trump.
After Trump's election, Sinclair hired former Trump adviser Boris Epshteyn as a political commentator. The company requires its local TV stations to air Epshteyn's pro-Trump analysis nine times a week.
What distinguishes Sinclair from the overtly conservative Fox News, however, is that it claims to be an objective local news provider. 
"All of us thought that local media was off limits," Heenan told HuffPost in an interview.
Heenan said the goal of his ad is to educate voters about the issue of corporate interference in media and give voice to concerns that some Sinclair employees have expressed. He decided not to mention Trump in the ad, because he believes that the issue would be the same if it were top-down corporate pressure on behalf of a Democrat. (Omitting Trump offers potential political benefits too: Trump won Montana by 20 percentage points in 2016.)
The thing that bothers me is corporate media forcing reporters to say political talking points instead of honest straightforward news.

John Heenan
"Does it bother me that local newscasters here were forced to read these talking points? Yeah," Heenan said. "But whether it was Donald Trump talking points or frankly, Barack Obama points, the thing that bothers me is corporate media forcing reporters to say political talking points instead of honest, straightforward news."
For Heenan, who successfully sued the country's five largest banks for fraudulently foreclosing on Montana homeowners, the issue of corporate power in media fits nicely into his campaign themes. 
Heenan has made the corrupting influence of corporate money in politics a key plank of his campaign, claiming that the "system is rigged" against ordinary people.
And in Gianforte, Heenan has the perfect foil for a debate over journalism and corporate influence. Gianforte won the Montana seat despite body-slamming a reporter the day before the special election. Frederick Smith, vice president and director of Sinclair, donated $1,000 to Gianforte's campaign the day after the attack. Smith's brother and fellow Sinclair owner, Robert, has donated over $10,000 to Gianforte in the past two years.
Heenan is running on a platform of fighting for ordinary people against big corporations, including by championing a Medicare-for-all system in which the federal government would provide health insurance to all Americans. It's one of several stances that won Heenan the endorsement of Justice Democrats, a group that backs left-wing candidates in congressional Democratic primaries.
Heenan dismissed the idea that his support for Medicare-for-all could prove a political liability in a general election fight with Gianforte.
He noted that Gianforte had lost his gubernatorial bid to Democrat Steve Bullock in the same election as Trump's landslide, a fact that complicates the notion that Montana is a uniformly red state.
And Heenan, who has sued health insurers on behalf of clients and managed health care-related personal bankruptcies, maintains that Medicare-for-all is an idea that has the capacity to appeal to Republican and independent voters as well.
"What I see is a health care system set up to protect insurance company and pharmaceutical company profit margins instead of serving the people," Heenan said. "Protecting those profits is not a conservative value."
"Everyone's frustrated with the Affordable Care Act. The worst platform to run on in is, 'Vote for me and I'll tweak the ACA,'" he added.
Asked whether he plans to vote for House Minority Leader Nancy Pelosi (D-Calif.) to become House speaker, in the event that he is elected, Heenan said that it was unlikely.
"I want to know what my choices are. I would say at this point no," Heenan said. "I would hope to have someone who's better reflective of what the folks in Montana want."
Heenan has a large fundraising lead over his three Democratic rivals: oil industry geologist-turned-land conservationist Grant Kier; former state Rep. Kathleen Williams; and former Department of Justice attorney Jared Pettinato.
The Montana Democratic primary is scheduled for June 5.
Calling all HuffPost superfans!
Sign up for membership to become a founding member and help shape HuffPost's next chapter
BEFORE YOU GO
PHOTO GALLERY
2017 Scenes From Congress & Capitol Hill