Grinnell Glacier towered roughly 30 feet over scientist Dan Fagre when he began studying the ice 26 years ago. Now, when he hikes through Montana's Glacier National Park, the ancient ice wall's dark, craggy edge barely reaches his shins.
"It's just a remnant of its former self," the U.S. Geological Survey research ecologist told HuffPost by phone on Thursday. "As the glacier shrinks, all the rock and debris in it stay. The glacier keeps getting dirtier and dirtier."
Glaciers, synonymous with slowness, are retreating at a rapid pace ― particularly in the Treasure State. Since 1966, 39 glaciers have shrunk dramatically, some by as much as 85 percent, according to data the USGS and Portland State University released on Wednesday. On average, the ice sheets have dwindled by 39 percent, and only 26 glaciers are now larger than 25 acres. Grinnell alone has lost at least 13 acres of ice since 2005.
"Within 20 years, the bulk of the remaining glaciers will be too small to be considered active glaciers," Fagre said. "These glaciers are already at the point of no return, it just takes a while for them to melt away."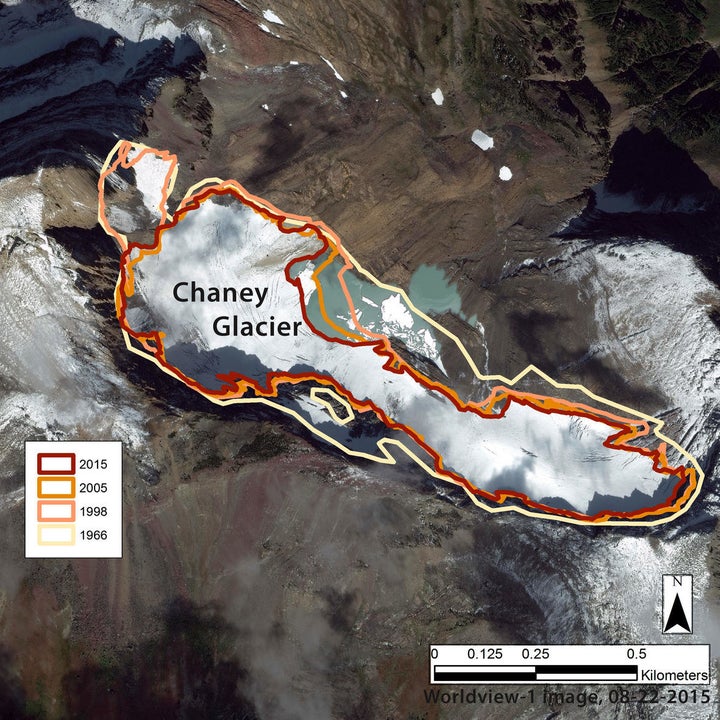 Montana's glaciers serve as a bellwether of things to come as heat-trapping gases in the atmosphere increase and warm the planet. Western Montana has warmed 1.8 times faster than the global average, USGS data show. Mountains tend to heat up faster than lowland areas because they were colder from the start, and are more affected by relatively small shifts in temperature.
"The difference between snowing and raining can make a difference on whether glaciers are growing or not," Fagre said. "We now have winter snowpack disappearing up to 30 days earlier. Since snow is what nourishes glaciers, that means you're basically shutting off the pipeline to keep those glaciers going."
"We warmed up a little faster than other places," he added, referring to Big Sky Country. "We're the leading edge of what's going to happen in Switzerland, Argentina and everywhere else."
When glaciers disappear, so do the organisms that depend on them. Montana's glaciers refrigerate under the previous season's snowfall, then historically melt in the hot, dry weeks of late August to early September, Fagre said.
The snowmelt feeds streams that would otherwise dry up and provides cool water that plays a vital role in the lifecycles of fish and insects. The number of trout, which fuel a $300 million sportfishing industry in Montana, could fall by 70 percent over the next century, according to a 2008 study. Populations of two rare alpine insects that depend on cool meltwater are now in peril, a study released last November found.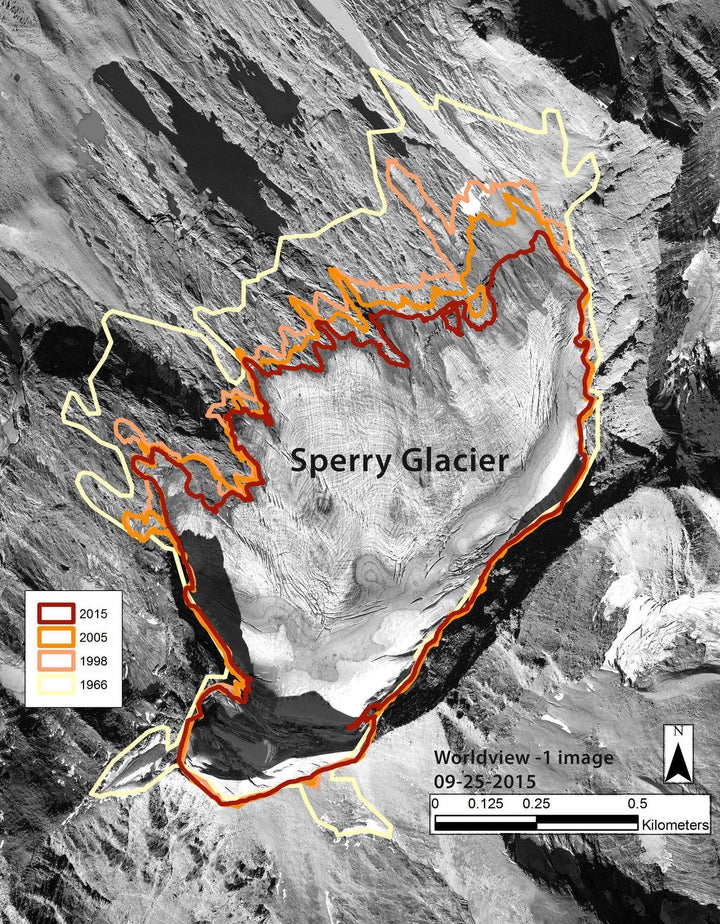 The signs of climate change may be most visceral on a local level, but preserving what remains of the glaciers requires dramatically scaling back greenhouse gas emissions around the world. Since the United Nations brokered the 2015 Paris Agreement, the historic global deal to begin cutting emissions, all but two countries ― Syria and Nicaragua ― have signed the accord.
But U.S. President Donald Trump, who has dismissed climate change as a Chinese hoax, vowed during his campaign to withdraw from the agreement. A schism has formed in the White House over whether to pull out of the deal, and Trump has delayed his decision until after the G7 diplomatic summit this month.
In a somewhat ironic twist, both Republicans and Democrats have cited the Montana glaciers to illustrate the dangers of U.S. inaction on climate change. During his January confirmation hearing, Interior Secretary Ryan Zinke used the visible retreat of the ice sheets that gave Glacier National Park its name to illustrate his belief in climate change. Zinke visited the park in March on his first trip back to his home state. Now Rob Quist, the Democrat running to fill his vacated seat in the House of Representatives, recites the same anecdote about growing up watching the glaciers recede year after year.
The men, however, disagree about the extent to which humans are responsible for global warming. Liberal politicians sometimes overstate the certainty with which scientists can forecast the effects of climate change, but an overwhelming majority of peer-reviewed climatology studies indicate the Earth is warming due mostly to emissions from industrial farming and burning fossil fuels.
As a USGS employee, Fagre is barred from weighing in on the factually lopsided political dispute. But he said the facts are clear.
"It's just a matter of time before the glaciers are gone," he said. "It'll be just a few decades, but certainly within our lifetime."
Before You Go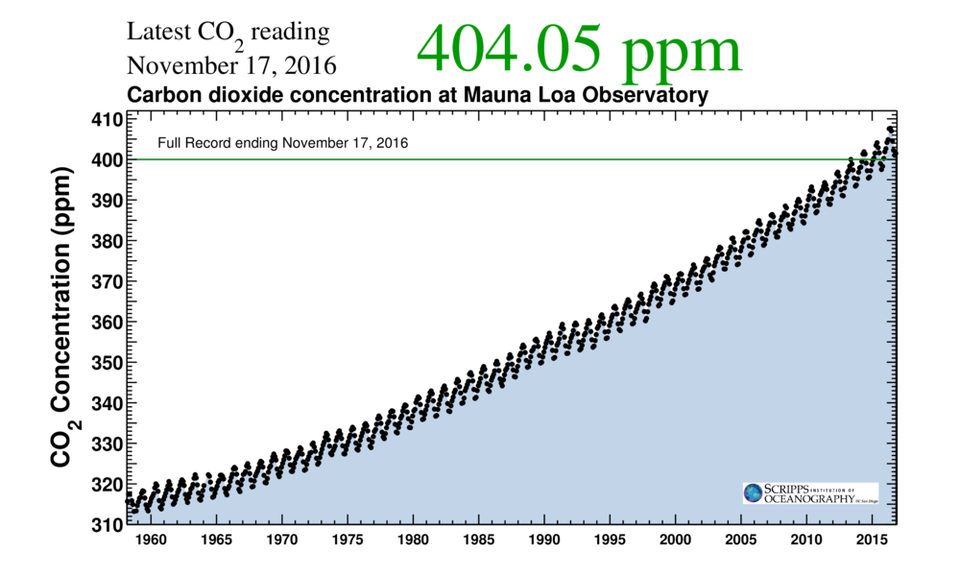 Climate Visuals For The Climate Change Denier In Your Life
Popular in the Community