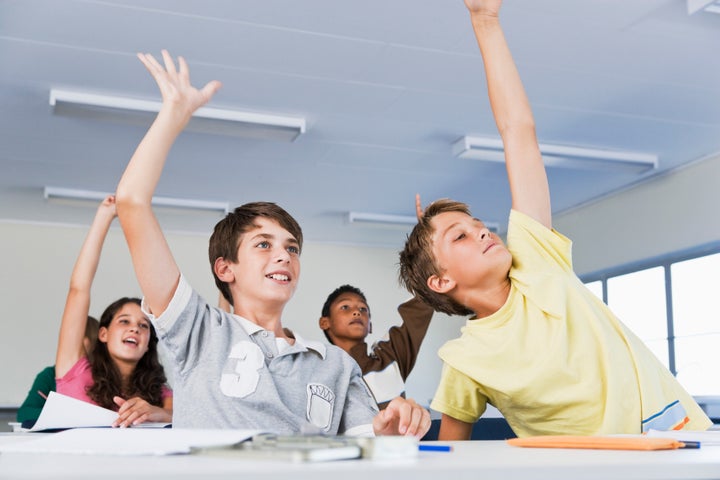 Montana is no longer in jeopardy of losing federal funding for its schools since the state has come to a compromise with the U.S. Education Department on setting student proficiency targets, according to a government official.
"We're in the process of reaching an agreement with Montana," Justin Hamilton, a spokesman for the U.S. Education Department, told The Huffington Post.
Montana had until Monday to prove its compliance with No Child Left Behind, a federal education law that requires states regularly increase their test performance targets to reach 100 percent student proficiency in 2014. Montana had decided to freeze its performance targets.
Montana is out of hot water after both officials from the state and the Education Department found a provision in NCLB that will allow the state to reset its performance targets.
The conflict began a few months ago, after Montana's Superintendent for Public Instruction Denise Juneau decided she'd had enough of NCLB. Federal policies and incentives required extensive data collection and reporting, and Juneau saw the results paint more and more Montana schools as failing.
Juneau decided to freeze the ever-increasing NCLB performance targets as a stopgap to a stalled congressional overhaul of the sweeping law, which has been up for reauthorization since 2007. In April, she wrote a letter to U.S. Secretary of Education Arne Duncan saying Montana would freeze its targets for proficiency.
In the absence of a new bill, the Department continues to hold states and schools accountable under the current law although the [Elementary and Secondary Education Act] accountability system does not conform to the Department's new priorities, particularly around growth models for student learning. The split in priorities, established under your leadership and those established in the current ESEA, has Montana reeling from additional data collection and uncertain about the path to continuous improvement.
Her letter referred to NCLB's proficiency calculations, which use blunt measures of performance as opposed to taking growth into account.
"Freezing the targets seemed like an easy place to say: We're still going to be accountable; we still have a pretty high bar; we're still going to follow all the components; but at this point we'll just hold steady while Congress figures out how they're going to reauthorize," Juneau told HuffPost at the time. "While that political game plays out at our nation's Capitol, we thought we would stick to where we are right now to catch our breath."
In early July, the Education Department responded with a note saying that the federal government could withdraw education funding if Montana didn't provide proof of NCLB compliance by August 15.
By Juneau's calculations, the state could have lost slightly less than $500,000 in federal funding. In her office, that would mean losing three or four state education agency workers and a few of the teams sent out to help schools that don't reach their annual NCLB-mandated performance goals. She started discussing a potential compromise with Duncan's office.
Before Monday's deadline, the Education Department found a provision in NCLB that actually keeps Montana in compliance with the law: Montana changed its standards in 2005. When states change their standards for measuring student achievement, NCLB allows them to reset their performance targets. Montana didn't take the option at the time, Hamilton said, so the Education Department is allowing the state to do so now.
"When they changed their standards in 2005, under the law, they had the opportunity then to reset their AMOs [annual measurable objective] but didn't," Hamilton said. "We're allowing them to take the opportunity that they didn't take then, now."
A spokesperson in Juneau's office said Friday that the superintendent did not want to comment on an agreement until she had notified Montana school officials.
The news comes as the Education Department prepares to grant states waivers for some of NCLB's mandates if they agree to accept a package of reforms. Last Monday, Duncan announced that in light of Congress's failure to overhaul the law, he would proceed with a plan to issue the waivers.
"The general idea is this: As of right now, states only have one option, that is, to comply with the law as it exists," Hamilton said. "When we come out with our flexibility-for-reform package in the coming weeks, states will have another option: to pursue reforms that boost student achievement in exchange for flexibility from the law."
Hamilton stressed the Montana fix is not a waiver.