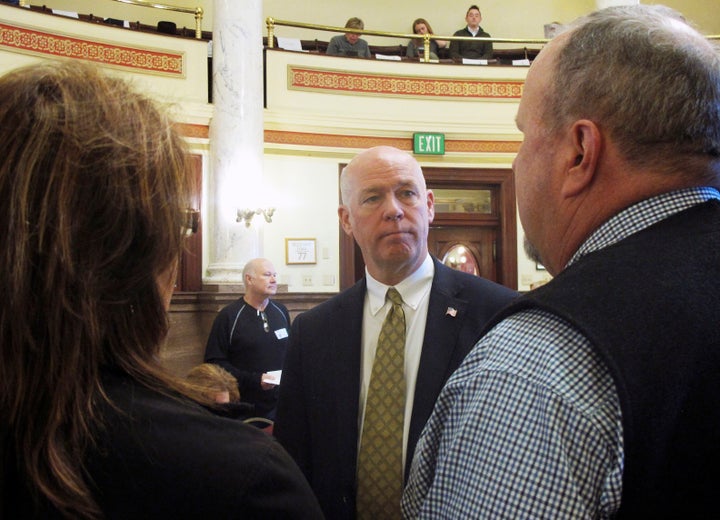 The cost of the House special election race in Montana — where voters are going to the polls today — is officially record-breaking.
It's unclear how Wednesday's misdemeanor assault charges against the Republican candidate, Greg Gianforte, will affect the outcome, particularly since a large number of voters cast their ballots before today. It's very clear, though, that this race has been a magnet for donors: Gianforte, a wealthy software entrepreneur, and his Democratic opponent Rob Quist, a folk singer, together raised $6.7 million through May 5, and another almost $900,000 from then through May 22.
Spending by the candidates stood at $5.2 million as of May 5, the date on the most recent reports of their expenditures.
And outside spending in the race has soared to $7.2 million, with $1.4 million of that coming in just the nine days between May 17-25. Combined with the somewhat dated candidate spending figure, that brings the cost of this faceoff to a minimum of $12.4 million, more than has been spent on any House race in the state going back at least as far as 1990.
While a vast majority of Quist's individual contributions have been $200 and under, Gianforte has mostly seen larger individual contributions of $2,000 plus. Hidden in Gianforte's 48-hour contribution notices, which list all contributions of $1,000 or more, is a $500,000 donation he made to himself. That's on top of an earliler $1 million loan he made to his campaign. Quist has not made any contributions to his campaign, save the $140 he reported before April.
The Democratic candidate recruited the support of Sen. Bernie Sanders (I-Vt.) for one of his campaign events in mid-May, drawing thousands to the rally. In the 2016 primary election, Montana voted for Sanders over former Secretary of State Hillary Clinton.
During one of his rallies, Gianforte was accompanied by Donald Trump, Jr. and Vice President Mike Pence. In his previous unsuccessful bid for Montana governor in 2016, Gianforte distanced himself from Donald Trump. But since Trump won the election in November, and was especially popular in Montana, Gianforte has aligned himself more closely to the president.
Like other special elections, the one in Montana has been viewed as a referendum on Trump. However, Gianforte's recent arrest for assault muddies the waters. Late on Wednesday night, Guardian reporter Ben Jacobs tweeted he had been "body slammed" by Gianforte after asking him a question about the Republican health care plan. Audio of the incident was later released in which Gianforte can be heard yelling at Jacobs to "get the hell out of here." The GOP candidate was arrested and charged with misdemeanor assault after Jacobs reported the incident to authorities, and a Fox News crew that witnessed the altercation corroborated Jacobs' allegations.
Some state newspapers immediately withdrew their endorsements of Gianforte, but about 37 percent of Montana's registered voters had already committed to one or the other candidate, having sent their ballots in early. The polls will close at 10 p.m. Eastern time.
Calling all HuffPost superfans!
Sign up for membership to become a founding member and help shape HuffPost's next chapter