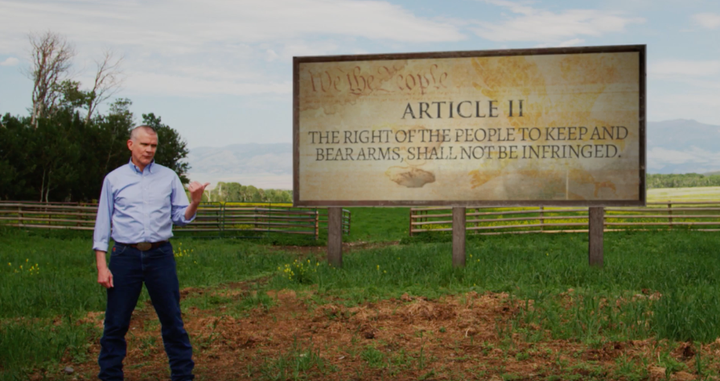 A Republican running for the U.S. Senate in Montana wants voters to know where he stands on gun rights, just as soon as he figures out which pesky part of the Constitution talks about it.
In a campaign ad uploaded to YouTube on Tuesday and later removed, Senate candidate Matt Rosendale encourages the public to reject his rival, Sen. Jon Tester (D-Mont.), and instead vote for a man who can "shoot straight."
"There's two ways folks look at gun rights," Rosendale said in the video. "Some folks, like me, shoot straight, support the Second Amendment, no apologies. Others, like Jon Tester, don't."
Rosendale then shoves a thumb toward a billboard behind him that reads, "Article II" with language from the Constitution's Second Amendment under it. 
"The right of the people to keep and bear arms shall not be infringed," the sign reads.
Article II of the Constitution establishes the executive branch of the federal government. Rosendale eventually produced a new video which showed the sign reading "Amendment II."
"When it comes to our gun rights, I'll always side with you," Rosendale says at the end of the video.
Voters may want to make sure Rosendale knows which side that is.
Calling all HuffPost superfans!
Sign up for membership to become a founding member and help shape HuffPost's next chapter