There's sweet talk. Coffee talk. Pep talk. Straight talk. Small talk. And then there's Mon-tauk.
I've been traipsing and trekking out to this easternmost tip of Long Island for the past 20 years every September for sun, solitude and splendor.
Perhaps it's nickname is "The END" because it really is the living END. Perhaps it's called "The POINT" because It never disappoints.
This year was no different.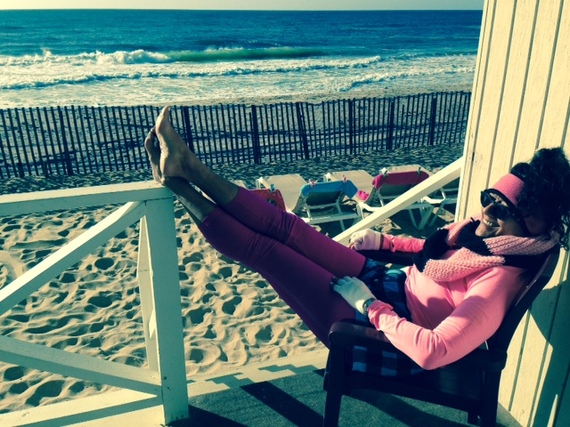 I often find that some mystical force overtakes my Montauk-ian experience, and as much effort and as many weeks go into planning dinners, ferry connections, whale watchings, surf lessons, tide charts and sunrise/sunset tables, there's just no planning serendipity.
1. On the SURF-ace
Things go way down deep in Montauk. Enthusiasts from fishermen to surfers who flock to Montauk take great pride in their sport. Having once been caught swimming in the ocean and with a fishing line around my neck, I have great respect for the rod, the bait, the line, and the early-rising fisherman. I'm not sure how the bass and the bluefish feel, but it's a pretty deep focus these fishermen have, wading in boots, flannel, rubber and plastic, fighting waves and rip tides, or staring for hours with coffee and silence on their side.
2. ENE - an East by Northeast Feast
Maybe if Cary Grant had met Jeremy Blutstein, it could have changed film history (apologies to Alfred Hitchcock); I do adore his classic North by Northwest.
Talk about r ENE wal! This most Zen, or z EN-Esque offshoot of the Harvest group is perhaps the most tranquil. Watching together as the ducks and kayaks float by on Fort Pond Båy, manager Robin-Ann Torr explains the poignant history of Navy Beach. Due to all my erratic and quirky food issues, waiter Kyle Pomerantz -- who has a long history with pastries at the Montauk Bakery -- took enormous globs of patience and time explaining in detail the ingredients for my migraine-prone anxiety. I cannot have soy, but in this ENE recipe the soy is gluten-free. I'd never even heard of such a thing. I'm stress-free. Yup. I'm serENE.
Blending the Far East with the North East, Executive Chef Jeremy Blutstein (along with sous-chefs Jeremy Kasma and Casey Darenberg) sprinkles earthiness into ethereal. Americana with Asian. From duck wings to duck tacos, Blutstein (who grew up in nearby Amagansett), uses local produce, like Balsam Farm cauliflower; he's known Alex Balsam since he was 12, and remembers nostalgically his sledding days at the nearby Quail Hill Farm. His farm-to-table meets Asian fare flair combines flavor, color, texture, and composition -- a glimmer of Rothko, a smattering of Pollock, a smidgen of De Kooning, and a morsel of Matisse. To add to the Montauk mystery, despite his palette popping with greens, burgundies, and vermilions, chef/artiste Blutstein is color blind!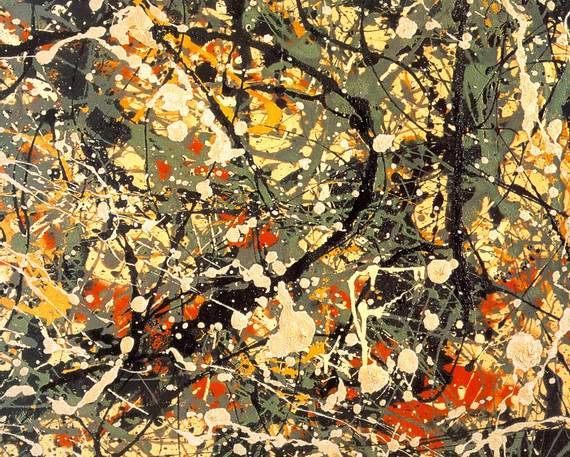 Jackson Pollock - Number 8, 1949 Image Credit: www.ibiblio.org
While sitting at the window to ponder the sunset, a tasting of appetizers suddenly appeared before us: Roast (Balsam Farm) beet salad with rouge creamery hay smoked blue cheese, pumpkin seeds and chervil (I'd been searching for that gem spice ever since the dreamy cerfeuil soup I'd tasted in Belgium in 1981! - Eureka!)...accompanied by a plate of grilled Spanish octopus over "Amber Waves" wheatberries (certainly not the typical fried calamari of Italian ristorante fame)... succulent and sweet beyond words...
I felt transported to a farm of golden ochre grain... Americana and farm fresh at its pique! Kyle had the patience of a saint. Ironically as Pope Francis was delivering his improvisational riff on families at the Philadelphia Festival, Kyle was delivering his unscripted impeccable details of a healing ENE menu. My dining companion had a Khmer red vegetable curry with black kale, Jewel sweet potatoes, balsam broccoli and jasmine rice to rival any holy Mumbai or Malaysian dish.
My steak was (dare I say it) better than Peter Lugers and The Palm combined. The side dish was a sweet roasted potato with brioche morsels that oozed delirium. My vegetarian days will just have to be on hold, at least until I try the ENE black garlic organic grass fed short rib with Turkish Apricot and Marcona Almond. Exotic yet grounded. It's Montauk.

3. 007 -- J.B. -- Food is Bond, from James to Jeremy
As I sip my Montauk martini, I'm half expecting James Bond to step out and mouth the words at my mouth-watering meal - "shaken, not stirred." I myself was shaken up at the abundance and simplicity of the meal. The chef's initials, amusingly, are J.B. (conjuring up visions of a mogul, banker, or Hollywood agent). Nope. Instead, Jeremy Blutstein, who shares his initials with James Bond, Jason Bourne, Jimmy Buffett, and Jack Black, is the real deal creative artist, who describes his relationship with his craft as "Food is Bond." It also refers to the bond of eating together, just as my own family had dinner every night on the dot at 6:00 o'clock sharp. My father would come strolling down the block, whistling for me like Lassie come home if I was out playing with friends. In the end, it created long-lasting structure, ritual, caring, conversation over food, and togetherness. A family bond.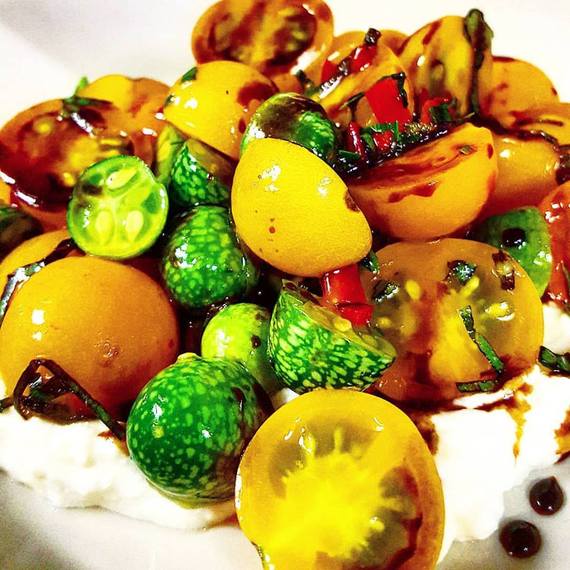 ENE Hot & Cold Balsam Farm Heirloom Tomato Salad
4. DIVINITY AT DURYEA'S - Remember the Joseph Campbell philosophy: "Follow your bliss?" His inspiration very well might have been Duryea's (www.duryealobsters.com). the original lobster deck in Montauk. Watching the sunset, the clouds and the cormorants is about as solitudinal as one can get. And this is a particularly poignant year, since the deck has been purchased from Perry B. Duryea III and God or Goddess only knows what will be put up in its place. (Shades of Greenwich Village's landmark St. Vincent's Hospital, replaced by Greenwich Lane luxury Condos)? Duryea's is a priceless spot of heaven that just will never be the same.
Step up and place your order with Shana, take your buzzer/vibrator, and sit marsh side to contemplate earth. The bluefish is practically swimming; the lobster rolls popping with plumpness, the baked potatoes warm and buttery, the quiet almost tangible. You can hear the wind, the whispers, the wonder of Montauk.
5. SURF (& TURF) LODGE - I seem to have hit my Swedish phase. I'd just been watching a clip of Ingmar Bergmann, walked into the ever-crowded Surf Lodge (www.thesurflodge.com), but on an off night after the height of the season, stepping into the beachy lime chartreuse and turquoise pastel atmos of the lodge...where there are giant wicker swings and a widescreen video or film --this one was Ann Margret hot dancing her heart out with Elvis to Viva las Vegas ....when we just mysteriously sat next to a couple from...you guessed it, Sweden...3 days after their wedding.We hit it off talking about the Olsson twins (Martin and Marcus) footballers (not my forté)...discussion merged to their life as criminal lawyers, passionately living the life of law, travel, music and montauk exploration. They couldn't have been more effervescent about our darling Montauk. They biked to the harbor and around the town, craving a Surf Lesson - no cowards here. The next night we returned to pick up some insanely delicious curry, and were greeted in the parking lot by Silvia & Johan, our new Swedish BFFs.
6. CHANCE ENCOUNTERS OF THE MONTAUK KIND - I've been jogging out to the chess-like Montauk cliffs to build a memorial for my Dad on his birthday, September 21 for the last 15 years. The first September after he died, I sat on a nearby hunk of driftwood, and a huge monarch butterfly hoevered the whole time I was "speaking" aloud to my father, thanking him for all the things he gave me, from the love of the ocean to the love of silence. The butterfly never flew away...and lingered there through my entire speech...then through my jog back about a mile to my motel...and only then, when I was greeted by a dear friend, did Sir butterfly flutter off. This year I'd built my 21 -piece stone collage and the next day couldn't find it.
I was jogging to the tune of (what else?) the Beachboys' Surfer Girl. That's when I encountered a nearby friendly surfer about to embark on his ride. Turns out his birthday is Sept 21st. I then found my 21-stone memorial. It's the synchronicity of the surf.
7. IT"S ALL ABOUT THE (ROCK BOTTOM) BASE
Just smack in the heart of the string of Jewish New Year holidays of Rosh Hashanah, Yom Kippur and Sukkos, I meet ROBBIE FELDMAN, born in Long Island, a commercial photographers' agent, has been surfing since the age of 12. He 'd spend week-ends sleeping on a beach in a VW camper. According to Robbie, Montauk has the best surf on the East coast. Maybe it's all about the wave. Apparently Montauk's unique. It's the only place on L.I. with a rock bottom. Translation? "The bottom doesn't sift... the break is consistent." At this point I think I need a marine dictionary. Robbie explains there's something called "point breaks" (surfer talk), depending on the curve in the beach, the direction of the wind and the swell. At the tip of Montauk Point, the waves come in on the point. Case in point.
8. P.S. - POINT SEEKERS - A BREED UNTO THEMSELVES
It was a chance encounter with Robbie that raised the POINT about a particular type that seeks the ENDs of peninsulas or islands - those who love the tip of Cape Cod (Provincetown) or the tip of Florida (Key West) or the tip of Long Island (Montauk). For most, the buck stops at the ocean. For the surfers, the tip IS the ocean. They plunge right in.
These are the dreamers, the romantics, the beachniks, the drifters, the driven, the die-hards, the artists, the challenged, the self-motivated adventurers. This is Robbie....and yes, yours truly. Especially in Montauk.
9. I'M A JAMAICAN LIFEGUARD, MON (tauk)
For over a decade I've re-connected the dots to my Jamaican friend Martin. Every year, as the summer winds turn to autumn chill, we talk about callaloo and his daughter's singing and the beauty that is Jamaica and Montauk. We must have about four conversations over seven days, but it's all about the friendship, the bond, the sunglasses, the smiles, the ginger, Mon. It's Mon-tauk.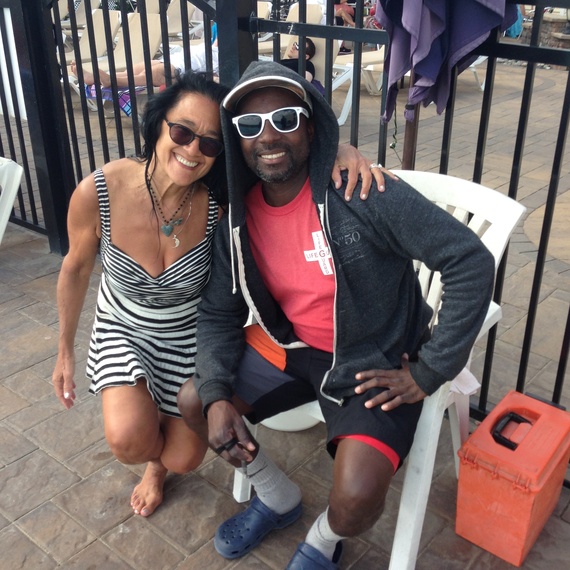 Wilton Martin, lifeguard, Royal Atlantic Beach Resort www.royalatlantic.com
10. BONFIRES & BOND FIRES OF THE HUMANITIES -
On weekend evenings after sunset in Montauk you can see bonfires dotting the beach parallel to the water's edge. It's a nighttime scene of friends, family, communities, camaraderie. I've never had that group to belong to -- I've always been an outsider looking in at the blurred images of huddled bodies and flames. But somehow it warms the heart to watch the clumps of humans bonding over the bonfires. There's the smell of the wood, the elements of water and fire and wind blending into a beachy evening, the muffled sounds of laughter, wine bottles, wanderers, gestures as I watch from above. It's a sort of an ocean, sand & surf drama, lit by logs and bonfire.
If Jeremy Blutstein cooks by the motto Food is Bond, I guess one could say that Montauk is guided by the mantra Surf is Bond.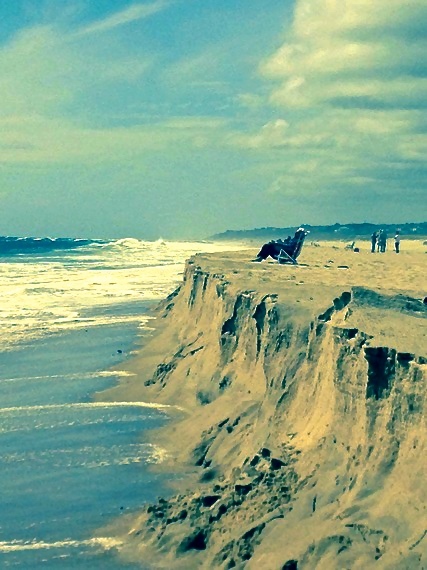 Popular in the Community