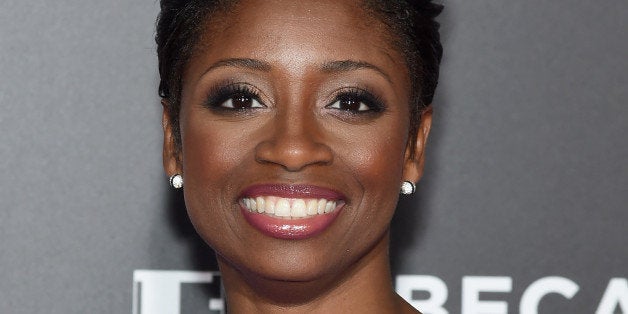 Patti LuPone, Andrea McArdle, Anne Hathaway, Melba Moore--since it first premiered in London 30 years ago, Boublil and Schönberg's mega-musical, Les Misérables, has played more than 40 countries, and hundreds of actors have brought their own take to its iconic characters, like the destitute Fantine.
In the current Broadway revival, Tony Award nominee, Montego Glover (Memphis, The Color Purple) recently stepped into Fantine's chaussures, and having gone quickly from the madcap musical comedy, It Shoulda Been You, to this, was faced with the challenge of putting her own unique mark on the role--one which some might expect after 30 years to have already been mined for all its precious emotions. But, as one of Broadway's brightest stars, Glover isn't likely to let her career be represented by someone else's performance.
"Talk about night and day, right?," Glover said in a recent interview about being cast as Fantine. "It was a total surprise, a total whirlwind, and such a pleasant and wonderful thing to have happen," she added.
"I was literally in my last week of performances with It Should've Been You; went in to meet with the creatives at Les Mis; got a phone call on a Friday saying, 'Let's work together'... and started rehearsing [that] Tuesday."
Having first skyrocketed to Broadway stardom creating the role of Felicia in Memphis, Glover acknowledges the challenges now of stepping into a role as established as Fantine, but respects it as an institution and one she's proud to put her own mark on in Broadway history.
"I think to play a role that is as iconic and as recognizable as Fantine in a show as recognizable as Les Mis is really a privilege," she said. "It's a joy, because Les Mis is a masterpiece. It really is a stunning piece of art and of musical theater. The role of Fantine is just seminal. She is a complex, engaging, feeling being. Having the opportunity to tell the story of her life in this context is so exciting to me," she added.
"It has been great to enter a world of a play that is very firmly established. What I've really been able to do is trust that all of the technical elements have been worked out and I can concentrate on working on Fantine from the ground up," Glover remarked.
From an audience member's perspective, Glover distinguishes Fantine by bringing a striking naivety to the character, making her alien to the environment; a confused and simple woman in starker contrast to her gritty environment, versus many who've played her before, more aware but fearful as Fantine in their surroundings. Glover's approach to the role gives her an opportunity to infuse new drama to the ubiquitous ballad, "I Dreamed a Dream." Instead, she brings a deeper realization to the consequences of love lost and resulting feelings of absolute desperation, and purpose of this iconic song in the layered storyline.
"​I find Fantine very complex. I find her extraordinarily loving and feeling," Glover shared. "She is, when we meet her, injured emotionally and spiritually, and that about her, aside from the fact that she is desperately in love with her child [Cosette] and wanting the best for her, makes her compelling," she added. "She fell in love for the first time. She had a child as a result of that love... The decline that happens when he leaves and Cosette is born, and things start to unravel, is just, in a word, spectacular. I find it irresistible."
In addition to infusing new life into her own role, Glover is one of several casting selections bringing fresh energy to a musical birthed in a very different time culturally and artistically: the era of the mega-musical. Broadway's second African American Fantine (singer, Melba Moore was the first, in1995), Glover joined a cast who noticeably represent a wide range of cultural and ethnic backgrounds, in line with the promising trend of increased diversity on Broadway.
"Ultimately, people coming to the theater want stories told that they can relate to," Glover said about this progress reflected in the arts, if not always in broader society. "In the kind of world and the kind of society that we live in now it's a wonderful thing if people coming into the theater can see the world we live in reflected on the stage. I think that's exactly what diverse casting and diverse storytelling does. I think it's marvelous," she added. "As long as it's serving the play... it's a wonderful thing."
Steve Schonberg is the editor-in-chief of www.centerontheaisle.com and the theater expert for NBC "Weekend Today in New York."
Calling all HuffPost superfans!
Sign up for membership to become a founding member and help shape HuffPost's next chapter