"Montenegro is what Croatia was 30 years ago," says Frank Vukovich, one of the two leaders of our small group of hikers.
Despite our varied backgrounds -- we're a writer, farmer, a botanist, a statistician and a teacher respectively -- we all have a love of nature, which is why we're headed to Kotor Bay, a protected piece of the Adriatic and a UNESCO World Heritage site. We're all eagerly looking forward to seeing blooming flowers, conifer forests and water views.
1. Climb the Fortification Walls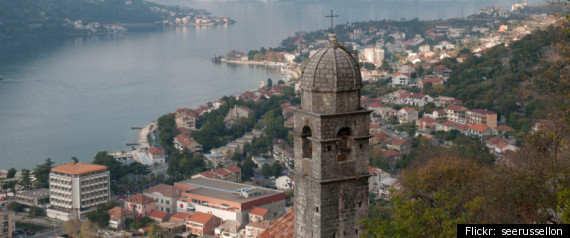 Starting at the south gate of Kotor's old town, which dates back to the 2nd Century B.C.E., we climb cobbled path and steps cut from solid rock that together wind atop the inner battlement walls. We look down over the red-tiled roofs and spot the soaring bell towers of St. Tryphon's Cathedral. Church bells ring out on this Sunday morning. A pair of dolphins jumps in the turquoise-hued bay.
Our first stop on the ascent is the 16th century Our Lady of Remedy Church that was built as a thank-you for help in surviving the plague. From this scenic ledge, it's clear that the bay curves around the high peaks that form the backdrop of this placid scene. (And though many consider Kotor Bay to be a fjord, it's not because it's not a glacial formation.) After trudging up some 1,350 steps that wander to the 850-foot summit, we reach the top, with the ruins of Fort St. John, after just one hour. Here, we breath in the scenery where to the East, a gorge plunges dramatically down and, far below to the West, the city goes about its business. Frank explains why this had long been such a strategic location: any attackers would be plainly visible as they came over the mountains and dropped into a deep gully. As a result, the town was never successfully attacked by land. Our return to town is via a different route that involves first stepping through a hole in the wall and then following a sinuous track through an arid landscape.
2. Ferry to Lady of the Rock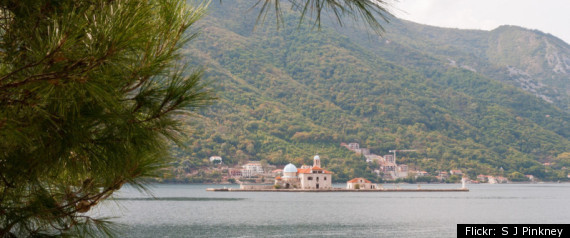 Just offshore from the diminutive town of Perast, long renowned for its navy, two side-by-side isles beckon. We ferry across the waters, passing the wee St. George Island that's defined by its ring of towering, slim cedars. (No visitors are allowed on this isle with its cemetery and old Benedictine monastery.) Our boat docks at the second island, Lady of the Rock, aptly named considering it's said that a painting of Mary was found on a crag in this very spot in 1452. Since this was deemed a sure sign of a miracle, this island was built in the shape of a boat (it took 200 years) in acknowledgment of the area's many seamen. In fact, the boat theme is ubiquitous: In the blue-domed church, the Carrara marble altar is in the shape of a ship's stern, and, among the many gifts the seamen and their wives had given the Virgin are model ships and paintins of boats weathering tumultuous seas.
The most curious artifact in the church's museum is an embroidery of the Madonna and child plus angels, all sewn with silk, gold and silver threads and human hair.
3. Hike to Brajici Village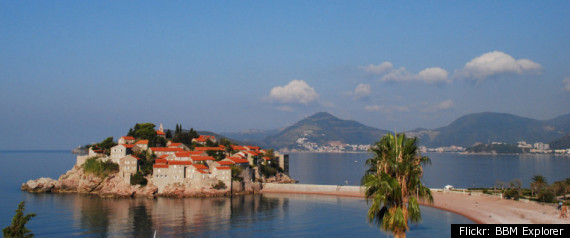 From the trail head, we stare in the distance to see ruins of a hilltop fortress. Chicory, Leopard's bane and other wildflowers dot the landscape. Tiny garden farms are the norm, with many growing patches of potatoes, tomatoes, beets, and green peas. As our path climbs and switchbacks upward, we stop to pick a handful of blueberries and blackberries. Far below, it's nothing but agricultural fields sliced by low stone walls. Once we reach 2,800 feet, our other guide, Bilja Saric, points out the ruins of the Kosmac fortification, telling us that it's one of the best-preserved Austrian fortresses in Montenegro. We rarely are without stunning water views, whether of the Adriatic or the bay. Heading to the interior, we stop for lunch in a field where mulberry trees shelter stone tables and stools that shepherds have long used. Each and every turn of the trail brings a discovery, whether its a gate woven out of branches that serves as a rustic cattle guard, or a magical dell of birch trees. Swallowtail butterflies flit about and blackbirds sore above.
Suddenly, past the multitude of limestone rocks and boulders, we spot a bell tower ahead, snuggled in the trees: It's the Chapel of St. Spiridon that dates to the early 1900s. Perhaps the most memorable finding of the day: A cliff side staircase now worn with use. The Russian monk who constructed this structure did so in the 19th century when it took him 10 years to finish this daunting task. (I lose count but at least 800 steps end in a tiered cemetery with raised tombs.) From here we look out to a diminutive island, Sveti Stefan, that's connected to the mainland by an isthmus. This former fishing village with its cluster of red tile roofs is now the most upscale accommodation in all of Europe - try to snag a spot for your beach blanket on one of their beaches and it can cost you at least $75 a day.
4. Hike Vrmac Mountain Path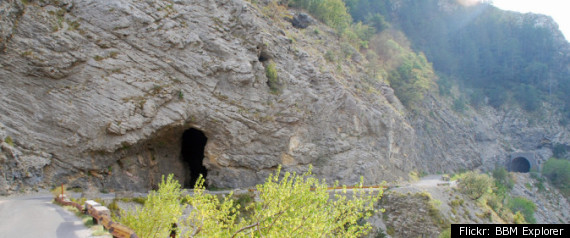 Our hike up the hill referred to as Vrmac isn't off to a good start as we lose the ill-defined track and are forced to follow behind a farmer's seven-year-old son, who appears to know the way, as well as his family's herd of goats kicking up dust ahead. Finally, among the pomegranate trees that are dropping their fruit, we zig-zag up a path that wanders through pine forests. This trail today happens to be Bilja's favorite. No wonder, considering the landscape alternates between clear skies scratched by dark evergreens and land coated with light blue waters. As we hike higher and higher, the path becomes more shaded and dappled with thin bands of sun. Upon reaching a clearing at 2,100 feet, we have our first views of Tivet Bay -- one of the four bays that make up Kotor -- with its busy airstrip. Farther along, a black bull lulls behind a lone building that displays a satellite antenna. We smell the tanginess of wild thyme and bask in the shade of another dark woodland dense with twisted hornbeam and sweet chestnut trees.
Though everyone in the group is taken with the bucolic landscape, they haven't forgotten that we have an enormously long downhill to tackle that will take a couple of hours. Our downhill route requires plenty of concentration as crumbled limestone rocks and slabs double as unstable and irregular steps. We pick our way down, not wanting the miss the botanical delights, including the autumn crocuses.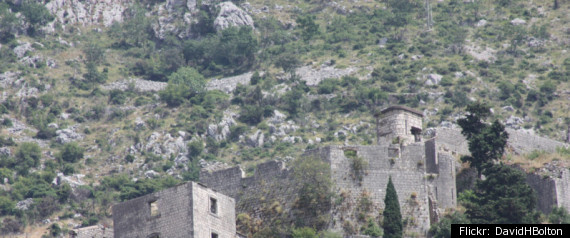 Long known for its wine, the village of Godinje is also heralded for its 13 fresh water springs and its sweet onions. Our walk begins beside a roadside vender selling rakija, a potent brandy that's made from fermented fruits. Walking towards the Church of St. Nikolas, the botanists in our group, point out fig trees, juniper, rosemary and sumac. Beside the path stands a stone drinking fountain from the 19th century. The landscape is peppered with traditional haystacks that stand as vertical masses topped with an open umbrella-like cap of fern fronds and set on a stony rubble.
Terry declares it a lost art, and then picks some fallen walnuts for me to sample. Curiously, sacks jammed with bread slices dangle from tree branches in one yard. (I'm told it's to allow the bread to dry for cooking.) Our trail intersects a cemetery that has an unusual feature: among the black and white images of the dead that are set atop the tombs is one of a still living young woman. (Presumably because it's her husband in the adjacent tomb.) This walk is a riot of plant life: the sweet aroma of lemon verbena and fragrant wild fennel. We nibble some of the tasty figs and wild plums.
The only sound breaking the silence is the tinkling of water from the springs. We rest beside a community well that's set near the many stone dwellings. Finally, we stop for a wine tasting at a kornoba owned by Miodrag Lekovic. (This family-owned winery makes red wines that rely mostly on Vranac grapes. Gazing out at Skadar Lake, we settle in comfy seats under a trellis hung with grape vines as well as gourds and onions. For the next hour, we fill up on slices of goat and cow's milk cheese, prosciutto and onions, washed down with a dark violet-hued wine with raspberry notes (2009 Vranac) that won a silver medal in a local competition.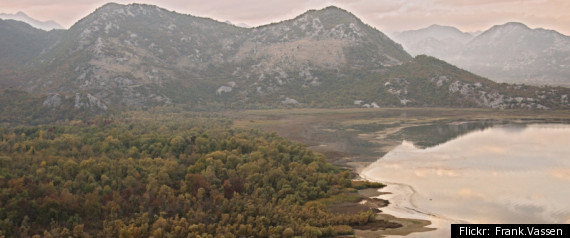 The rest of our afternoon is spent on Lake Skadar, a protected national park, given that it's home to some 50 different species of fish, including many in the carp family, as well as more than 270 bird species. This, the biggest lake in the Balkans, is on a bird migratory path. Frank tells us that the lake is 27 miles from end-to-end with two-thirds of it lying within Montenegro and the rest in Albania. Captain Bilo navigates his boat from the dock in the village of Vipazar through a narrow inlet rimmed with tall reeds. The periphery of this route is covered with giant water lilies bearing bright yellow blossoms.
Cruising over the placid waters, Terry and several other birdwatchers grab their binoculars and scour the sky. They're rewarded with sightings of coots, herons, kingfisher, cormorants and other species. We follow the paths of eagles flying overhead and the occasional little grebe. In the distance, we can barely make out a mountain range in Albania. As we near an islet, Grmozur, we notice its sole structure: the fortress remains from the Ottoman empire that had been used as a political prison. On the mainland's western coast, abandoned stone houses stand sentinel near the pebbled beaches of Murici. The captain anchors our boat so that we have the chance to swim and snorkel in the warm, translucent waters. I stay on-board to check out the bird scene: a heron flits near the shore; grebes are abundant. Then I take out my watercolors to paint this idyllic scene of row upon row of blue-tinged hills that rise and dip like an easy-going roller coaster.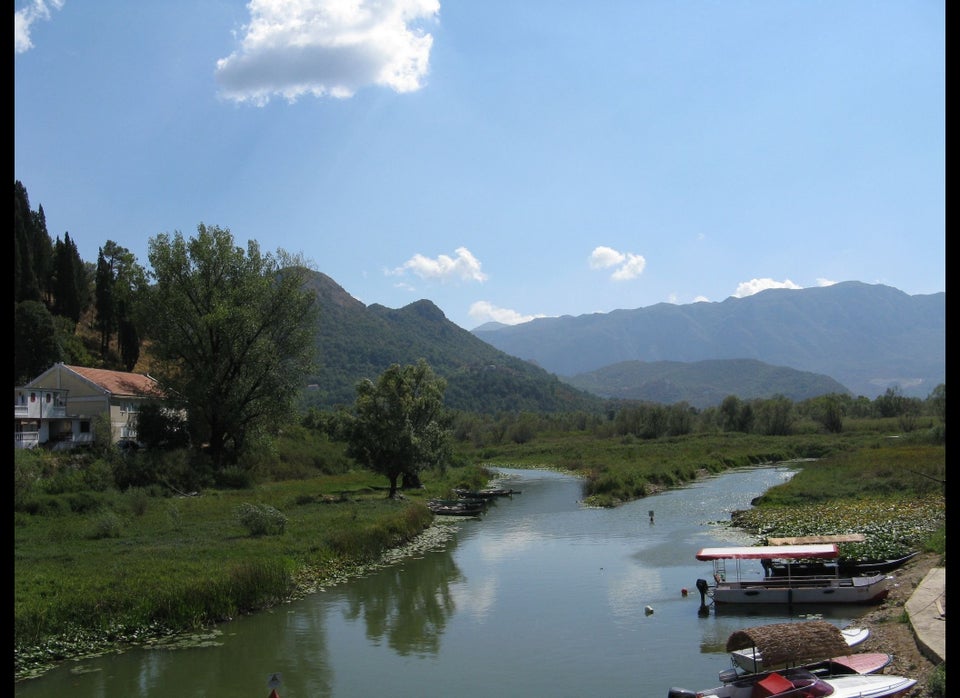 Montenegro
Related