But while the fish may seem frighteningly large, they're just curious "baby great white sharks," according to the kayaker, Giancarlo Thomae, a marine biologist and boat captain who also introduces the video. This proves that the "greatly misunderstood animals are not the man-eating monsters that they're made out to be," Thomae said.
Some 20 of the young sharks — ranging in size from 6 to 12 feet — have been hanging out for about three months close to shore in the bay, midway along the California coast, he said.
"These are juvenile sharks that feed on small fish, not marine mammals," Thomae told The San Francisco Chronicle on Sunday. "They are not aggressive. They swim off to the deep waters offshore to feed, then come into the warmer shallows in the afternoon to rest."
However, he did caution that people kayaking in the bay should stay away from sea lions where older, more dangerous sharks feed.
Great white sharks appear to be hanging out along the California coast longer than normal. Some experts believe that's because of warming water temperatures. "This is the new reality," Christopher G. Lowe, director of the Cal State Long Beach Shark Lab, told The Mercury News Monday. "People are going to have to learn to share the waves."
The Coast Guard issued a bullhorn warning to paddle boarders last month to calmly but immediately leave the water after officials spotted 15 of the big fish nearby. The creatures were close to the surf line near San Onofre State Beach along the Orange County coast, south of Los Angeles.
Video published this month shows a 14-foot-long great white shark struggling in three feet of water off the coast of Baja California in Mexico. The footage captured in May shows the animal had a large wound behind its dorsal fin likely caused by a propeller.
Here's the video of that shark. Warning: The language is explicit.
In March, a great white shark knocked kayaker Brian Correiar into the water, repeatedly attacking his kayak. The shark was close to the same size as the 14-foot kayak. Correiar managed to swim away and was not injured in the attack.
"Bite marks show that it had the whole girth of the boat in its mouth," Correiar wrote in a blog post about the encounter.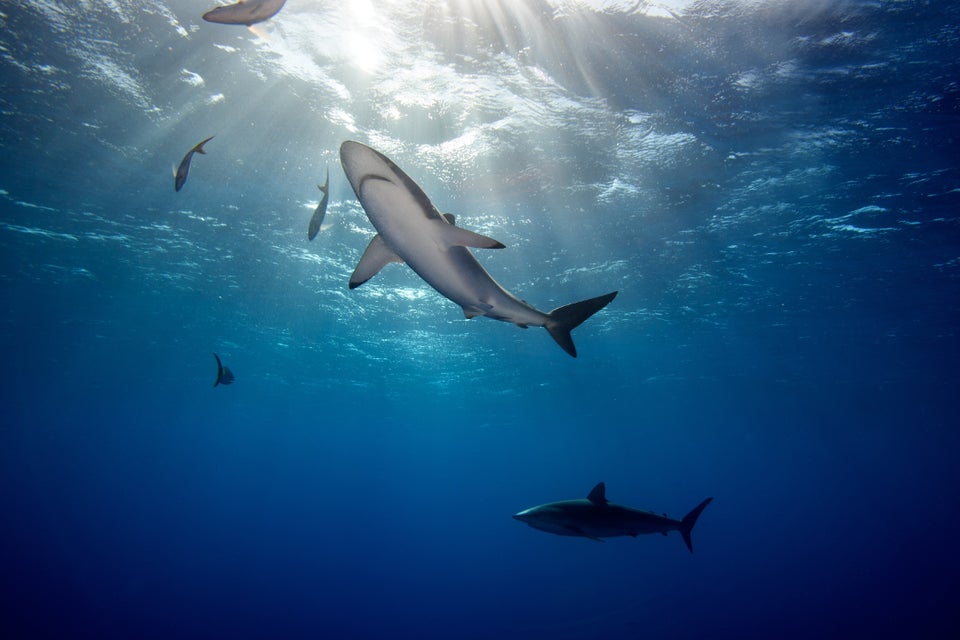 The Beauty Of Sharks
Popular in the Community