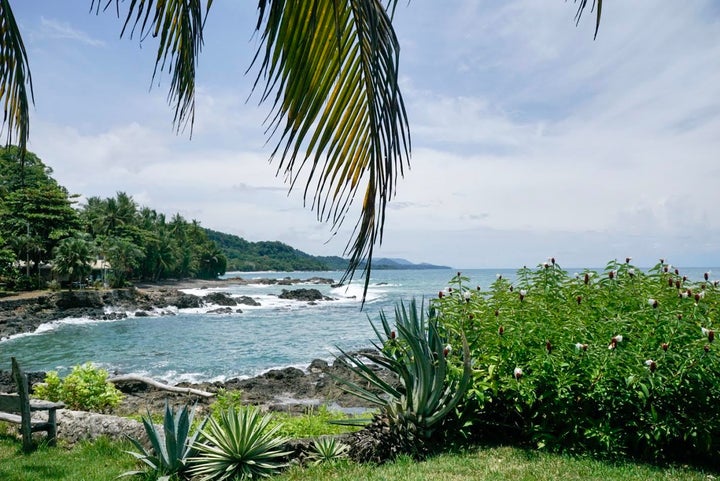 I love to travel. Who doesn't? But the planning and packing can often easily dissuade me. I recently noticed a rare and untethered opening in my schedule that begged to be filled with a getaway. I called my travel agent (errr, sister) who, busy with minor distractions - such as a full-time job and a toddler - referred me to Google.
I wasn't sure what I wanted besides beach, some serenity-now vibes and readily available, intermediate-level adventure. I wanted something that felt off-the-beaten-path, but wasn't that hard to get to or unsafe, as I was traveling alone. The obvious answer emerged: Costa Rica.
Cue the EAT, PRAY, LOVE fantasy montage.
After a brief search, I was thrilled to find Dagmar, the founder of Montezuma Yoga, who as a now-local, understood exactly what I was looking for and had the connections to make it happen without a single worry from me. Dagmar expertly organized ground transportation, accommodations, a full schedule (all optional) of equally challenging and restorative yoga, and surfing lessons to boot.
I arrived for my 5-day stay via San Jose airport. From there, I hopped a regional flight to Tambor (for approx. $100), and after a 30 minute drive, by late afternoon I had arrived at Montezuma. There are only two regional airlines, Nature Air and Sansa, which having tried both, are equally satisfactory. Regional travel by bus or shuttle can also be seriously cost-effective, with buses as low as $10 or shuttle service for $50. But, in the interest of saving time, I chose to fly.
Montezuma isn't the kind of town to offer a Four Seasons and that's the charm of it. Accommodations range from student hostels for as little as $20 USD to dreamy B&B's between $150 and $300 USD a night. I chose Hotel Los Mangos because it was unique in that it offers private bungalows, each with a wrap- around porch and hammock. This really appealed to me, as I was eager to get an authentically local experience. (The property also offers rooms in the main house at an extremely reasonable rate.) Not to mention, my daily yoga classes were right on site.
If you prefer a more full-service hotel, Amor De Mar is just up the road. The proprietors, a German ex-pat family, once lived in the former beachfront mansion and completely restored it into an eco-friendly oasis for friends and guests alike to enjoy. The warm, family-run property has nine rooms and two adjoining beach villas that are wonderful for groups and quite popular for couples as well. The villas, Casa Sol and Casa Luna, can be booked together or separately and feature their own private garden. There is also an outdoor spa available to all guests. The décor is inspired and drawn from its natural surroundings and achieved in collaboration with local artisans. If you are unable to stay during your visit, be sure to try the restaurant where you'll enjoy fresh local fare and make fast friends - as I did.
My itinerary was purposely relaxed with yoga as the focus. Dagmar's expert instructor, Silvia, led unique classes each day based on our particular needs - with many of us surfing and hiking each day as well.
Surfing served as my biggest challenge, as Costa Rica is known for its no-nonsense waves. Mauricio, the instructor at High Tide Surf School, escorted our small group to nearby Playa Grande. After a major refresher course from Mauricio, I was able to amateurishly relive my surfing glory days and left satisfied with a few solid waves clocked on my internal scoreboard.
During my free time, I enjoyed exploring my surroundings. Montezuma is a small town located on the southernmost coast of the Nicoya Peninsula. But despite its size, there's plenty to do and the best part is the ease and accessibility of all activities. Each day I'd slip on a bathing suit and keep myself busy (without any cost) with activities such as hiking, swimming and reading on the beach. The uninhabited terrain is wide-open -- nothing is stopping you from walking out onto edgy cliff sides, dipping into the countless wading pools and, of course, climbing the famous Montezuma Waterfall just south of town. I played the sandy-footed wanderer and fell deeply in love with the remote and rugged locale.
Weeks later, I'm still buzzing from the experience. The feeling of sitting in a tree, in the middle of a storm, at the foot of a waterfall is forever etched into memory. I can easily recall the freedom of being very far away, which Montezuma truly offers because it is genuinely removed. It simply doesn't care about the things you feel are important back home. And that's what's most wonderful because it gives you permission to not care as well. At least, for the time you're there.
Popular in the Community