A Maryland county has effectively ended homelessness for veterans living there.
Once it is officially recognized, Montgomery County, just outside Washington, D.C., will join other places like Houston, Las Vegas and New Orleans, which have also ended veteran homelessness.
The county's success with finding housing for its 58 homeless veterans illustrates the power of collaboration between local government, nonprofits and private citizens in addressing the homelessness crisis. Montgomery County officials hope to use the systems put in place to make an even bigger push to find housing for the chronically homeless and homeless youth between 18 and 24.
A January survey found 1,100 homeless people living in Montgomery County -- a 23.5 percent increase from last year. The county, which has an overall population of more than 1 million, used that survey as a starting point and began aggressively identifying and reaching out to the veterans seeking assistance there.
Montgomery County's effort was focused by deadlines set by multiple national challenges to end homelessness among veterans, including the Mayor's Challenge To End Veteran Homelessness and Zero:2016, which aims to end veteran homelessness by 2016.
The county has reached the "functional zero" standard of homelessness set by Zero:2016, meaning the number of homeless veterans is less than or equal to the average number of veterans who are placed in housing each month.
"There really was a sense of urgency and political will," said Susie Sinclair-Smith, the executive director of the Montgomery Coalition for the Homeless, which led the effort. "We housed a family in five days. That is unheard of." By the time all the homeless veterans were placed in housing, she added, her organization knew each of their names.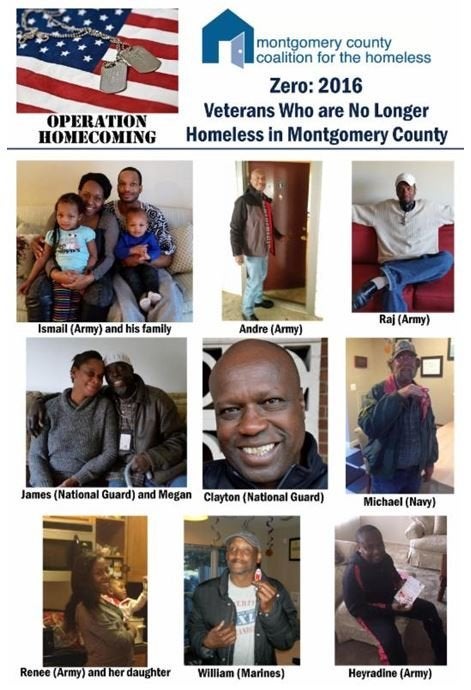 Over the course of this year, Sinclair-Smith and other officials worked with the local Veterans Affairs hospital to determine which homeless veterans were eligible for federal benefits. In the process, they realized that the county would need to pay to house some of the veterans, and county officials stepped up to allocate an additional $500,000. The county had also already been employing a campaign manager to help identify the needs of homeless vets.
The county funding kicked in Oct. 1, Sinclair-Smith said, and has helped house 40 veterans since then. $300,000 of that money went to the Montgomery Coalition for the Homeless; the remainder went to a local group called Bethesda Cares.
The community effort went beyond just funding. Businesses stepped in to "adopt" veterans, making sure they had furnishings, helping them move and staying in touch afterwards.
The county has reached the "functional zero" standard of homelessness set by Zero:2016, meaning the number of homeless veterans is less than or equal to the average number of veterans who are placed in housing each month.
Montgomery County Council member George Leventhal (D), who was the council president when the $500,000 for the effort was approved, said that good coordination between all the officials involved was a key element of the effort's success.
"It was a combination of very adept nonprofits, help from the feds for this specific purpose and local political will from elected officials," he said. "Good coordination among all of us."
Leventhal added that the funds were almost eliminated as part of county budget cuts, but the council found a way to preserve them.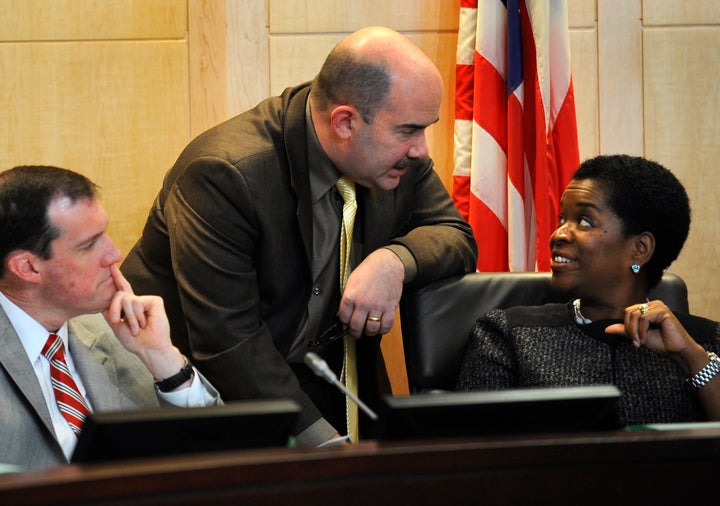 In working to find housing for homeless veterans, Sinclair-Smith said that officials prioritized immediately assessing veterans who sought help to determine whether they needed short-term or deeper housing assistance. This kind of personalization was necessary, she said, because people suffer homelessness for different reasons. For any group that falls into homelessness, about 80 percent need a small nudge or help with a medical, job or other crises. The rest need deep rental assistance and ongoing services.
Officials also kept a list of the help each veteran needed and their progress in acquiring the necessary documentation to get housing. They also prioritized speed and developed relationships with landlords, so that private apartments would be available for veterans to see as soon as they completed the necessary documentation.
While Sinclair-Smith said it's impossible to completely eliminate homelessness, the systems put in place will help to significantly mitigate it.
"When you talk about ending homelessness, everybody says you can't end homelessness, you know, it's like poverty. There's always gonna be someone experiencing homelessness." Montgomery County managed "to make sure that homelessness is a rare occurrence, [that] when homelessness does happen, it's brief and it's nonrecurring."
Sinclair-Smith said the group plans to take these lessons and apply them towards a new goal: ending chronic homelessness in the county.
"If we can show that we can end homelessness for a distinct population, such as veterans, and create the system change that are necessary, then it'll pave the path for ending homelessness for other groups," Sinclair-Smith said.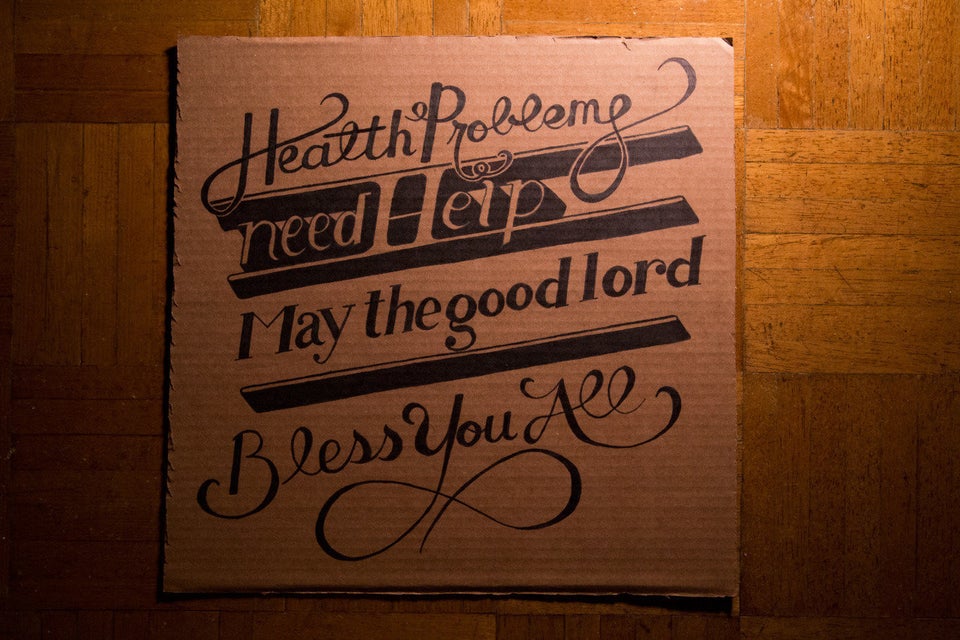 Artist Redesigns Signs For Homeless People
Related