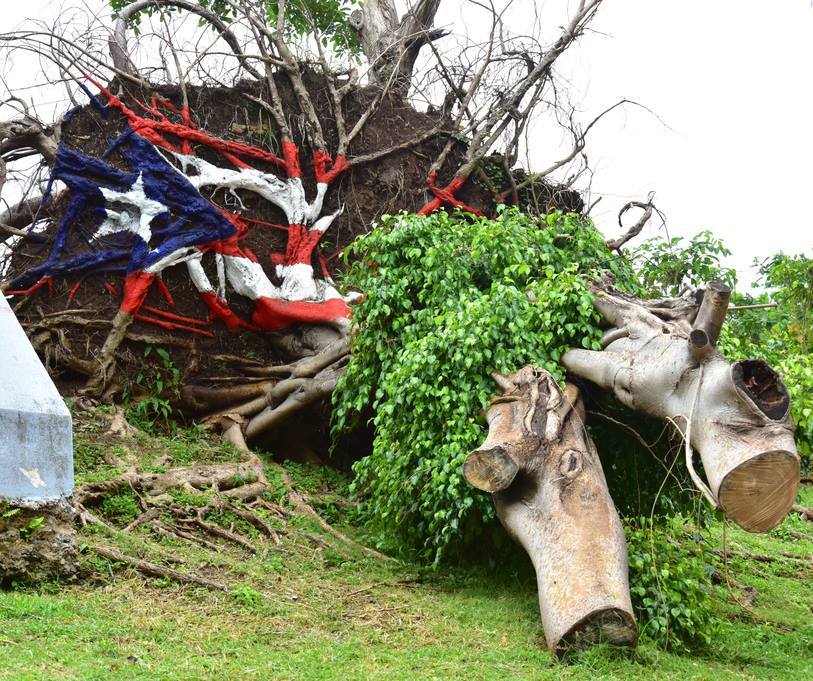 The motto of the United States is E Pluribus Unum – out of many one. At no time is this message of unity more important than during times of crisis. The U.S., like many countries, has been beset on all sides by increasingly severe natural disasters. Whatever their cause, our communities and national ability (or in some cases willingness) to respond is being strained by a dangerous disaster fatigue. This includes the ongoing suffering in the U.S. territory of Puerto Rico, the U.S. Virgin Islands and the Caribbean, which runs the risk of becoming a forgotten crisis, as memory, the news cycle and commitment fades.
More than 90 days since Hurricanes Irma and Maria devastated the region, millions in the Caribbean face a long road to recovery, while the response efforts have become a flash point for partisan point scoring that has sadly become the hallmark of U.S. politics. Puerto Rico has the dubious distinction of being the longest running blackout in U.S. history, with more than 50% of the island without electricity for 61 days and counting. Dubious reconstruction contracts, such as the scandal surrounding the $300 million Whitefish award, along with political in-fighting on the island, have only served to compound the woes of weary residents and accelerate their out-migration.
A resilient nation is one that comes together with compassion, purpose and long-term resolve during a time of crisis. Whatever the cause of large scale losses like the near total collapse of Puerto Rico's infrastructure and the complete devastation of many islands in the Caribbean, the Federal government and military are all too often the only agencies with the resources to respond. While these are often the costliest of interventions a country has, when people face the type of ruin we are seeing in the Caribbean, the rest of the country and, indeed the world, has an obligation to prove that in the face of severe threats we are not islands unto ourselves and our neighbors will not be forsaken. This clarity of mission should not be blurred by politics, the lack of civility or consensus, but rather requires clarity of purpose to save lives and build back better. Future-proofing the Caribbean is a unique opportunity to pilot models for resilience at scale. Indeed, there is a growing call for a pan-Caribbean Marshall Plan from the likes of Sir Richard Branson and others to galvanize this movement.
Putting the suffering in the Caribbean into perspective, by the time Hurricane Harvey's wind and record-breaking rain paralyzed Houston, the 4th largest city in the U.S., FEMA had a little more than $1 billion in its response budget. All but for an 11th hour Congressional line of credit, FEMA would have exhausted its financial resources in responding to relief efforts in the Gulf. Shortly thereafter, much of the Florida peninsula suffered statewide damage caused by Hurricane Irma triggering one of the largest ordered evacuations in U.S. history. These two events on their own would have strained Federal resources, the insurance industry as well as stricken communities. Adding the apocalyptic fires that raged in California claiming more than 40 lives (the most in any U.S. fire) and causing indiscriminate property damage, reveals how the U.S. homeland is facing an unprecedented series of hazards from natural, man-made and emerging causes. In counter to our motto, the U.S. now stands in global isolation as the only country not party to the Paris Climate Agreement – a seat we should quickly retake following a summer of discontent.
While disaster response is difficult, and emotions run high with each passing day, the fact that 3.4 million Americans continue to see their lives waiting in the balance, more than 2 months after Hurricane Maria, should give no American comfort. The people of the Caribbean need and deserve a whole of government response and they need it now and for the long-term. Acute humanitarian needs, which sadly remains the current phase of the crisis, requires ongoing support to stabilize infrastructure, the electricity grid, and, perhaps most importantly, the medical system, which is still in disrepair. While power has been restored to most hospitals in Puerto Rico, the medical system continues to labor under the strain of fuel shortages, overwhelming patient numbers, medical triage and scarcity of supplies. The island can quickly spiral into a protracted public health crisis, which insidiously will only accelerate mass exodus. Evidence of the state of public health in Puerto Rico is the wild inaccuracy of Hurricane Maria's casualty count, with estimates ranging from 55 to more than 900 casualties.
Before this year's dreadful hurricane season, the Caribbean was ground zero for the Zika outbreak in 2016. For example, 1 in 5 Puerto Ricans were affected by Zika. Stagnant waters, a broken healthcare system and overwhelmed first responders, means that island residents will face a long road to recovery – one plagued by a host of health risks. Adding to the logistical burden, 2,932 miles of Puerto Rico's 5,073-mile road network are unusable, which means that getting supplies to a port is merely the end of the beginning. In-land logistics remain an obstacle and many communities remain isolated. A 10-day waiver of the Jones Act negated this logistical complexity and has only added insult to injury to Puerto Rico's residents and hampered Puerto Rico's ability to serve as a relief hub to neighboring islands.
This call to build back better must first clear the debris of the region's shattered infrastructure, and then begin to clear the policy and legal restraints that hold the Caribbean back. Chief among these in Puerto Rico's case is the complete and permanent removal of the Jones Act, which not only strangles the island's economic competitiveness, it does little to protect U.S. national security, which was its initial intent in the 1920s. The Jones Act is relic legislation with no place in the 21st century. In addition to lifting this law, debt relief, privatization and modernization of sclerotic state-owned enterprises, beginning with the electric utility, PREPA, must form part of a comprehensive reconstruction and revitalization effort. Facing a municipal debt burden of $73 billion with a shrinking revenue base was enough to hobble Puerto Rico's economy. Adding an estimated $95 billion in hurricane reconstruction costs, means that breaking this death spiral requires not only big thinking but big actions in Washington and real solidarity in the region. Backing a Caribbean Marshall Plan with the full faith and credit of the U.S. is precisely this action.
Calling all HuffPost superfans!
Sign up for membership to become a founding member and help shape HuffPost's next chapter
This post was published on the now-closed HuffPost Contributor platform. Contributors control their own work and posted freely to our site. If you need to flag this entry as abusive,
send us an email
.