If it does, it would be the first development in the story to spur a major swing in opinion, after months of incremental revelations that only barely moved the needle.
In that survey, 49 percent of U.S. adults said that the Trump administration's relationship with Russia was at least a somewhat serious problem, with 31 within that group judging it very serious ― numbers that have changed relatively little in polling conducted since March.
Views didn't budge much after former acting Attorney General Sally Yates and former Director of National Intelligence James Clapper testified at a Senate hearing on the Russia issue in May. And though concerns increased modestly after former FBI director James Comey was fired and after reports that Trump revealed classified information in a meeting with Russian officials, that shift seemed to gradually erode as Washington's focus turned largely back to other subjects.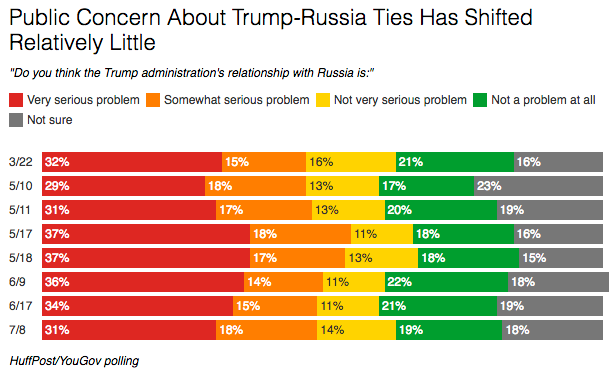 Underlying the relative stability of the numbers is an intractable foundation of partisanship. Unlike the debate over health care, in which the president's base has only tepidly rallied behind the GOP bill, the Russia controversy finds the vast majority of Trump voters staunchly unmoved, and his opponents almost universally outraged.
In the latest poll, 90 percent of voters who backed Hillary Clinton in last year's election ― but just 14 percent of those who voted for Trump ― consider the administration's relationship with Russia to be a somewhat or very serious problem. In May, those numbers were literally identical.
Americans who stayed home or supported a third-party candidate in 2016 are theoretically more malleable, especially because they're paying less attention. Within this group, fewer than four in 10 say that they understand the Russia controversy even fairly well, and nearly a third remain undecided about the seriousness of the issue.
Their opinions, though, have changed little in recent months. Americans in that category currently say by a 19-point margin, 45 percent to 26 percent, that the administration's relationship with Russia is at least a somewhat serious problem. In May, that margin was 20 points, 41 percent to 21 percent.
Americans are overwhelmingly suspicious of Russia and its leader, the new poll finds. Among all respondents, just 17 percent consider Russia friendly or an ally of the United States, while 37 percent call it unfriendly and 24 percent say it's an enemy. Only 14 percent hold a favorable opinion of Putin, while 63 percent view him unfavorably.
But just 9 percent of Americans rank Trump's relationship with Russia as among the two issues most important to them. In contrast, 49 percent say that health care is among their top issues, and 37 percent name the economy.
Use the widget below to further explore the results of the HuffPost/YouGov survey, using the menu at the top to select survey questions and the buttons at the bottom to filter the data by subgroups:
The HuffPost/YouGov poll consisted of 1,000 completed interviews conducted July 7-8 among U.S. adults, using a sample selected from YouGov's opt-in online panel to match the demographics and other characteristics of the adult U.S. population.
HuffPost has teamed up with YouGov to conduct daily opinion polls. You can learn more about this project and take part in YouGov's nationally representative opinion polling. More details on the polls' methodology are available here.
Most surveys report a margin of error that represents some, but not all, potential survey errors. YouGov's reports include a model-based margin of error, which rests on a specific set of statistical assumptions about the selected sample rather than the standard methodology for random probability sampling. If these assumptions are wrong, the model-based margin of error may also be inaccurate. Click here for a more detailed explanation of the model-based margin of error.
Popular in the Community