A Minnesota high school cheerleader has been arrested after police say she prostituted a teammate who has a developmental cognitive delay.
Montia Marie Parker, an 18-year-old senior at Hopkins High School in Minnetonka, was said to be popular among her classmates. Her future, however, is now on hold, pending the outcome of charges that were recently levied against her for sex trafficking and promoting prostitution.
"This particular situation is highly unusual for us. We've never had a situation like this before," Chief Mark Raquet, of the Minnetonka Police Department, told The Huffington Post.
According to a copy of the criminal complaint provided to HuffPost by the Hennepin County Attorney's Office, the investigation into Parker began on March 9, when the parent of a 16-year-old girl contacted local police and told them she found disturbing text messages on her daughter's phone.
The text messages, according to the criminal complaint, were in regard to possible "prostitution-related activities."
An investigator sat down with the 16-year-old, whose name is not being released because she is the victim of a sex crime. He took her statement.
The girl, a sophomore at Hopkins High School, said in early March she mentioned to friends that she was trying to make some money, according to the police report. One of her friends said she could earn money by giving men oral sex, but she said she did not take the suggestion seriously and thought her friend was joking.
Two days later, the girl allegedly received a Facebook message from Parker, asking for her cell phone number.
The two girls chatted back and forth via text messages. Parker allegedly asked the girl if she would be willing to have sex for money. The girl said she would be willing to give men oral sex for money. The girl then received a text from Parker, asking her for pictures of herself that were "not too nasty." She also instructed the girl to "show a little skin," according to the criminal complaint.
The photos were used in an advertisement that was posted to the Internet classified website Backpage.com. Police said Parker's cell phone number accompanied the ad, which was allegedly used to solicit potential customers for the girl.
On March 5, Parker allegedly sent the 16-year-old girl a text message and instructed her to leave school. The girl left and met up with Parker and two other girls who were in a car. Parker, according to police, told the girl, "You're up."
The foursome went to a nearby apartment building, where the victim was instructed to enter a specific apartment. Once inside, she "gave oral sex to an adult male in the apartment, and received $60 in cash from the male," the criminal complaint states.
When the girl returned to the car where the other girls were waiting, she handed the money over to Parker, who then drove to a bank and deposited the cash into her own account. The 16-year-old did not receive any of the proceeds, police said.
The following day, Parker allegedly called Hopkins High School. Pretending to be the victim's mother, she asked that her daughter be excused for the day. Parker drove the girl to another residence and instructed her to have sexual intercourse with the male resident. The girl said she did not want to have vaginal sex.
"You'll be fine. I didn't drive up here for nothing, and eventually you will need to have sex," Parker told the victim, according to police.
The young girl went inside the home and told an unidentified male patron that she would give him oral sex, but would go no further. The man declined and she left.
On March 5, the day police were notified about the alleged activities, the victim's mother had been looking through her daughter's cell phone messages. She told police that recent changes in her daughter's behavior had prompted her to start snooping.
Authorities said they spoke with the two girls who were with Parker during the first incident and used the text messages, along with the ad on Backpage.com, to corroborate the 16-year-old girl's story.
Police acknowledge that the victim had knowledge of what was happening, but note that she is enrolled in an Individualized Education Program at school and works with a social worker due to a developmental cognitive delay.
When police confronted Parker, she allegedly admitted she created the Backpage.com ad for the victim and said she had received "a lot of calls" from men about the advertisement. She also confirmed she drove the defendant to both residences to perform sex acts and pocketed the profits.
Parker, who made her first court appearance on May 23, is expected to appear in court again on June 12, to face the two felony charges. If convicted, she faces up to 20 years in prison and $50,000 in fines.
According to officials at Hopkins Public Schools, Parker has been expelled from school.
"Although these events did not occur on school grounds, these charges are very serious," school officials said in a statement. "When we learned of them ... we followed our discipline and safety policy, which includes permanently removing a student from campus."
According to Raquet, additional charges in the case may be forthcoming.
"We don't believe that any of these other girls were necessarily involved, but there might be some additional investigation as to the males that were involved," he said.
READ THE CRIMINAL COMPLAINT:

Related
Before You Go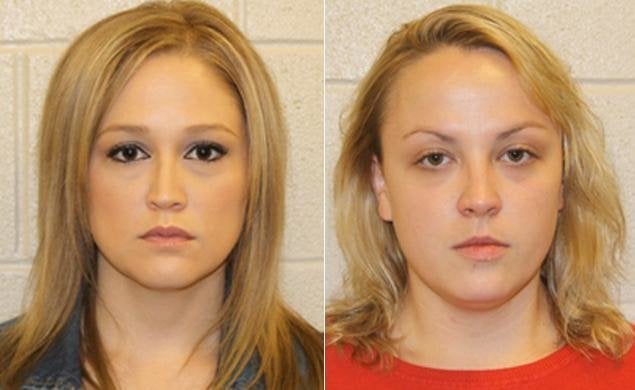 Teacher-Student Sex Abuse Cases
Popular in the Community