It was the perfect moment to leave New York. Long-anticipated layoffs at the Metropolitan Museum had finally come and gone. My position was fortunately safe, but it had been difficult to say goodbye to colleagues. With one week to spare before preparations for our next concert launched into full gear, now seemed the perfect time for my husband and me to pack up and head to Montréal — my father's hometown, and a city whose vital historical performance scene has intrigued me for a while.
The city is a series of distinctive neighborhoods stitched together snugly around Mount Royal, a natural landmark whose peak can be viewed from the neighborhood of Outremont in the northwest — an admixture of Hasidic Jews and hipsters — as well as from the trendy Plateau district just below it — home of the legendary Schwartz's deli and stately Victorian homes along Saint-Louis Square. Sailing through De Maisonneuve Boulevard on Bixi bikes for $5 a day (that's "5$" Canadian), we saw the noble Westmount, where my grandfather held court for much of his life; Gay Village, with its Middle Eastern food stores, cafés with child play areas; and eventually the Old City, via a thick stretch of bike path along the water by the port. All throughout, the mountain seemed a sort of north star, centering us as we wandered, biked, and traversed.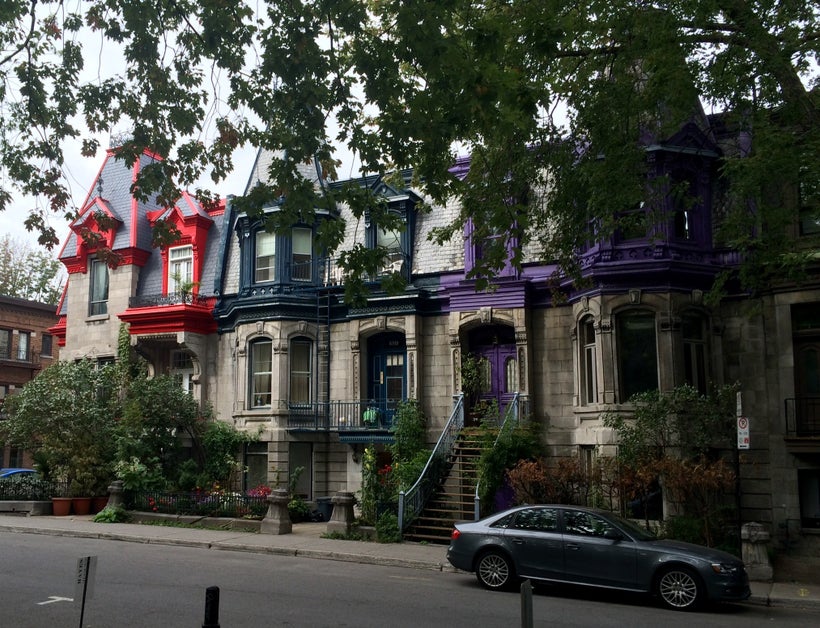 Unlike other trips of ours, we payed little attention to concert schedules before leaving, hoping to see what we could while in town, and figuring this could be an interesting Litmus test for the historical performance scene. Unfortunately it meant missing the imaginative Ensemble Caprice, as well as a meeting of the newly-formed network, NOVAntica, recently organized by Montréal-based cellist Elinor Frey and others as a means of unifying the city's diverse early music community. (Frey also hopes the network will be a support to the many young groups emerging in the city.) What we did catch was Arion Baroque, thought by many to be the more conservative band in town — they certainly hold the record for longevity, at 35 seasons, a subscription series, and a regular gig at le Musée. The performance, held at the Museum of Fine Arts downtown, was directed by Alexander Weimann and left me strong in the knowledge that a mélange of personalities and players and intents can rise to the stable demands of a truly fine director. Basically, Weimann is as good as it gets. He worked the musicians like clay, shaping the sound, conjuring wild surreality from deep within the music, and confident in his embodied otherworldliness, not straying from the beyond for a millisecond. The crazed brilliance of younger zany players hidden within the section (I spotted violinist Tanya LaPerrière) perpetuated his pulse. The audience were appreciative but subdued, oblivious to the witchcraft — more used, perhaps, to another sort of Sunday afternoon; it had started to rain.
After the concert we met with some friends in the field — they were curious about our impressions of the city and asked after the concert — the slice of the scene — we'd just heard. Word on the street is that there is precious little governmental funding to spare for early music in Montréal, and that it's hard to start new historically-informed groups unless the program is strictly devoted to French music. Younger musicians at once admire and fear the monopoly some organizations have over resources. Conversation shifted to the intricacies of the concert, but I pulled back, preferring to let the lofty impressions that the music itself (WF Bach; JS Bach's arrangement of Vivaldi's four-violin concerto for four harpsichords given back to the violins by Weimann, but with Bach's orchestration) had made on me. I was on vacation, after all.
My thoughts inevitably shifted to our hotel — the gorgeous space which granted us the needed distance we so desperately desired as tourists, and, frankly, as a couple who works in music, yet relaxes to it, as well — the aptly-named Loft Hotel, on Saint Denis in The Plateau. Its neo-Baroque lobby, contemporary loft spaces, its friendly staff and beautiful breakfasts each morning all reminded me of that truth we time travelers contend with once we've reached a destination: that there can only ever be true respite from the status quo by fully embodying the spirit of transcendentalism. Lofty ideal? Or a (re)nascent authenticity?
REAL LIFE. REAL NEWS. REAL VOICES.
Help us tell more of the stories that matter from voices that too often remain unheard.
This post was published on the now-closed HuffPost Contributor platform. Contributors control their own work and posted freely to our site. If you need to flag this entry as abusive,
send us an email
.