When we started thinking about our vacation trip this year, we really had no idea where we wanted to go. Criteria was that we did not want to fly and that the location should be no more than 6-7 hour drive from our home in Connecticut. First we directed our search south. We were already in Washington DC earlier this year during the spring break partly on an important family business and partly on semi-vacation exploring the city and visiting museums. We looked at the New Jersey shore but, at the risk of sounding snooty, we were not keen on simply spending all seven days on the beach baking ourselves to a nice crisp brown color inducing risk of potential cancer later in life. We wanted a bit more from our vacation, exploration, adventure (as much as you can get it with two children) and some culture. We then moved our search North. We already visited Cape Cod and Main in the previous years and then our glance fell on Canada on the map of North America. We looked up Montreal and the initial reviews online were great. Hotel prices were extremely reasonable ( a lot more than Washington DC prices were in April). So, Montreal it was.
As I am writing this, we are on our way back from Montreal. We are driving through Vermont on a country road (since we wanted to avoid highways) and I am struck by the beauty of the north country. Farms stretch along the road on both sides with lake Champlain on my right. Views are stunning on our drive and once again I am very happy with the choice we made to come up here and vacation in Canada. I don't remember a less stressful drive with two children with views straight out of Nancy Cato's All Rivers Run (only set in the USA not Australia).
If you've never been to Montreal, run, drive, walk, fly there now. It is rare for a young family like ours to be able to spend not one, but six days in a city and be able to navigate everything with ease and comfort while exploring the cultural monuments and having fun at the same time. Montreal is an ideal Europeanesque town to travel to with young children and feel like you are truly having a great international adventure.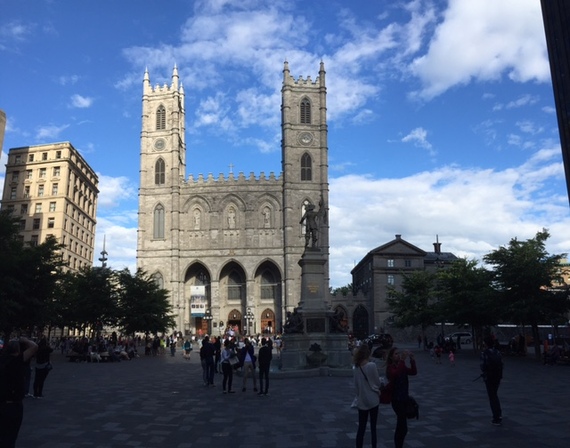 Montreal is a big-small city with a relaxed beat that took our breath away. Modern and old, large and small at the same time. People of Montreal are francophones but they easily switched to English when they realized that our French was limited. I took pleasure in practicing my very rusty French and I was pretty amazed that I was able to understand everything well enough, despite how long it was since the last time I spoke it, however my conversational skills left much to be desired for. Everyone was kind and understanding when it came to our children who were always on the move. They all had smiles for them and there was never even a hint of impatience towards them, whether we were in a restaurant or in a museum.

While we were visiting MCA (Museum of Contemporary Arts) at the Place Des Arts, my kids were extremely impressed by the paintings and they spent a considerable time interpreting paintings to us. A woman approached us and said that she used to teach elementary school and that the kids used to explain their art to her in the same manner. She said that she could absolutely see what my children were describing. They saw a waterfall and a bridge that was broken and its pieces were floating in the green nothingness. I ended up seeing the waterfall and that woman helped me be more patient with my children that were fascinated by the paintings and the modern display of programmable installation made of six sound murals that serve as a platform for the nineteen compositions. A complex network of wires and microcontrollers evoked a sense of order but also of chaos, which, to the kids represented a toy-like massive device that they could not stop looking at. My kids were excited as I was, but it did take some effort to prevent them to touch the exhibit.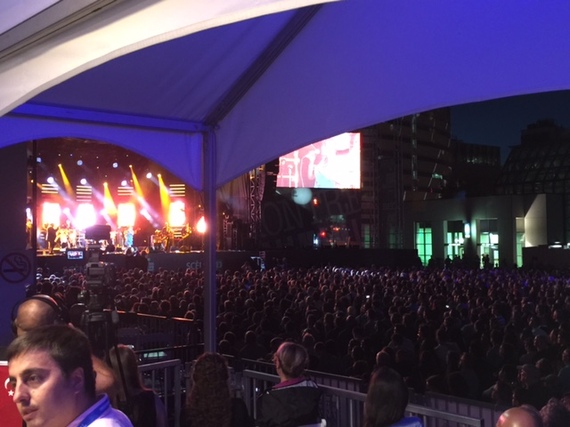 Jazz festival opened while we were in Montreal and we were able to attend several free concerts that were held at five large professional looking stages at the Quartier des Spectacle. Despite the crowds people flocked there with their children and we were able to see Montreal's inhabitants of all colors and ages, disabled and healthy enjoying the music, dancing and singing. There were no incidents even though alcohol was served on the streets, there was no yelling or carrying on, just a bunch of people having a good time. It sounds too good to be true, but that was our experience for several days we were there.

Old Port of Montreal was haven for good food, easy strolling and there was a big playground for children and also with an adventure park for youth that had a zip line running across one of the narrow channels. We used metro to get us around and it was super easy to navigate. It was clean and everyone on the metro was polite to get up to let us sit down with the kids.

We also got the taste of Canadian healthcare system. Our older son fell ill and he came down with a fever. It was fairly easy to find one of the clinics and take the metro to the location. We checked in and we were informed of the charge to get treatment right away. We were told that there is a wait time and we were asked to return so that we do not have to sit in the waiting room. Once we returned we were promptly seen by a nurse and then a doctor. My son was prescribed antibiotics and we were on our way shortly. So, a minor set back in our journey but the doctor's experience was a reminder that perhaps nationalized healthcare is not such a bad thing.

We visited Botanical gardens and Insectarium, walked around Saint Catharine Street and Prince Albert street, visited Notre Dame Basilica and ate at the Atwater market and overall our Montreal experience left us wanting to see more, Biodome, Jean Talon Market, Jean-Drapeau Park, and many other places that we did not have time to see.

So Montreal, mon amour, we will be back and you stay beautiful, relaxed and full of kind, diverse and happy people.
Popular in the Community