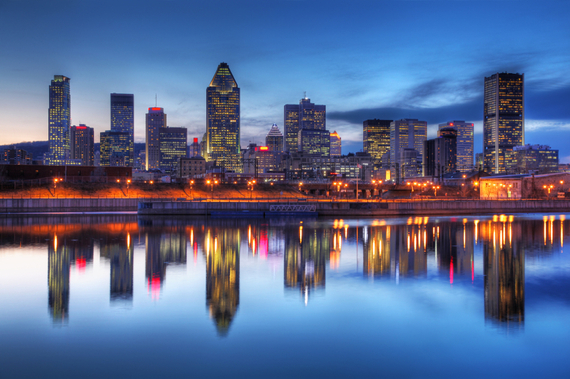 Mark McLaren, Editor in Chief, ZEALnyc, August 3, 2016
About now, New York City heads for its bridges and tunnels seeking relief from the heat, humidity and malaise that comes part and parcel with the month named after Cleopatra's conqueror. And while there are a number of Northeast travel destinations that combine relaxation, great food, beautiful surroundings and exciting culture, I'm going to suggest one you might not have thought of -- Montreal.
And you couldn't find a better time to explore the 'City of Festivals' than from August 10-13 when the fine Orchestre Symphonique de Montréal and music director Kent Nagano throw their annual musical gift to the city, OSM's Classical Spree, Couche-Tard. Now in its fifth year, Classical Spree is a marathon of music, solo to symphonic, spread over four days that includes over forty performances and runs from late-mornings well into the cool Montreal nights.
The Orchestre Symphonique de Montréal made a well-reviewed splash this spring with a ten-city US tour ('This is a sound with tremendous polish but little varnish, and the result is exciting'...) and OSM anchors Classical Spree with three concerts, starting with a free outdoor olympic-sized celebration at Montreal's Olympic Park. Galaxy of Heroes celebrates the 40th Anniversary of the 1976 Montreal Olympic Games (outside its iconic stadium) and features selections from Holts' The Planets and a hundred young Quebec athletes in a stadium spectacular conducted by Maestro Nagano. Later in the week, OSM plays Beethoven's popular Ninth Symphony, and wraps the festival with a unique night of works by Saint-Saëns, including the lush, romantic (and loud) 'Organ' Symphony. OSM was gifted its new Grand Orgue Pierre-Béique in 2014, and the orchestra is showing off its new acquisition in this beautiful symphonic gem.
The Grand Orgue is featured earlier in the week as Philippe Bélanger improvises a live soundtrack to an outdoor screening of the silent film For Heaven's Sake. Earlier that evening, composer Robert Normandeau offers a world premier of an electroacoustic work celebrating the 50th anniversary of the Montréal metro. Other festival highlights include violinist Pinchas Zukerman and the OSM playing Milhaud, Bruch, and keeping with the Olympic theme, Vangelis' Chariots of Fire.
And throughout the festival, soloists and small ensembles fill days and nights with 45-minute concerts including world-class pianists Nelson Freire, Gille Vonsattel and the young Ukranian pianist Serhly Salov. Other artists include violinist Arabella Steinbacher, cellist Adolfo Gutiérrez, mandolinist Avi Avital, Celtic duo Seán & Nelson, sopranos Sarah Wegenerand and Marianne Fiset, Percussion Plus, and the National Youth Orchestra of Canada.
Montreal is a fascinating city, a city with competing cultures that have fostered a great restaurant scene, progressive art, and an active nightlife. There is plenty to take in on your visit to OSM's 5th edition of Classical Spree, Couche-Tard.
And I'll see you there.
_________________________________
Travel Tip: Montreal is 6 hours by car, 11 hours by train, and 1.5 hours by plane from New York City.
Orchestra Symphonique de Montréal Classical Spree, Couche-Tard runs August 10-13. Click here for more Classical Spree information, and click here for the Montreal Board of Tourism.
Read about The Stratford Festival 2016 summer season here by ZEALnyc's Canadian writer-at-large, Caitlin Leonard.
And read what Caitlin has to say about Prince Edward Island and the Charlottetown Festival here.
ZEALnyc is your source for Lincoln Center Festival and Mostly Mozart Festival news here.
Mark McLaren is Editor-in-Chief of ZEALnyc and writes frequently on music and theater.
REAL LIFE. REAL NEWS. REAL VOICES.
Help us tell more of the stories that matter from voices that too often remain unheard.