Multiple buildings were evacuated at a Canadian university on Wednesday after a letter sent to media outlets threatened to detonate bombs targeting Muslim students.
Students and staff at Concordia University in downtown Montreal were asked to immediately leave three campus buildings where the letter claimed bombs would be set off. Classes in these buildings were also cancelled for the remainder of the day.
A group calling itself the Council of Conservative Citizens of Canada (C4) reportedly sent a letter complaining about Muslim students on campus via email to several media outlets, including CBC News. Alleged copies of the note were floating on social media on Wednesday, claiming the attacks weren't meant to kill, but rather to injure, Muslim students.
In a statement on Facebook on Wednesday morning, the university said it was "cooperating with police who are now on-site investigating a potential threat in these buildings."
The threat comes as the university's Muslim Students' Association celebrates Islamic Awareness Week, aimed at promoting campus understanding of the faith. The group announced on Facebook that all events connected to the awareness week, which were scheduled to take place in one of the evacuated buildings, would be cancelled for the rest of the day.
Concordia University spokesperson Chris Mota told CBC News that the university viewed the threat "not only as a threat to one particular portion of our population, it is a threat to the entire population."
"From the perspective of the university, a threat against any group is a threat against all of us, and we are going to come together and make sure everyone comes out of this fine," Mota said.
In Toronto, police are investigating a fire that erupted Tuesday night at an Islamic information center and mosque. Officials reached the Reign of Islamic Da'Wah mosque shortly before midnight and discovered a small gas can that they believe started fire.
Many mosques have been on edge in the wake of a shooting at the Quebec Islamic Cultural Center in January that left six worshippers dead. Police told local news that Tuesday's fire seemed "suspicious" and said they were investigating it as arson.
In December, flyers containing anti-Muslim and anti-LGBT imagery were posted around McGill University in Montreal. The posters included the websites of several white supremacist groups and stated: "It's time to make Canada great again."
Before You Go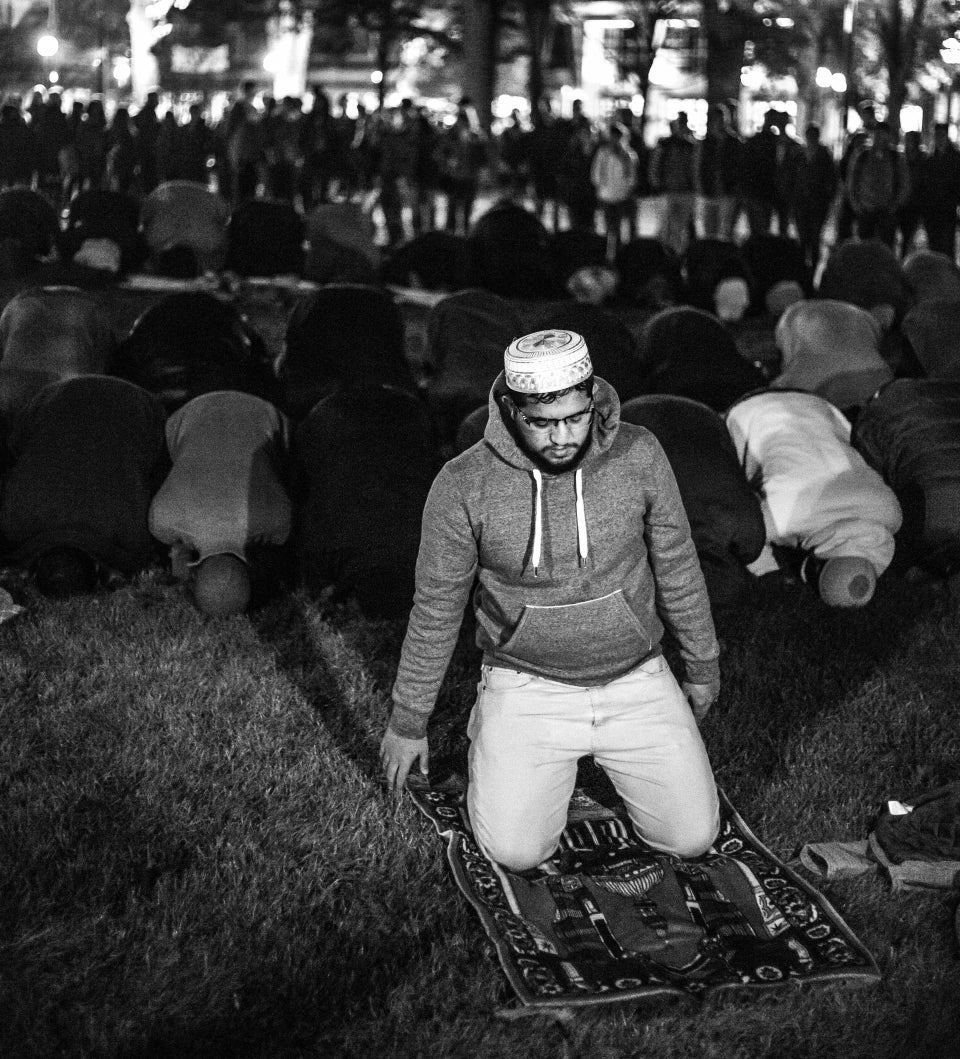 Interfaith Allies Surround Praying Muslims With Circle Of Protection
Popular in the Community