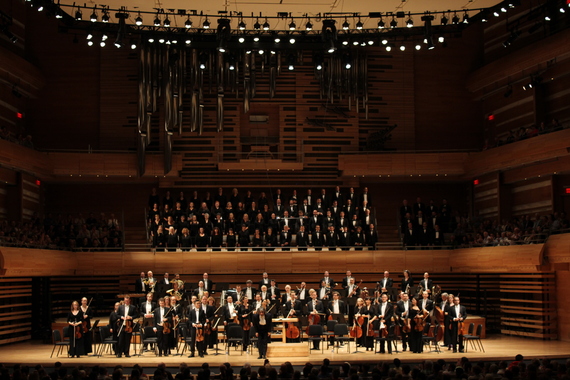 Kent Nagano and Orchestre Symphonique de Montréal, Maison Symphonique, Montreal August 12, 2016. Photo: ZEALnyc
Mark McLaren, Editor in Chief, ZEALnyc August 27, 2016
Last week, the Orchestre Symphonique de Montréal and its music director Kent Nagano concluded a marathon four-day music festival that attracted some of classical music's brightest stars and well over 60,000 Canadians in celebration of the city's rich classical music tradition - a tradition grounded, it seems, in the city's symphony orchestra.
"It's very important for us, especially here in Montreal where we have such an enthusiastic audience, such a faithful audience, to go out and really play directly to the public," says OSM music director Kent Nagano. "Over the last five years, the OSM Couche-Tard Classical Spree has enjoyed a steadily growing success," reports OSM chief executive officer Madeleine Careau, and attendance at over forty concerts held at Montreal's Place des Arts grew this year to over 30,000. This support, in addition to an audience of over 30,000 at Montreal's Olympic Park that opened the festival, suggests that the city of Montreal does, in fact, maintain a special relationship with its home-town orchestra.
The OSM began its festival at Montreal's Olympic Park with Galaxy of Heroes, an outdoor concert celebrating the fortieth anniversary of the Montreal Olympic games and featuring popular orchestral fare from Holst, Mussorgsky, and Wagner accompanying live athletic performances and vintage footage from the '76 olympic games.
The festival moved to downtown the following day with the debut of an electro-acoustic work by composer Robert Normandeau celebrating the fiftieth anniversary of the Montreal metro. Organist Philippe Bélanger followed with an impressive (and crowd-pleasing) improvised soundtrack to the silent film For Heaven's Sake, playing OSM's newly gifted Grand Orgue Pierre-Béique at Maison Symphonique.
The next two days were filled with an ear-staggering collection of concerts, large and small, in four different Place des Arts venues. Violinst Pinchas Zukerman and pianist Nelson Freire headlined, joining the OSM for orchestral fare (Bruch, Milhaud, Mozart) and solo recitals (Freire offered a particularly intimate peak at the Brahms Piano Sonata no. 3 in F minor op. 5 at Place des Arts' Cinquième Salle). The OSM played multiple concerts of Beethoven's Ninth Symphony featuring a quartet of Canadian vocalists and the utterly accomplished OSM Chorus. It wrapped the festival with a rare performance of Saint-Saëns Organ Symphony which again featured the new Casavant organ (Op. 3900) at Maison Symphonique.
And throughout in chamber ensembles and small recitals, a host of today's exciting (truly) and leading musicians marched through Place des Arts. The young and gifted German violinist Arabella Steinbacher led a performance of Brahms' Quintet for Piano and Strings in F minor, op. 34 and thrilled with Prokofiev. The vivacious Avi Avital, the world's leading classical mandolinist, played Vivaldi and Beethoven in both solo recital and with OSM. Spanish cellist Adolfo Gutiérrez Arenas played Schumann and Chopin with Canadian pianist Charles Richard-Hamelin and Franck and Piazzolla with pianist Suzanne Blondin. New York pianist Gille Vonsattel brought gravitas to Vivaldi, Beethoven, and Debussy and offered a compelling partner to Ms. Steinbacher in Prokoviev and Mozart. OSM concertmaster Andrew Wan and other OSM instrumentalists appeared frequently, as did the National Youth Orchestra of Canada.
OSM's Couche-Tard Virée Classique is a pretty impressive undertaking - some remarkable music-making over the course of a very short time. At its most intense, my listening began with Vivaldi at 10:30am, and concluded with Saint-Saëns at 11:00pm. Between were impressive performances that delighted the ear.
The following are short reviews and excerpts of select OSM Couche-Tard Virée Classique performances.
For Heaven's Sake with Improvised Organ Soundtrack by Philippe Bélanger
In an interview with ZEALnyc moments before he began his performance, organist Philippe Bélanger claimed that, like his audience, he had "no idea what he would hear" during an improvised soundtrack to the silent film For Heaven's Sake. I suspect this is a bit of showmanship on the part of Bélanger, who accompanied the film from Maison Symphonique on the newly gifted Casavant (Op. 3900) Grand Orgue Pierre-Béique. Whether Mr. Bélanger's performance was truly improvised or carefully planned, it was unarguably thrilling. The improvised soundtrack, taking its cue from the film, was nicely shaped, entertaining, and at its moments of conflict, compelling. Mr. Bélanger reports that accompanying For Heaven's Sake, which clocks in at just under one hour, is a relatively simple task when compared to the lengthier Ben Hur (over two and a half hours) which, with its long chariot race, is particularly popular with silent movie audiences.
Orchestre Symphonique de Montréal Beethoven Ninth Symphony, Kent Nagano Conducting
OSM played multiple performances of Beethoven's popular symphony, offering a showcase not only for the orchestra and its relatively new Maison Symphonique, but for a quartet of skilled Canadian vocalists and the very fine Orchestre Symphonique de Montréal Chorus. Nagano drove the performance with characteristic passion and detail, and the OSM retains its exciting sound in its home (I had last heard them at Carnegie Hall, "a sound with tremendous polish but little varnish, and the result is exciting"). Exciting also was to hear the fine OSM Chorus, with a sound that is also polished with impressive diction and a passion to meet its orchestral partner. The Maison Symphonique provides an arresting environment for the chorus, with lighting that cinematically highlights individual choristers. (I suspect that this lighting was working on stage left, but not on stage right on the evening of August 12.) And while the chorus placement is visually impressive, the distance from the house makes the choral sound slightly remote. This is a small complaint, and both the OSM and its chorus offered a superb performance of this orchestral favorite.
Johannes Brahms Quintet for Piano and Strings in F minor, op. 34
Performances outside of Maison Symphonique began impressively at Place des Arts' Cinquième Salle with a touching performance of Brahms' grand masterpiece. Young German violin sensation Arabella Steinbacher began the first of three Virée Classique appearances leading an intimately sublime performance with Andrew Wan (violin), Neal Gripp (viola), Adolfo Gutiérrez Arenas (cello), and pianist Gille Vonsattel. The small hall provided the listener with close look at both the work of this impressive roster of individual players and the ensemble, in a reading that was nicely shaped and texturally rich.
Viva Vivaldi! with Pinchas Zukerman, OSM and Guests
In a star-studded morning concert, the biggest star of this salute to Vivaldi may have been Maison Symphonique itself, which with its rich wood interior and oscillating curved walls, is an impressively happy environment for the smaller forces of baroque ensembles. Within the relatively large space, the sound of the morning's smaller ensembles danced deep in the middle of the hall, providing a sound that while nicely blended, brought the appearance that the performers were considerably closer to the ear than their actual physical distance. OSM chief operating officer Marie-Josée Desrochers says that this particular acoustic effect has influenced programming in future seasons, with next year's highlighting the symphonies of Haydn.
On this morning, Vivaldi did indeed live. Both pianist Gille Vonsattel and cellist Amanda Forsyth gave sure accounts of his music for keyboard and cello. Of particular charm was mandolinist Avi Avital, who brought a plucky reading of Vivaldi's Violin Concerto in A minor RV 356 adapted for mandolin. Mr. Avital is the world's leading classical mandolinist, and hearing him perform, it is hard to believe that the instrument won't become a standard guest in concert halls, just as the guitar joined its ranks several decades ago. Mr. Avital's playing is secure and exciting with sure tuning and powerful interpretive instincts - both sensitive and spunky. Look for Mr. Avital at a concert hall near you - very soon.
Steinbacher and Vonsattel play Mozart & Prokofiev
Both outstanding soloists returned to the intimate Cinquiéme Salle for an impressive recital of violin and piano. It may have been just past noon, but following Mozart's Violin and Piano Sonata no. 18 in G major, K. 301, the duo performed an impassioned reading of Prokofiev's Violin and Piano Sonata no. 1 in F minor, op. 80. In an interview with ZEALnyc, Steinbacher reveals that Prokofiev and Shostakovich are composers particularly close to her heart, and this reading of Prokofiev, played on the 300 year old Booth Stradivarius which has been her performing instrument for over a decade, cast no doubt as to her understanding of this music. Steinbacher plays with both technical acumen and lovely passion. Her technique is both nimble and secure, and she pulls from her instrument a huge range of sound, all securely grounded in tuning and tone. Her interprative pallette is equally reaching - she plays Mozart with as much intention as she does the often emotionally wrenching music of Prokofiev. Superstars reign in classical music, and look for Steinbacher (following Perlman, Bell, Mutter, Zukerman) to join this list very soon. In Vonsattel, she found a happy partner who plays with impressive skills of his own and empathetic sensitivity.
Spanish Cellist Adolof Gutiérrez Arenas plays Franck and Piazzolla

The young Spanish cellist Adolfo Gutiérrez Arenas made several appearances at OSM's Couche-Tard Virée Classique including an early and successful collaboration with Arabella Steinbacher, Andrew Wan, neal Gripp, and Gilles Vonsattel in a compelling performance of the Brahms Quintet for Piano and Strings in F minor, op. 34. Later, he joined pianists Charles Richard-Hamelin and Suzanne Blondin for duo recitals. With Blondin, he played Franck's monumental Violin Sonata in A Major (cello version) and Astor Piazzolla's Le grand tango. At this stage, Arenas' sound isn't huge, but it is expressive - important for the work of both Franck and Piazzolla. His tuning is a tad rich (though more contained in the Brahms earlier in the week) and his heartfelt interpretation of Franck suffered slightly as a result. His interpretation of Piazzolla, on the other hand, was as moving as it was accurate. Look for this talented soloist down the road.
Camille Saint-Saëns with OSM and Kent Nagano
The final concert of the festival again featured the Maison Symphonique's organ, now in a night of orchestral music by Camille Saint-Saëns. OSM has spent time with the composer of late, last year recording his three violin concertos with OSM concert master Andrew Wan as soloist. Saint-Saëns Tarentelle for Flute, Clarinet and Orchestra op. 6 began the festival's final performance and featured OSM principals Timothy Hutchins (flute) and Todd Cope (clarinet).
But frankly, the star of the night was, again, the Maison Symphonique and its Grand Orgue Pierre-Béique. More about these two.
The Maison Symphonique was inaugurated in 2011. With a seating capacity of 2,100, 70% of its interior is finished in blond wood, fostering a warmth of sound and a visually cool, modern interior. European seating in the house, though perhaps inconvenient to concert-goers, creates a uniform visual line in the hall while chorus seating behind the stage mirrors the seating levels within the house. This stage seating builds to a dramatic reveal of the organ, the pipes of which (the largest playfully inverted as they hang from the ceiling) act as frame and proscenium to the stage below.
Inaugurated in 2014 and at a reported cost of $4 million, Maison Symphonique's Grand Orgue Pierre-Bélanger is the product of the French organ builder Casavant and includes nearly 6,500 pipes. The organ was donated by Jacqueline Desmarais as a tribute to OSM's founder and first general manager who ran the OSM from 1939 to 1970. Many a U.S. concert hall looks to electronic instruments these days to fulfill organ needs, and it is a stark reminder of the Montreal's European personality that, in such a time and at such an expense, this organ was commissioned and installed. The organ console sits dramatically high over the stage, producing more visual excitement in the hall as the organist reigns over proceedings, while at the same time engulfed by the instrument he plays.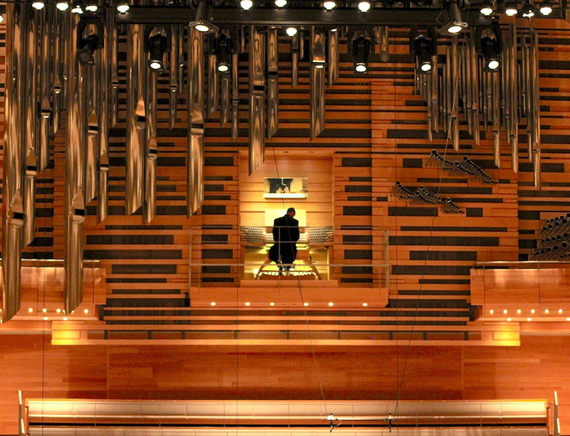 Organist Jean-Willy Kunz Grand Orgue Pierre Béique at Maison Symphonique, Montreal Canada August 13, 2016. Photo: ZEALnyc
And over the course of OSM's Virée Classique, the Grand Orgue established itself as a truly fine instrument. Distinctly flexible at the hands of Philippe Bélanger earlier in the week, with Saint-Saëns the organ demonstrated its subtlety. The composer's Organ Symphony is by no means a concerto - the instrument is not featured as a solo instrument. Rather, it acts as another orchestral 'section' adding new tonal color, and in this case an excitingly rich palette. Organist Jean-Willy Kunz is masterful in his registration choices, and the organ acted as a delightful community member - adding a compelling non-orchestral color without dominating. The first of the organ entrances was sublime - soft, delicate strings blended with the orchestra to create an utterly unique sound - a sound that beat in waves. As the piece moved toward completion, its chordal language moved to that of the organ, which rose appropriately to the dominant color.
Throughout, OSM's unique sound thrilled. Their strings are firm, emphatic and beautiful. The brass and winds, proud and confident. The balance among this youthful collection of musicians is spot on, but it is a balance in which individual components maintain a bright presence. In an era when individual sounds among orchestras become rare, OSM under the leadership of Kent Nagano is a happy exception.
Orchestre Symphonique de Montréal adds a rare new orchestral instrument to its family in October. Read about OSM's new octobass here.
The International Contemporary Ensemble appears at Mostly Mozart. Read what Joshua Rosenblum had to say here.
Jazz and vibraphone legend Bobby Hutcherson passed away this week. ZEALnyc's Dan Ouellette recounts his time with Hutcherson here.
The New York City opera season is just around the corner. Read ZEALnyc's preview here.
Cover Photo, Orchestre Symphonique de Montréal at Maison Symphonique, Montreal Canada. Photo: ZEALnyc.
Mark McLaren writes frequently on classical music and theater.
Calling all HuffPost superfans!
Sign up for membership to become a founding member and help shape HuffPost's next chapter