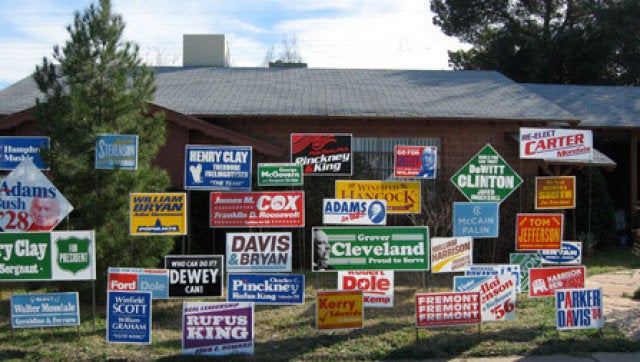 TOP 5 FOR MONDAY, SEPTEMBER 10
1. Monument To The Unelected At Washington Post
Nina Katchadourian's newest exhibit is unveiled today and runs through November 9 in the street level windows of the Washington Post. The artist will give a talk tonight on her work of the series of 56 election signs featuring the names of every person who ever ran for President of the United States, but came in second. 6:30 p.m., all ages, no cover, registration encouraged
3. Ladyhawke At Rock and Roll Hotel
She's going to blow up. The dance-pop artist will get big enough to have an Absolut Vodka commercial that plays every time you want to watch "The Daily Show" on Hulu. See her while she's still at this level. And before you're sick of the inevitable commercial. 8 p.m., 21+, $15
4. "True Lies" At AFI Silver Spring
Remember when Arnold was likable, Tom Arnold got multiple laughs in one film and Jamie Lee Curtis wasn't yet an ad-man for digestive yogurt? 6:45 p.m., all ages, $7 to $11.50
TOP 5 FOR THE NEXT 5 DAYS
Tuesday, September 11
Outlaws at Marx Cafe
A recommendation for a DJ night that involves little to no dancing. Sit back and listen to country from Waylon Jennings, Loretta Lynn and other story-telling, rule-breaking American musicians.
Wednesday, September 12
Stories On Stage at DC Arts Center
Barrelhouse Magazine presents their first reading series at the Adams Morgan event space. D.C. actors will read the works of D.C. authors.
Thursday, September 13
One Hour Magazine at Above the Bike Shop
One Hour Magazine is a PDF magazine. They're asking any and everyone to stop by the space above the bike shop in Adams Morgan to come hang out, listen to music, eat food and work on one page of collage for the magazine. Welcome back to grade school art class.
Friday, September 14
Literary Death Match at Jack Morton Auditorium
The host/creator of LDM Todd Zuniga is a genius. He bring together people from the literary world to read their works in front of audience and panel of "experts." The finalists advance and compete in arbitrary games that sort-of relate to the written word. Nerds love it and people that aren't nerds enjoy it. This will be the fourth edition of LDM in D.C. The show tours the world and if there's any justice in entertainment, will one day be a television show.
Saturday, September 15
H St Festival
A family-friendly street festival that isn't sanitized. Music on five stages, a fashion show, the Baltimore Rock Opera Society and specials from all the bars on H Street.
PHOTO GALLERY
DC Shorts Film Festival Showcase 11
REAL LIFE. REAL NEWS. REAL VOICES.
Help us tell more of the stories that matter from voices that too often remain unheard.