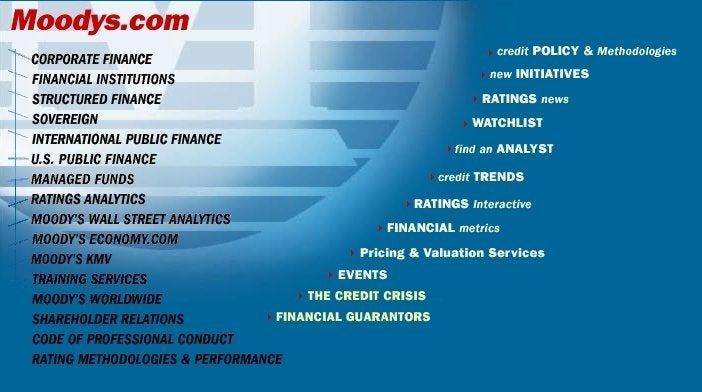 On Tuesday, Moody's Investors Service published a new list called the Bottom Rung, which details which companies the ratings agency says are most likely to default on their debts. It estimates that about 45% of the companies on the list will default on debt over the next year. Defaulting on debt doesn't necessarily mean bankruptcy - it can also include missing a debt payment.

With 283 companies, the list holds nearly every sector of the economy. The dominant industries on this at-risk list include much of the U.S. auto industry, the casino sector, and many retail chains, newspapers and broadcast-TV and radio-station networks. Energy firms, airlines and restaurant chains appear often.

The Moody's Corp. unit rates debt of 2,073 companies, sizing up each one's ability to pay what it owes. The Bottom Rung, which Moody's will update monthly, represents roughly the riskiest 15% of all companies it tracks.
Eastman Kodak Co. and casino operator MGM Mirage are among 283 U.S. companies at the highest risk of default, according to Moody's Investors Service.

The number of speculative-grade issuers on the "Bottom Rung" list compiled by Moody's has almost doubled from 157 a year earlier, the New York-based ratings company said in report published today.

According to Minyanville, Tuesday's list was an attempt by Moody's to reclaim some of its former glory, which was lost when it failed to spot the banking collapse.
Moody's, along with fellow ratings agencies Standard and Poor's (MHP) and Fitch Ratings Services, played a major role in the recent financial market meltdown. Conflicts of interest with debt issuers, faulty models and lax internal controls all led to credit ratings that were unreliable at best, deceptive at worst.

Unfortunately for Moody's, gone are the days when investors valued haphazard assessments of credit risk. The Bottom Rung, while generating ample work for Moody's customer-complaints department, isn't likely to reclaim any of the company's lost glory.
According to 24/7 Wall Street, Chrysler and Rite Aid "are clearly beyond help," but others, including AMR, Level 3 and AMD have relatively strong balance sheets. Still, by Moody's publishing this list, it could hurt these companies' chances of surviving the downturn, the site said.
Popular in the Community