Two ratings agencies this week downgraded Illinois' credit rating.
Mainly it means that more of your tax dollars now will go toward paying interest on state borrowing.
With the worst credit rating in the nation, Illinois is like the home buyer whose credit score is so bad that he gets his mortgage through a payday lender.
Both Fitch Ratings and Moody's Investors Service delivered double warnings in the reports that accompanied their downgrades on $26.8 billion of bonds. First, they attributed Illinois' worsening fiscal position to the ongoing state budget standoff, which threatens to compress payment for the state's unpaid bills -- a little more than $7 billion as of today -- into just a few months. That's because it's likely that Gov. Bruce Rauner and the General Assembly won't get a budget signed into law until sometime in early 2016, with only a few months left in the fiscal year that ends June 30.
With Illinois now on pace to spend $34.5 billion in FY 2016 while only bringing in $32.1 billion in revenue, we know that any state budget will need to address a deficit of at least $2.4 billion. But that only covers court-ordered spending and expenditures that don't require authorization from a budget. When you count spending that needs to happen but can't until there's a budget -- like higher education funding -- the deficit is more like $5 billion.
That's the short-term trouble. Fitch and Moody's also criticized Illinois for failing to put forward any plan for paying the $110 billion pension debt it owes through 2045.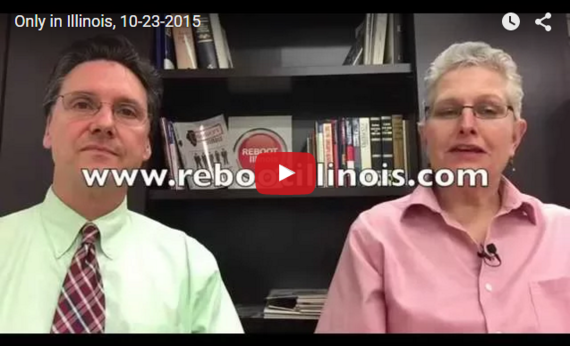 Calling all HuffPost superfans!
Sign up for membership to become a founding member and help shape HuffPost's next chapter