The Mo'olelo (Story) of PeniDean
Peni Dean is an island reggae artist who has been around the industry for over 20 years. He has experienced the highs and the lows and the beautiful part of it all is that he remains as humble and talented as the first day he stepped on the performance stage.
I was able to sit down with him before a show in Seattle in the front of a van outside of the venue. We talk story about life's ups and downs, God, family and loved ones, and his love and passion for the music he creates. He has advice for all of us and if you listen - he is probably talking right to you.
Let's let one of the legends of island reggae talk story now.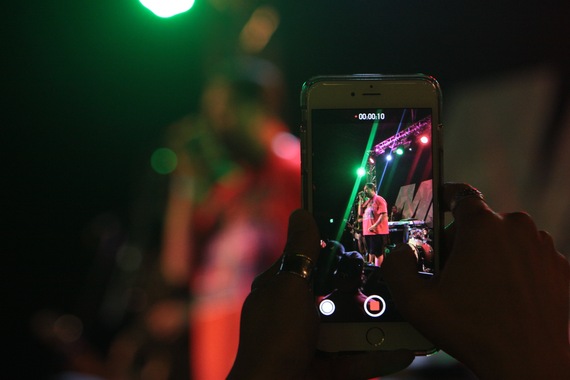 Photo Credit: Fel Pajimula
Peni Dean, please tell us about yourself?
My name is Penidean Pua'auli and formerly the lead singer of Natural Vibes (Natty Vibes). I am Hawaiian, German, and Samoan. I come from Hawaii where I was born and raised.
I was born in 1971 and my interest in music came at a very early age somewhere around 4 or 5 years old. I just wanted to sing. I come from a long line of musicians in my family. The most famous person from my family is Uncle Gabby Pahinui. His last name is Kahahawai, which is also my last name but then he was adopted by the Pahinui's.
My grandmother told me that everyone in the family played music. So my interest in music sparked early. As I grew up, we did the traditional way of learning music; you learn, you play, and you sing. Then someone gave me the Bob Marley "Legend" and the Michael Jackson "Thriller" cassette tapes on my 13th birthday. Being given those 2 cassette tapes opened up my imagination, opened up my ears to different types of music. So I got 2 great albums from 2 great musicians to inspire me along with my traditional Hawaiian musical influences into the world of music.
My mom also listened to many different genres of music. Not just to the traditional Hawaiian songs we'd sing or play. When she remarried my step dad listened to even more types of music from jazz to blues to hip hop. He was African American and his music also influenced what we listened to. All of this expanded my music and I'd like to think that it is all incorporated to how I do my music.
I have 5 children and 3 grandchildren. It's wonderful because my wife and my new born twins of 5 months are on tour with me. Family is everything to me. I realized after being in Natty Vibes for 23 years that if you're on the road for a long time, then it's really smart to have your family on the road as much as you can. It will definitely save your marriage. It will definitely save your family. Some people may not agree with that but that's ok. I have to do what I feel is best for me and them.
I want them to see what I see. Where I go and the people I meet, I want them to go and meet also.
I don't just want them to learn about it through pictures or just hearing about it. Plus, it also makes me very happy to have them with me and it strengthens that bond. Musicians who are happy and happy on the stage will just transcend that beautiful energy out to the crowds.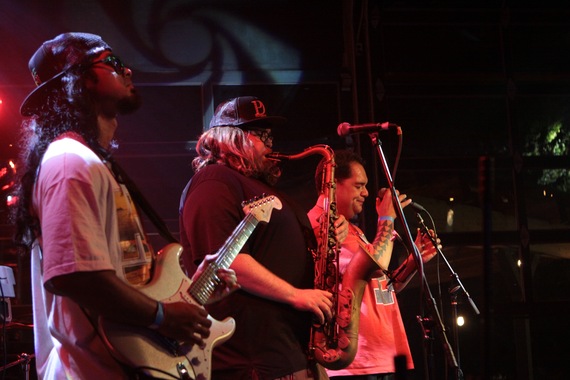 Photo Credit: Fel Pajimula
So you're solo now. Can you tell us a bit about that?
I left Natty Vibes a year ago. I went home. Surfed for a month. Long story short, I got hurt. My wife told me I needed to get out and do something. I have to be a contributor in the world somehow. I ended up starting a band and a year later, here again out on tour.
I just got picked up by Hawaii's Finest which is now my management company. Since being with them, things have taken off. We just finished our EP. After touring, we're going to go back home. Record some more songs to put out the LP. The plan is to do a bunch more practicing to get more in tune with ourselves and then next year come back out on tour. The plan is once that happens, we just really want to let it go. We have big things happening with Peni Dean in the next year or so.
Big things are coming from us.
Who are you listening to nowadays?
Right now I'm loving The Expanders. The Expanders are doing some really great stuff. Another favorite band of mine is The Green. I love listening to J Boog. That's family. He's my cousin.
Really I like to listen to a lot of stuff, the stuff that I think is good.
I would say that all these guys inspire me and I'd like to think that I do the same for me.
I'm know you've inspired a lot of folks especially with your time doing the work in the music world. How has it been for you through the years?
When I first come in, it was at the beginning of making CDs. For the last 20 years, I've watched the industry change from a really high profiting business to now, where artists have to be clever to get our profits. You have to really invent yourself and be creative on the stage. Your music also has to transcend down to the people. The people, especially the next generation, can see right through a lie. They can see right through a person if they are just standing on stage and going through the motions.
So if you're a musician and you're not to sure about yourself or your music, you have to take the time to find yourself first. You have to work on the legs under you before you stand up, so when you do stand up you can be confident, strong, firm in what you are doing. For me, I always want to give back what I've learned to the younger musicians. I want to tell them to go ahead and practice and come to a show and be inspired. I want to be the messenger. I want to them to teach the next generation and they become the messenger too. We don't need to be guarded about what we do. We want our message through our music to continue on. We want to raise the next generation of conscious musicians. So they can tell the story. They will tell their story if we give them what they need. Let them become the storyteller. That is what we have to do is share this information. It's how we live, its our life, it's the blueprint to being better and being successful.
That's what I am trying to do. I'm trying to give them what they need so they can go on and tell their stories.
My mentors taught me, "Hey listen if you become someone, if you are able to give back anything - give this message. Make sure that message gets carried on. Find the right storytellers and keep all of our stories going."
What do you see your role as a storyteller?
I was raised by my grandmother. I actually looked at her as my mom. Since I was a baby, her face is really what I remember when I think of the word, "mother." She was the holder of all the mo'olelo which means stories. She knew the geneology of the family so she was the holder of all this family information. I was her favorite so she made sure that all those stories and everyone she ever met was explained to me. So everyone in the family I would have information on. I didn't realize that I was being groomed to be the next storyteller of this wonderful family.
After I realized that responsibility was on me, I took it very serious. I mean why not. I've been taught to capture all of these stories for my family so why not pass them down. I find myself even more so in that position because I am a musician. All the stories that I'm writing and telling are done through my music.
Also I try to teach my children. Everyone one of them, I try to teach them what my grandmother taught me. I am teaching them that from here on, that they are the ones to carry these stories and their stories forward. I tell them, "You not only want to but you have to carry these stories."
It is important that every family has their storyteller. Someone who can identify the hard work that has been put in. The sacrifices that people have made. The accomplishments. The people who have passed on. We owe it to them to make sure that these stories are told. We have to make sure that when they look down to us that they are smiling because they know that we are going to carry them on. The more we know, the more we can make the slight changes to make the world better. That's what they would want.
So how does that translate into your songwriting?
All I try to do is tell you about my life. Hopefully you can understand it and even more important is that you can try and relate to it. Most people can because my life is not too much different than anyone elses life. One of the differences is that I can tell my story on the microphone, with a band behind me. I can do that but really I have to have that. I try to incorporate every bit of my experiences in life into my music in hopes that you will see it and feel it and be like, "Hoh, he's talking to me." Maybe my music can help you move the obstacle you are trying to go around or even offer you a different opinion on something that is going on in your life or something that you are facing. I don't have all the answers and not every time will I ever be right. I, more or less, tell people to take what I say at your own risk BUT it's true raw feelings in what I write to you. There's no lying. There's no fillers. I'm giving you the pain, the struggles, the goods in my life. As an artist, I feel obligated to share that who listens to my music. If my story can help you with your story, then man, that's the best gratification I can get being an artist and a human in the universe. I'm serious. To hear someone tell me that my music helped them, it just sends me to the moon and I just thank the Lord for the opportunity to do that. The ability to touch people, maybe even just one person a day - whew - all I can really say is thank you Lord.
Like I said, big things coming soon. I ain't wrote my best song yet. I hope I never do so that I can keep striving to write that song. You know what I'm saying. I always want to keep that as a goal. It should keep me going. I will always have this to strive for.
I'm doing what I love to do and I'm happy. I always give thanks to the Lord for without him I wouldn't be here spreading the message. Spreading the love. Spreading the Aloha.
Calling all HuffPost superfans!
Sign up for membership to become a founding member and help shape HuffPost's next chapter