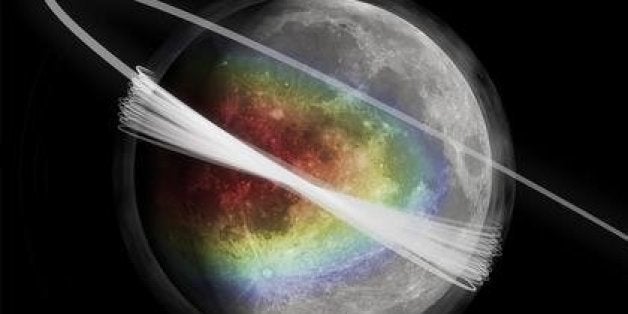 Turns out there's more to our moon than meets the eye.
Hints of the moon's halo date back to the late 1960s and NASA's Apollo program, but this permanent veil of dust was first characterized in 2014 with the help of data from NASA's Lunar Atmosphere and Dust Environment Explorer (LADEE) spacecraft.
"These are periods when on the ground you might enjoy shooting stars... on the moon the same periods represent higher dust production," Dr. Mihaly Horanyi, the University of Colorado physics professor who led the research, told The Huffington Post in an email, adding that the asymmetry of the cloud came as a surprise.
For the research, which was published online in the journal Nature on June 17, 2015, Horanyi and his colleagues analyzed data from a detector aboard LADEE. The detector tracked more than 140,000 impacts while the spacecraft orbited the moon for six months.
"The data we collected is a 'gold mine,'" Horanyi said in the email. "I expect many more papers to follow!"
How did Earth get its moon in the first place? For the answer to that age-old question, check out the "Talk Nerdy To Me" episode below.
Calling all HuffPost superfans!
Sign up for membership to become a founding member and help shape HuffPost's next chapter
BEFORE YOU GO