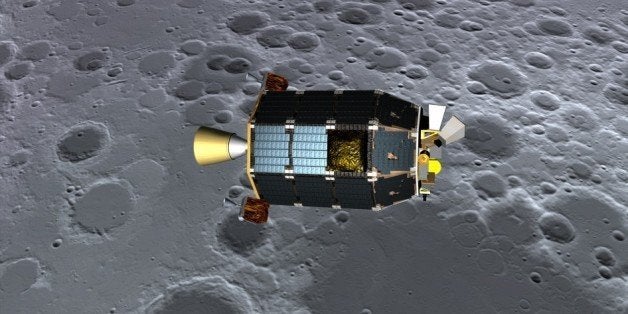 After decades of searching, NASA scientists have detected the veil of dust kicked up by tiny meteoroid impacts on the moon. The Apollo astronauts and many spacecraft had tried to detect sunlight reflected from the dust and failed.
So, instead, the scientists of the Lunar Atmosphere and Dust Environment Explorer (LADEE) spacecraft used an onboard instrument that detects micrometer-size dust particles when they hit the instrument at several thousand kilometers per hour and vaporize.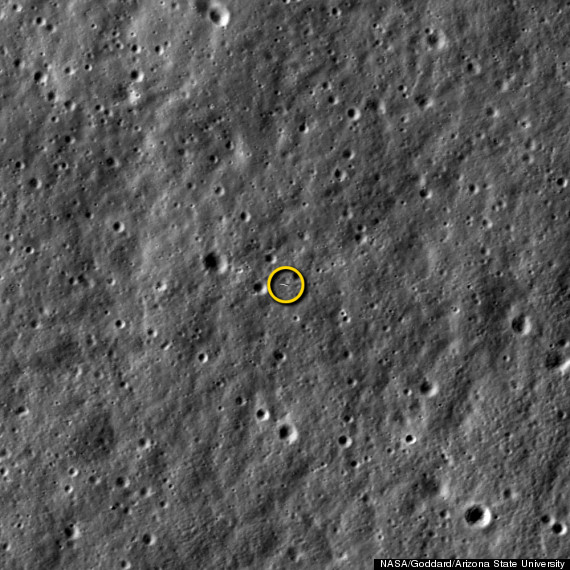 With precise timing, the camera aboard NASA's Lunar Reconnaissance Orbiter (LRO) was able to take this picture of NASA's Lunar Atmosphere and Dust Environment Explorer (LADEE) spacecraft as it orbited our nearest celestial neighbor. LRO imaged LADEE, about 5.6 miles beneath it, at 8:11 p.m. EST on Jan. 14, 2014.
Orbiting the moon as low as a few tens of kilometers above the surface, LADEE detected a dust impact every minute or two on average except when a meteoroid shower hitting the moon kicked up many more times the debris.
Researchers should be able to use these LADEE observations to see whether the impact debris blown off the moons of Pluto will present a hazard to the New Horizons spacecraft when it flies by the ice dwarf planet in July of next year.
This story has been provided by AAAS, the non-profit science society, and its international journal, Science.
Calling all HuffPost superfans!
Sign up for membership to become a founding member and help shape HuffPost's next chapter
BEFORE YOU GO