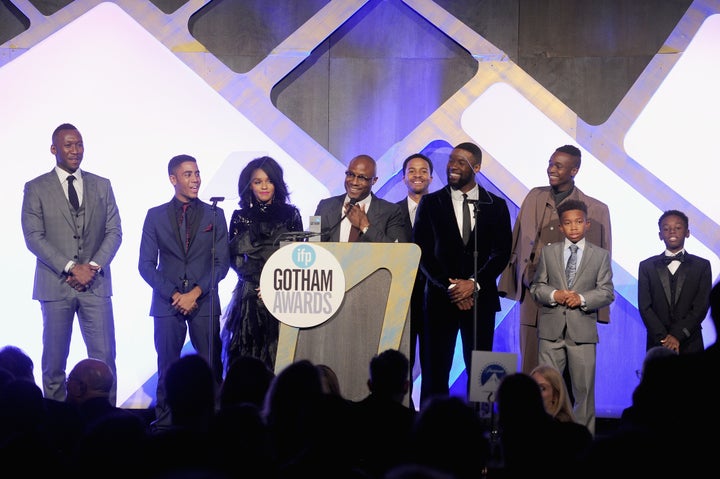 If crowd reactions at the Gotham Awards are any barometer, "Moonlight" has cast a bright shadow over the entirety of Oscar season.
The annual gala sends the derby into high gear, marking the first major gathering of the year's contenders. Fêted with dinner and wine during a nearly three-hour ceremony at Cipriani Wall Street in downtown Manhattan, Hollywood leaves the hills and descends upon New York for a night. On Monday, everything came up "Moonlight." 
The movie netted the wildest applause during nomination clip reels. No other winners saw more fervent or sustained cheers. And it won everything it was up for: "Moonlight" writer and director Barry Jenkins nabbed Best Screenplay, while his film earned the Audience Award, the Ensemble Cast Award and ousted "Certain Women," "Everybody Wants Some!!," "Manchester by the Sea" and "Paterson" for the top prize, Best Feature. The crowd went gaga each time. The only other whose kudos came close was Isabelle Huppert, scoring Best Actress over favored Natalie Portman.
Even Cate Blanchett noticed the enthusiasm. "Speaking of extraordinary, that 'Moonlight' film is extraordinary," she said while presenting a tribute to Amy Adams.
Now, it must be said that the Gotham Awards have no direct influence on the Oscars. Juries of critics and entertainment journalists select nominees for the Gothams, and industry veterans choose the winners (a committee of five actors per acting category, for example). Those industry juries do comprise a smattering of Academy members, but the Gothams lack the massive membership overlap between the Oscars and the guilds prizes. In short, they're not a proper bellwether for what's to come.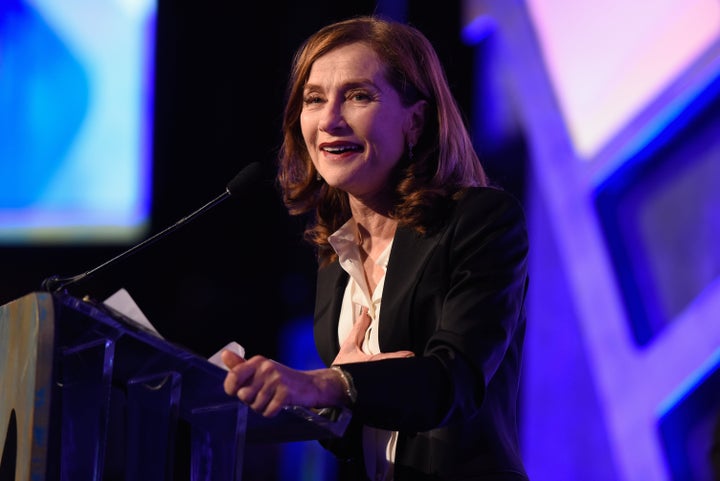 And yet! Much of the multimillion-dollar Oscar campaign fodder boils down to optics. Which candidates have the best narratives? Think Leonardo DiCaprio's arctic misery while shooting "The Revenant," or the long-overdue Best Director statuette that Martin Scorsese finally earned with "The Departed," or Nicole Kidman's deglamorization in "The Hours." Or, more simply, who puts in the most time? Who gets the most magazine spreads? Who kisses the most babies? Who emerges victorious during the season's early prizes? (We are two weeks away from the Golden Globe and Screen Actors Guild Award nominations, after all.) 
Using that metric, the Gothams' "Moonlight" ardor lent the film a mild boost on Monday. For added prestige, the triptych about a black Miami boy grappling with his sexuality has performed well at the box office, at least for a project of its size and theme. Many critics hail it as the year's best film. But the Academy, whose membership skews white and old, has a spotty record when it comes to stories about minorities. Pundits cried homophobia when "Crash" won over "Brokeback Mountain" for Best Picture in 2006 and again this year when "Carol" was snubbed in the category altogether. "Moonlight" is both gay and black. Let's hope the times are a-changing: This is the new woke America ― Donald Trump presidency or not ― and the freshly diversified Academy might opt to throw its weight behind something with social resonance. "Moonlight" could be just the thing it needs, especially after two consecutive years of #OscarsSoWhite. 
Of course, this all assumes "La La Land" and "Fences" underperform. Both are studio releases, rendering them ineligible for the Gotham Awards, which are affiliated with the Independent Film Project. "La La Land" is classic Oscar fare, a throwback musical with a joyful spirit that could double as an antidote to the atrocity that has been 2016. "Fences," based on the celebrated August Wilson play, also tackles race, even if the results aren't as cinematic. Pre-release buzz seems a bit muted, but "Fences" has the benefit of A-list stars (Denzel Washington and Viola Davis) and Paramount cash to fund its campaign. And we still have to see what role the next Scorsese outing, "Silence," plays as it screens for press in the coming weeks.
Whatever happens, the race is on. Any added visibility for "Moonlight" is a win in my book. I'd love to wax thoughtful about the impact its triumph would have on young queer kids, but this is Hollywood, where everything is a high-stakes poker game. It's every movie for itself. For now, the finish line has moved up an inch or two for "Moonlight."
The 2017 Oscar nominations will be announced Jan. 24. The full list of Gotham winners is below. In competitive categories, winners are marked in bold.
Best Feature 
"Certain Women"
"Everybody Wants Some!!"
"Manchester by the Sea"
"Moonlight" 
"Paterson"
Best Documentary
"Cameraperson"
"I Am Not Your Negro"
"O.J.: Made in America" 
"Tower"
"Weiner"
Audience Award 
Bingham Ray Breakthrough Director Award
Robert Eggers, "The Witch"
Anna Rose Holmer, "The Fits"
Daniel Kwan & Daniel Scheinert, "Swiss Army Man"
Trey Edward Shults, "Krisha" 
Richard Tanne, "Southside with You"
Best Screenplay
"Hell or High Water," Taylor Sheridan
"Love & Friendship," Whit Stillman
"Manchester by the Sea," Kenneth Lonergan
"Moonlight," Story by Tarell Alvin McCraney; Screenplay by Barry Jenkins 
"Paterson," Jim Jarmusch
Best Actor
Casey Affleck, "Manchester by the Sea" 
Jeff Bridges, "Hell or High Water"
Adam Driver, "Paterson"
Joel Edgerton, "Loving"
Craig Robinson, "Morris from America"
Best Actress
Kate Beckinsale, "Love & Friendship"
Annette Bening, "20th Century Women"
Isabelle Huppert in "Elle" 
Ruth Negga in "Loving"
Natalie Portman in "Jackie"
Breakthrough Actor
Lily Gladstone, "Certain Women"
Lucas Hedges, "Manchester by the Sea"
Royalty Hightower, "The Fits"
Sasha Lane, "American Honey"
Anya Taylor-Joy, "The Witch" 
Ensemble Cast Award

Breakthrough Series – Long Form
"Crazy Ex-Girlfriend" 
"The Girlfriend Experience"
"Horace and Pete"
"Marvel's Jessica Jones"
"Master of None"
Breakthrough Series – Short Form
"The Gay and Wondrous Life of Caleb Gallo"
"Her Story" 
"The Movement"
"Sitting in Bathrooms with Trans People"
"Surviving"
Tribute Awards

Amy Adams, Ethan Hawke, Arnon Milchan and Oliver Stone
Calling all HuffPost superfans!
Sign up for membership to become a founding member and help shape HuffPost's next chapter
BEFORE YOU GO
PHOTO GALLERY
An Overview Of The 2017 Oscar Race