In the wilds of this year's Oscar race, "La La Land" and "Moonlight" were pitched as bitter rivals. In actuality, they were more like competitive pals. Frenemies, if you will. 
As "La La Land" producer Jordan Horowitz said Sunday upon realizing his film had not actually won Best Picture, "I'm going to be really thrilled to hand this to my friends from 'Moonlight.'" Horowitz waved director Barry Jenkins and company to the podium without a hint of resentment, despite having just been informed that presenters Faye Dunaway and Warren Beatty announced the wrong winner. 
The exchange was a gracious encapsulation of a monthslong Best Picture contest that assumed complex layers amid Donald Trump's election. The media's analyses painted "Moonlight" as the socially conscious contender whose victory would double as Trump resistance, rendering "La La Land" a fantasy frolic doused in Hollywood nostalgia. But as these things go, our armchair narratives outpaced what was happening among the people actually involved with the movies. Having seen one another at event after event since September's big festivals and the subsequent awards blitz, it turns out the competitors might actually like each other. 
Representing a small independent film about a black, gay latchkey kid in the Miami projects, Jenkins has remained neighborly throughout the long haul. In fact, he first demonstrated affection for "La La Land" director Damien Chazelle when their movies premiered at the Telluride Film Festival in September. 
And again when the musical enjoyed stellar returns during its first weekend in theaters.
After a Twitter user lamented that "La La Land" would likely topple "Moonlight" for awards, Jenkins politely protested. 
When I talked to Jenkins about his Golden Globe nominations a few days after "La La Land" opened, he called the movie one of his favorites of 2016. "'La La Land' is an amazing film," he later told Esquire, defending it against criticisms. "I think there's a very superficial read of 'La La Land' that does injustice to what Damien's doing in the film, and it's convenient because these are tough times to make a superficial read of that film. But it's like, no, this is America. This is what this shit is. You gain something; you sacrifice something else in the gaining of that thing. I mean, that's dark stuff."
The "sacrifice" to which Jenkins alludes is Mia (Emma Stone) and Sebastian (Ryan Gosling) ending their relationship to pursue professional fulfillment, which some interpret as a cynical take on romance. Jenkins' implicit candor about the nature of awards season ― in which movies with little in common are pitted against each other for the sake of trophies ― marks a respite from the mudslinging and strategizing that dominate Oscar derbies. 
The "La La Land" crew exhibited similar grace. While accepting the Golden Globes' screenwriting prize in January, Chazelle said of his fellow nominees, "One of the actual benefits of this whole rodeo of awards season is getting to meet people whose work you really admire, so all of you, I'm in awe of your work and I'm humbled to be up here." The telecast cut to Jenkins nodding along as Chazelle spoke. Ryan Gosling, seemingly amused by Sunday's mishap, threw his arms around actor Ashton Sanders as the "Moonlight" crew congregated onstage. Nearby, Best Supporting Actor winner Mahershala Ali embraced "La La Land" producer Fred Berger. In the press room backstage, Emma Stone said, "I think we all would have loved to win Best Picture, but we are so excited for 'Moonlight.' I think it's one of the best films of all time, so I was pretty beside myself."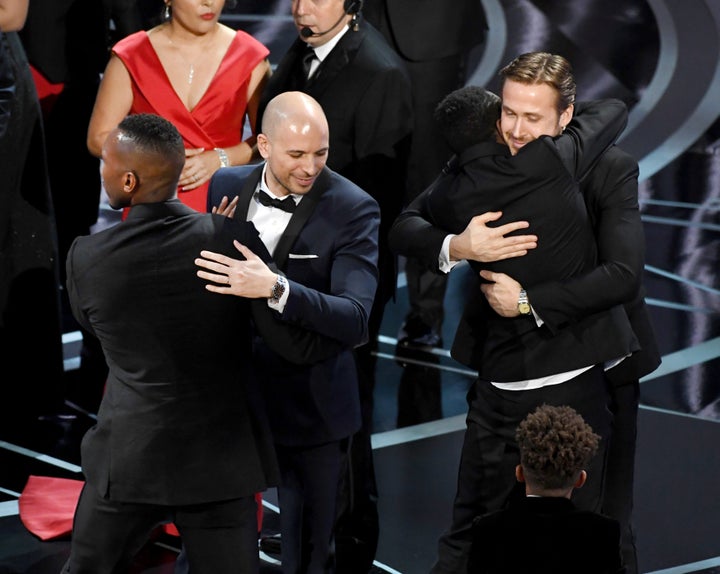 At the Governors Ball after the ceremony, members of the "Moonlight" and "La La Land" clans reportedly hugged one another. "It was a surreal, kind of out-of-body experience," Horowitz told The New York Times. "We've been on the circuit with them for six months. If that kind of thing has to happen, I'm glad to give it to them."
Of course, we can't know what any of these people really think of the "Moonlight"-"La La" two-hander. But assuming their reactions aren't just calculated attempts at sportsmanship, the camps' positive repartee is the exclamation point to a heated Best Picture race defined by Hollywood's damning statistics about inclusivity and on-screen representation. Some of the Monday-morning quarterbacking has called Horowitz "brave" for announcing Beatty and Dunaway's mistake, which undercuts "Moonlight" as the rightful winner. Stating a fact on live television is not brave, but Horowitz was gracious and warm in welcoming the other team to take his place, and that counts for a lot. He held up the card inside the proper envelope so the world could see "Moonlight" printed on it. Despite whatever disappointment the "La La Land" personnel felt, it was a rare moment of unity in a cutthroat industry. 
And the affection goes beyond praising one another's films. About half an hour after the Oscars ended, "La La Land" co-star and producer John Legend praised the "team" from "Moonlight." On Monday morning, Horowitz tweeted about the "beautiful people" involved with the movie, which he had called "excellent" back in September.
We can now close the books on the 89th Oscar relay having crowned a progressive indie underdog that probably wouldn't have been made 15 years ago. It is, in a sense, a demonstration against the Trump administration, which has exemplified disregard for the sorts of marginalized voices depicted in "Moonlight." And for those of us who have watched this pony race from the sidelines, it is a vote for what we love most: celebrating the city of stars that provides both escapism and life-affirming mirrors of our planet's diverse realities. On to the next one!
Calling all HuffPost superfans!
Sign up for membership to become a founding member and help shape HuffPost's next chapter
BEFORE YOU GO
PHOTO GALLERY
Oscars 2017 Ceremony