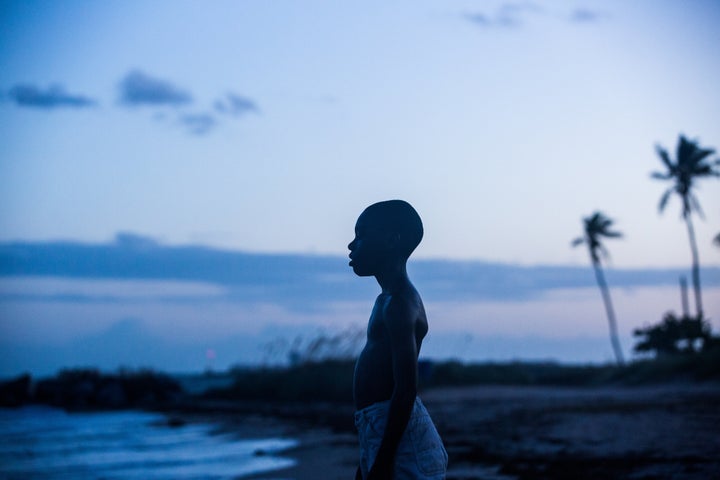 "Moonlight" is a lyric poem in three stanzas. It's a movie of haunting specificity that also speaks to anyone who's clung to shards of hope despite dejection. It's a tale of breathtaking simplicity and heartrending intricacy. It's a vibrant meditation on injustice. And it may be the most important thing to appear on a big screen this year.
It's an annual tradition for film festivals to produce a smattering of titles that rise above the cinematic void. Rarely are they received as rapturously as "Moonlight," the coming-of-age drama written and directed by Barry Jenkins ("Medicine for Melancholy"). The praise has been unanimous and warranted.
"Right before the movie premiered at Telluride, I kind of made a note to myself that I was proud of the film and proud of the work that we did, and I'm going to try to just live in that headspace," Jenkins said during a conversation in New York two weeks ago. "It's still the same film it was a month ago and the same film it was when we wrapped on set. I try to remember that and keep it all in perspective because the truly important thing is to get the film out to the community."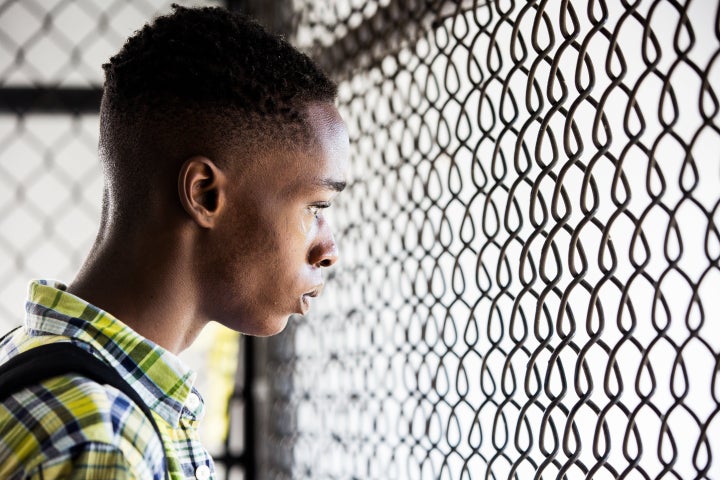 Based on an unproduced, semi-autobiographical play by Tarell Alvin McCraney, "Moonlight" is the story of Chiron, an introvert living in the Miami projects with his crack-addicted mother (Naomie Harris). Kids pick on him because he's not as butch as the other boys. "What is a faggot?" he asks Juan, a neighborhood drug dealer (Mahershala Ali) who shows compassion for Chiron. Juan and his girlfriend, Teresa (Janelle Monáe), become surrogate parents. Chiron escapes to their orderly home for the food and comfort often denied to him. He struggles to understand his sexuality and his poverty, and he has nowhere else to turn. "My mama does drugs?" he asks Juan, and we melt with sympathy.
"Moonlight" comprises three chapters, each a short film unto itself. In the first, Chiron (Alex R. Hibbert) is a grade-school boy who's been branded with the nickname Little because he is smaller and daintier than the others. In the second division, Chiron (Ashton Sanders) ages into a teenager, able to fight back but keener to avoid confrontation, including that of his mother, who makes him hand over cash to feed her addiction. It's in this phase of the film that Chiron realizes his only friend Kevin (Jharrel Jerome) might be gay, too ― what that means exactly, he still isn't sure. But Kevin won't defend Chiron outside of their private enclave, and the violent homophobia continues. In the third division, Chiron (Trevante Rhodes) has become a hardened drug dealer himself, pumped-up muscles and fake grills concealing a truth he's determined to bury. Loneliness radiates off of him.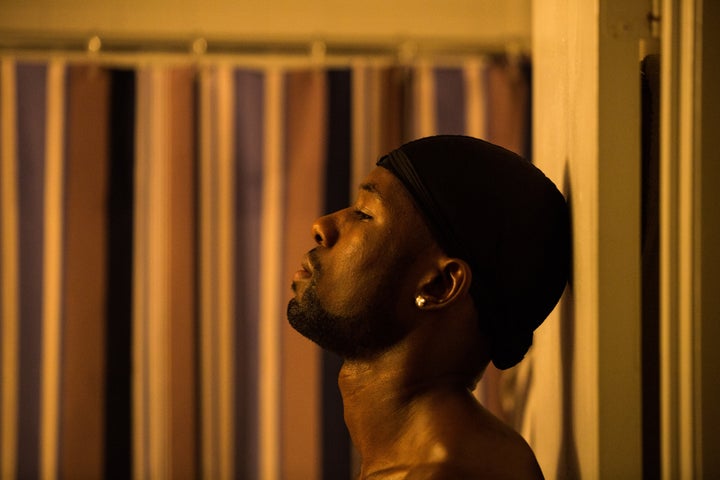 "Moonlight" is soulful. Jenkins and his cinematographer, James Laxon, linger on rare moments of intimacy: hands sinking into the beachside sand, blood stained on Chiron's cheek, food being grilled during a third-act moment so alive that I can't possibly spoil it here. A dirge about suffocating masculinity and masked identities, "Moonlight" is built with remarkable beauty and melancholic vitality. It is also ― nine months after the second consecutive list of Oscar nominations featured no performers of color ― a movie without any prominent white faces. It's a rare Hollywood project that lends well-rounded credence to minorities without the preachiness of a soapbox or the chains of a slavery narrative.
I want to let the film's actors speak to that, via a series of individual conversations we had earlier this month. They can do so far better than I.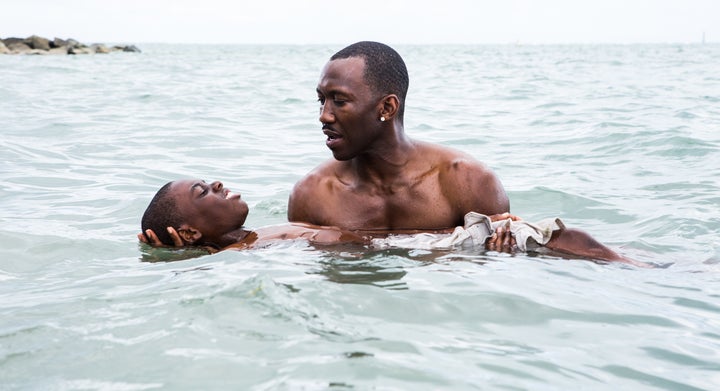 From Mahershala Ali, a former college-basketball star who established an acting career with signature roles on "House of Cards" and Luke Cage":
In terms of portrayals [that] are supposed to reflect black men, there's always been those people who've had exceptional careers. ... You look at Denzel Washington and Forest Whitaker and Morgan Freeman, Will Smith even ― there's been some folks who've had a certain degree of authority and dominion in Hollywood. But those are the exceptions and not the rule. ... You've got to think, there are hundreds of movies that come out every year. There are hundreds of actors, so how black men are represented is actually fairly limited.

What has been challenging over a career of 15 years or 16 years now is feeling like you find yourself as a black man having to elevate the work and make it three-dimensional, bring something special to it because you're not the one being written for. You're the one who's there to support the narrative of the other person, and that person is not black. Therefore you end up seeing black people framed in a certain way that is very limiting.

Subconsciously, at a certain point, I think we all are not aware that people of color have the same capacity for a full human experience as white people. That's what makes this movie so special, because of how these characters are framed so three-dimensionally, how emotionally intelligent the characters are, how Barry masterfully explores the language of silence. You have the opportunity to see people of color having an experience that is very similar to what you would see in one of these other films that are full of A-listers that pop up in the fall and winter that are considered award-worthy films. I think that, in part, is why "Moonlight" is resonating with people a certain way. It's pointing the camera at people who have not had the same emotional and psychological space. ... If there were hundreds of those, then you would lose the term "black actor." It would just be "well, he's an actor," because people have to get use to seeing us have the same range of experiences. ... We can also begin culturally to have an open acceptance and encourage people to be whoever they need to be on their terms. I think that's what it's about.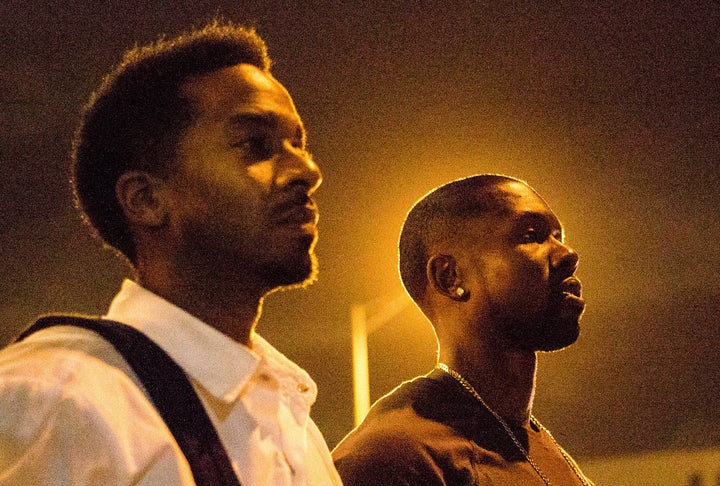 From André Holland, the "Selma" and "The Knick" actor who plays the adult Kevin:
For me it comes back to that moment when Naomie's character says to Juan, "You gonna tell him why kids pick on him all the time? You gonna tell him why?" There's a certain part of Chiron that he can't hide. He can't hide who he is, whereas I think Kevin, for whatever reason, knows how to perform whatever he thinks masculinity is in a way that gives him a mask to the world. But Chiron doesn't have the luxury of a mask. As a result, he's had to retreat into himself in order to survive, whereas Kevin is able to go outward in order to survive. But at the end of the day, they're just performing different versions of who they think the world wants them to be.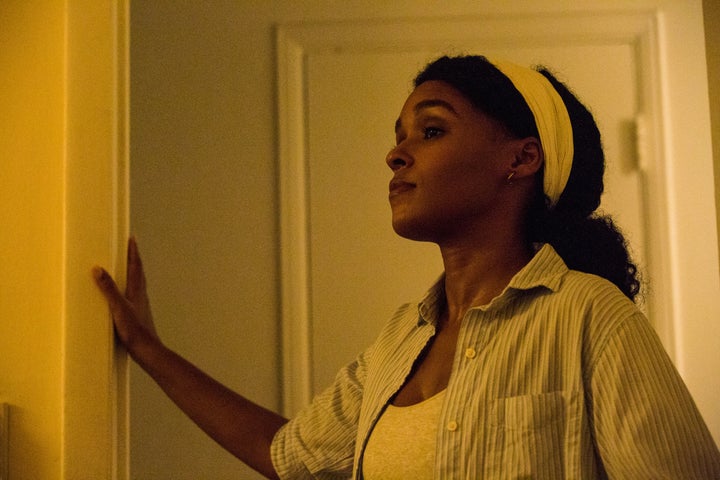 From Janelle Monáe, who is making her live-action film debuts in "Moonlight" and December's "Hidden Figures":
"Moonlight" is so important for humanity to see. It's important to understand what it's like to be a young, black male discovering that he's gay and he's living in an impoverished background or neighborhood, and what it's like for him not to have support from his entire community on what his sexual orientation is. And I think when you also compare that to what women have been experiencing, to what immigrants have been experiencing ― the Other. I think it's time that we all continue to embrace the things that make us unique, even if it makes others uncomfortable. We should choose freedom over fear. That's what I think watching this movie will help us come to the conclusion of.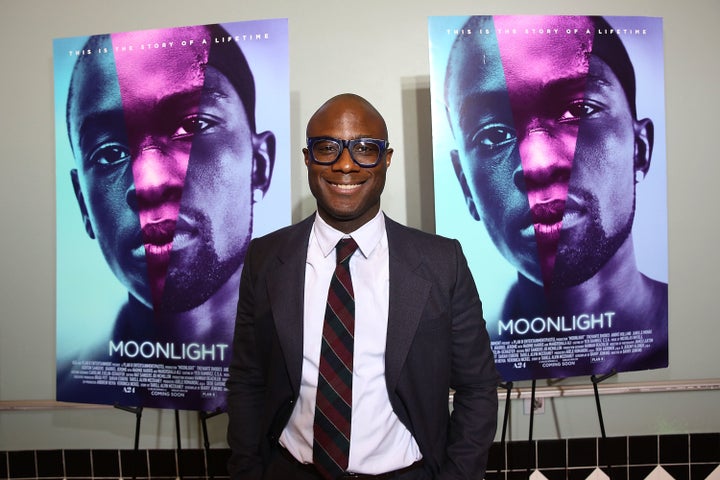 And from writer-director Barry Jenkins:
To me, the main character is retreating into himself. Time is passing and of course he has to evolve with the times, but it's a fucked-up evolution because he's basically drifting further and further away from the truth of himself. I like to think he's fortifying himself, building up this exterior. Then I think, by the time we get to the third story, he's literally built a wall of muscle and these fucking fronts. He's basically hid himself behind this wall, and that wall is meant to be in the image of what society teaches us is the proper version of black male masculinity. ... And black male drug dealers are more than just black male drug dealers. All these people have stories.
If you see one movie this year, make it "Moonlight." It opens in limited release Oct. 21 and expands to additional cities in the coming weeks.
Popular in the Community