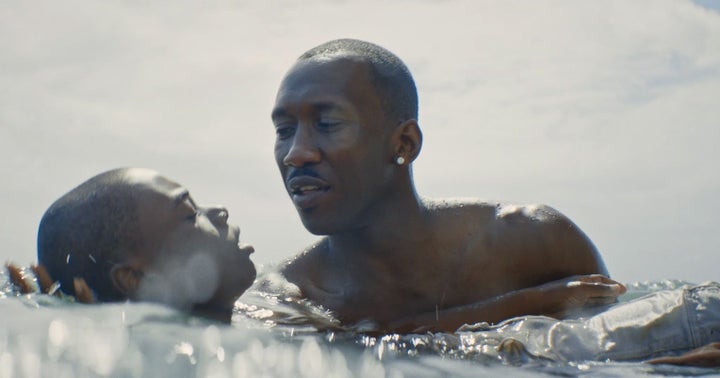 Learning the lessons of a film breakthrough.
Chiron's story is not everyone's story. Indeed, the remarkable impact and resonance of Moonlight, the upset Oscar winner for Best Picture whose word of mouth grew stronger as awards season progressed, lies in its specificity. That specificity is married to a high level of film craft (cinematography, score, editing, production design, casting, and a spare screenplay that reminds me of Ang Lee's wondrously austere direction of Brokeback Mountain), but its low budget enabled director Barry Jenkins to make the film he wanted and remain faithful to the material without being ordered to make changes by know-it-alls from a big Hollywood studio.
The story is Tarell Alvin McCraney's own story of coming of age as a gay child in the Liberty City section of Miami. Its wealth of arresting images and telling detail emerged from observation – specifically McCraney's memories, supplemented by those of Jenkins, who grew up as a straight child in the same neighborhood. Both had the calling of an artist, both had crack-addicted mothers, both lived in a place and among a population for whom dreams of glittering awards ceremonies were as distant as the red dwarf star recently discovered to have seven earth-like planets. Both found the strength and grit to follow their callings anyway.
It remains to be seen whether industry bigwigs are willing to learn the lessons of Moonlight, a film of epic ambition with a budget roughly one-tenth that of La La Land. Powerful people with deep pockets have trouble getting out of the way and deferring to an artist. That in filmdom they are mostly white men has resulted in barriers for black artists and craftspersons at every level. Successes like Moonlight and Ryan Coogler's Fruitvale Station hint at the possibility that the studios need the infusion of talent more than these artists of color need the studios. Their storytelling gifts, their eyes for beauty and spirit amid struggle, are from the ground up.
Whether and how to enter into contracts with a powerful industry is no simple matter for members of minority groups. But greater resources allow for more expensive projects, and those who risk breaking into the so-called mainstream can pave the way for those who follow. On the other hand, power imbalances make some wary. A current example is the controversy in some quarters over the Calvin Klein ad campaign using male actors from Moonlight. Some African Americans see exploitation, while others see a rightful recognition of black beauty.
In any struggle against marginalization, the diversity of choices must be respected. This is shadowed by the fraught history of race relations that includes the commodification and brutalization of black bodies. But when the stars of a gay-themed film with an all-black cast are highlighted in a stylish ad campaign immediately after a Best Picture win, the question for objectors is why they refuse to take yes for an answer.
The confusion of Oscar Night robbed Jenkins of the ability to deliver an acceptance speech that would have put the focus rightfully on the historic breakthrough that was occurring. It will be hard to measure the ticket sales that were lost in the snafu; and you cannot change the mind or heart of someone who never sees your work. But the win and critical acclaim were a boost.
The complaint about politics intruding into Oscars broadcasts is disingenuous. Politics exists whenever people interact. It is convenient for those with greater power and privilege to pretend their advantages are purely based on merit. The problem and the opportunity posed by Moonlight and other work by artists of color is that they challenge that assumption.
La La Land co-producer Jordan Horowitz knew he had no particular right to be on the stage handing a prize he had thought was his to his rivals. But his grace and poise, and his ready show of respect in an unrehearsed moment, set an example for millions of viewers, as did the glittering audience in the theater that rose to its feet.
For those of us with painful memories that were stirred by Moonlight's portrayal of Chiron's childhood isolation, the film's triumph was quietly illustrated by all-time box office champion Samuel L. Jackson when he paused, after the true winner was revealed, to wipe away a tear of pride.
Copyright © 2017 by Richard J. Rosendall. All rights reserved.
Related
Popular in the Community