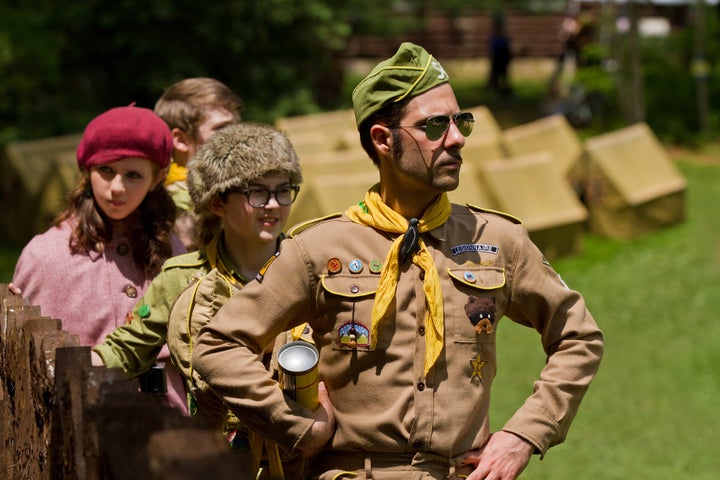 "Moonrise Kingdom" kicked off the 65th annual Cannes Film Festival on Wednesday, and the early reviews of Wes Anderson's latest should make everyone who owns a corduroy blazer fairly excited.
Out on May 25 in limited release, "Moonrise Kingdom" is Anderson's first live-action feature since "The Darjeeling Limited" in 2007. The film focuses on a pair of young lovers (newcomers Jared Gilman and Kara Hayward) who run away from summer camp, much to the consternation of the adults in their lives (played by, among others, Bill Murray, Bruce Willis, Frances McDormand, Tilda Swinton, Jason Schwartzman, Edward Norton and Bob Balaban). If that sounds like an Anderson-y premise and cast, it is, but that doesn't mean "Moonrise Kingdom" isn't a step forward for the director.
"While no less twee than Wes Anderson's earlier pictures, 'Moonrise Kingdom' supplies a poignant metaphor for adolescence itself, in which a universally appealing tale of teenage romance cuts through the smug eccentricity and heightened artificiality with which Anderson has allowed himself to be pigeonholed," notes Variety critic Peter Debruge.
Even the negative reviews aren't that negative. Writing for The Hollywood Reporter, Todd McCarthy laments the fact that most of the adult actors "don't have much to play," but still respects Anderson's effort.
"As in 'Fantastic Mr. Fox,' Anderson is able to express sincere personal connection and compatibility while employing a highly artificial style," he wrote.
Obviously, Anderson's much-imitated style is at the center of the "Moonrise Kingdom" reviews, but it might not be for long. That's the takeaway from The Playlist's James Rocci, who notes that "Kingdom" could be seen as a last hurrah for the Anderson you've come to know in films like "Rushmore" and "The Royal Tenenbaums."
"Anderson's camera movement and set design have, in previous years, been seen as too mannered, too stiff, floating apart from the characters as they're viewed from one cool remove, as if through a glass plate smeared with whimsy," he writes. "But there are signs -- small ones, and easily missed -- that Anderson is not only using his traditional M.O. here but also commenting on it and, perhaps, saying goodbye to it."
Judge for yourself when "Moonrise Kingdom" arrives in theaters. Check back to HuffPost Entertainment for more on the film and the Cannes Film Festival.
Popular in the Community