Wes Anderson specializes in (and perhaps idealizes) a certain type of female character: Usually quirky, stand-offish and a bit of a loner. The introduction of Margot Tenenbaum, Gwyneth Paltrow's sulking, chain-smoking character in 2001's "The Royal Tenenbaums," undoubtedly gave inspiration to countless moody teenaged girls at the time (not to mention a Halloween costume you are guaranteed to see year after year). While mysterious and a little off-kilter, these women are still appealing and ultimately familiar. Though, that's not to say they're formulaic: Cate Blanchett's intrepid journalist in "The Life Aquatic With Steve Zissou" and Amara Karan as the earnest, drink-dispensing Rita (A.K.A. Sweet Lime) in "The Darjeeling Limited" both felt refreshingly unique.
In Anderson's latest film "Moonrise Kingdom," the young lead played by newcomer Kara Hayward evokes many of his previous characters' qualities, yet this time coming from a precocious pre-teen who lives with her exhausted, slightly checked-out parents (Frances McDormand and Bill Murray). Set on an island somewhere in New England in the 1960s, Hayward's character Suzy meets a young boy scout (Jared Gilman) from a nearby camp and the two become pen pals. Fed up with the current situations, the pair hatch up a plan to run away together. Though the two clearly have a bond, Suzy is challenging and a master of the stare down. Not unlike Anderson's other female leads.
We emailed recently with the young star (she was at a film festival in the Czech Republic at the time) to get her thoughts on Anderson's unconventional leading ladies, the retro costumes and her intense eye makeup in the movie. All that below, and keep scrolling for a roundup of our other favorite Wes Anderson heroines.
What Wes Anderson movies had you seen prior to filming "Moonrise Kingdom"?
"Before 'Moonrise Kingdom,' I had seen 'The Royal Tenenbaums,' 'The Darjeeling Limited' and 'Fantastic Mr. Fox.' All three were amazing films and it was very exciting to learn I would be working with Wes Anderson."
Who were your favorite female characters in his other films?
"Margot Tenenbaum is a wonderful character. She is secretive and troubled, and it seems her entire family has problems. She reminds me of my character Suzy in those ways. The heavy eye makeup may also be a similarity between the two."
Who or what did you draw inspiration from for your character?
"Before filming, Wes gave me a film called 'Melody' and I drew some inspiration from the female lead."
What did you think about your '60s-inspired costumes?
"The costumes were fantastic! They were so beautifully-made. They helped me get into character because every time I put on the dress, knee socks and saddle shoes, it felt as if I were being transported to another time period. The sets had the same effect."
And what did you think about your character wearing so much makeup at that age?
"I believe Suzy wore so much makeup because she wanted to feel beautiful and grown-up. She felt makeup made her look more mature."
Your favorite scene in the film?
"My favorite scene to shoot was one between Fran McDormand and myself. I feel like it was a very touching mother-daughter moment that showed our characters at their most vulnerable points. Shooting scenes with Fran was always fun -- we had a great time together on set."

What other actresses do you admire?
"Two young actresses I admire are Emma Stone and Emma Watson, because they are intelligent, talented actresses and have a great sense of humor. They have learned to balance what they love in life -- acting, school and everything else."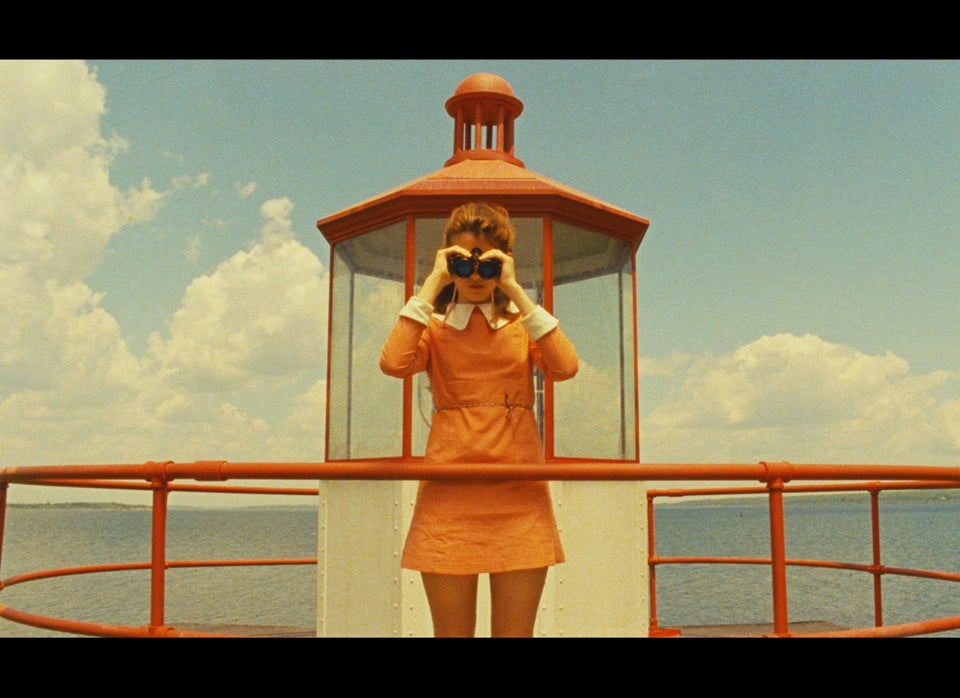 Wes Anderson's Heroines