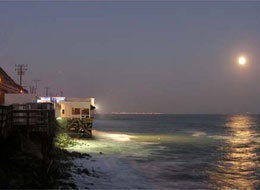 Never in his twenty three years of life had Billy Gladsten made so much money. It afforded him a roomy one-bedroom apartment in Westwood, of all places, on the edge of Beverly Hills, and on top of paying way through his final year at the University of Southern California, it repaid - despite a full-ride academic scholarship - the loans he took out in his first three. His comfortable income also brandished him a shining new coupe - a quick German thing, all silver glitters in the California sun, like a silver pond speeding down the PCH. It seemed, having never been in the grips of a grandeur beyond that which made up his current life, that he might be of the modest and grateful sort, finding it incomprehensible to want anything more.
But he was only a bartender. He was a bartender at a lounge called Moonshadows, built on a sea-cliff in Malibu - the city's outermost lantern, glowing in range from the luminescent orbs hanging in rows over its patio to the soft ambiance of its reverberating candles within. Looking at the multitude of various glows from the sea, its focal points were three bursting searchlights perched just below its line of French windows and then just below the floor line of the adjacent patio aimed at the rocks and foam and crushing white down at the base of the sea cliff, lighting for guests the sea's fingertips as vibrantly as could be, vivid in the acute contrasts of the darknesses of the Pacific and the night.
The lounge was on a stretch of Pacific Coast Highway all to its own, hidden from the other lights of the lengthy Malibu Coast by a nonchalant cove, framed by hardly aggressive peninsulas on either its sides. At night, when all the world vanished in the dark and the ocean expanded only as far as it trembled the moon's reflection, it seemed as though the place was some kind of beacon, a blooming civilization upon some unknown beach.
This desolation offered a sort of escape which, perhaps, was why the place was so sensationally popular. It was an hour from anywhere of any importance if the traffic was right. Hollywood, Beverly Hills and Burbank were to its East; Santa Monica and Venice were a straight shot south down the PCH and Ventura sat just above it. Fashionable people came from all these places night after night, and in utterly visible demographic waves.
Billy was usually still miles inland, on campus in Downtown Los Angeles, while Moonshadows opened daily for late lunch and happy hour. This time was filled with the lounge's regulars - locals, mostly the couples of the young family's of Malibu; tasteful and cheery with the dignified and lingering sexiness of the thirty-somethings, casually dressed in beach attire and flip flops, the men in hats, the women's hair up. Also came a handful of Malibu's privileged youth, blissfully easy-going in the tender leisure of the fleeting teens. They would take up the popular lounge chairs on the patio, smoking their own cigarettes and buying only lemonade and iced tea until the older stock arrived and cordially moved them aside, only to replicate the instinctive human preference of oceanside patios with black American Express cards, good six month tabs and regular tips upwards of 100 percent.
The older stock consisted mostly of retired golf buddies, making the best of their hard-worked fortunes from generations before in leisurely beachside late-afternoons, smoking their cigars against the patio railing, remembering out to that impossible spot in the distance of the infinite Pacific, drink after drink until the twilight sent them home to their wives and their mistresses.
Upon their exit was Billy Gladsten's entrance. His shift always began in the fragile hour between light and dark when the fireapple sun fell behind the world and turned the sky above Moonshadows a bashful pink, fleeting moment by moment as the restaurant lounge came alive light by light.
It wasn't uncommon that the older stock would see him in passing as he walked away from his car and they walked toward theirs in the lengthy parking lot, stretching a fairly long way down from the lounge.
"Ah, Billy, you missed us again," they'd say.
"Don't you know it," he'd say back, joking.
"You missed a beautiful evening, Bill"
"I saw it. I saw some of it on the drive over."
"It was a beautiful day too. It's just now starting to get too hot to be on the course anytime midday."
"Get out on the water with Bob."
"It's funny you mention it, Bill. You should help us talk Bob into playing with us again. He doesn't golf enough anymore."
In the collection of hundreds of in-passing, brief encounters with the older stock over the past two years, Billy knew much of what there was to know about them. The small words they'd passed, the notions, the winks, grins and sputters had all intricately contributed to the vast puzzle of their existence, and yet Billy often humored himself - usually after having just conversed with them - about how little they actually knew about him. Surely it wasn't because he refrained from telling them about himself, but mostly because, quite frankly, they didn't care to ask. It was an un-interest he attributed to an acquirement which comes with age. He knew that they knew that there was very little about him, or most other young men and women for that matter, which would be of any surprise. To surprise them, rather, would be to unveil everything Billy knew about them; that their lack of faith in his generation yielded to a sincere exception.

Dissected, however, their near-daily greetings to him were irreverent, lost in an air of nostalgia and melancholy sighs as they went to their cars. So Billy was always quite cordial to these men. In fact, he often arrived to work a bit early in case they took him up in lengthy, vodka fueled lecture, however light hearted it may have been.
After all, these were the men who contributed largely to Billy's rather high income. For Moonshadows only employed four bartenders to its six waiters and waitresses. They were required to tip-out the bartenders, but the bartenders paid-out only the state and the unnecessary sole bar-back, the seventeen year old nephew of the lounge's owner, a widowed sailing addict named Bob Paxell.
These tips were kept in a safe in the dry storage area in the basement of the lounge until every Sunday when the four bartenders split the lump-sum equally, regardless of hours worked. On average, they each walked with about 2500 dollars a week, not including Bob Paxell's generous paychecks, of course. This rate put Billy at a level of income significantly higher than most anyone his age whom he knew or, in fact, knew of. Moreover, unlike most bartending jobs, the tip money Moonshadows generated was consistent, dependable. Because of its location, reputation and the clientele for which it catered, the lounge's revenue stream showed not the slightest reflection of the economy. Simply, like the metallic warmth of its cluster of golden lamps which signed its very own, quiet, serene stretch of night, so did Mr. Paxell sign the checks in an undisturbed vacuum of prosperity.
Such evenings came substantial with the day's second wave of patrons: The dinner date crowd. It arrived just behind Billy as the flushed horizon slept and the salt-crisped air fell black and either freckled itself with glittering stars like chilled salt on a wintery asphalt road or dusted itself out with its chalky moon. With the sun sunk for the day, the tide would rise and Moonshadows' atmosphere would calm and become softer to the trickle of a piano at the far end of the dining room. Couples sat looking across at each other over fluttering candles at tables near the windows and small groups sat in the booths more near the interior of the room. All, though, were dressed in elegant eveningwear, the women shining like silk and much as tempting to touch in all the right places, ruffling in synchronic reflection of the surging evening until lost to the sun kissed day, the Malibu light, and disheveled into the third wave of things, the barroom night. The final wave of patrons came in rows of beaming crystal blue lamps down the winding PCH, maneuvering to and fro like the eyes of things creeping in the night determinably en route to their glowing refuge. They would nestle themselves into the long parking lot and shut their bright eyes, pouring out the fashionable and social and rich from all the envied cities into the barroom and the patio and the booths and tables by the windows, which became free for the taking at ten when the kitchen closed. Those who occupied them a bit earlier usually accompanied the new crowd in tasteful mingle, or simply slipped out the door. This marked the start of Moonshadow's most lucrative time of day - when it turned a seaside lounge.
It's an extraordinary quality bartenders have; a bar or, in this case, a lounge, can be quite adverse and hectic and easily become chaotic, yet bartenders - good bartenders, that is, go about the storm of hands and impatient glares and fidgets with a frightful calm, riding a teetering wire between cordiality of social obligation and quickness and precision of hand with the balance of a world-class funambulist. Billy was no outlandish showman. He, nor the three other bartenders, could ever be seen throwing a glass in the air, spinning a bottle around the neck or pouring a drink from a handful of feet above a glass. No, their showmanship took form in a sophistication and class which stood about face, eye to eye to the charming image of the lounge. And those swaying about on the receiving side of the gold trimmed, finished oak bar gladly paid them handsomely for it.
It was in this great, money making final wave of business on a particular night in the blooming summer that Billy Gladsten almost left the floor to the drop of his fluttering heart. When he saw her she was but a hazy mannequin of crimson and bits of something a bit darker than white in his peripheral having just come into the room. The fortitude mentioned a paragraph back was suddenly replaced by the flushing weight of weakness and panic settling into his stomach. At that, she appeared as just another well-dressed figure of the crowded lounge. But she wasn't. The sight of her wasn't what first paralyzed Billy and flashed his blood in the whip of an instant. That vague notion in the corner of his eye was everything that which made him tick over the past four years, caressing him with the familiar feelings of loud basketball games and that majestic nostalgia identical to the pang he felt upon first laying eyes on her. Her presence resonated in the chill of Billy's spine as does the vivid shutter of a camera in an actor's.
It was in those first electric days of the fall of his freshmen year that he first saw her. She was laid-out with a few of her pledge sisters upon the pearl-polished bow of the Abigail-May, the streamlined, glistening, absolutely top-notch sailer which belonged to her father, Luke Harding. He was a USC alumni, as well as an old Sigma Nu, so for the previous fifteen years he'd appeared out of nowhere to offer his small fleet of fifty footers to the fraternity during rush for the purpose of socials. This year, however, was quite more significant than those previous, for it was rumored that the name-sake of the heavenly-white ship was included in the group upon the bow. It was her sun-browned body fit sparsely by a white bikini that Billy Gladsten gazed dizzily at from atop the short railing at the starboard center of the ship amidst a number of other potential Sigma Nu pledges.
Surely the ship was hers'. It seemed as though she had taken the place of even the most meticulously and delicately cut figureheads of ships and turned it a resilient, viral symbol of thriving beauty and youth. Her sandy hair was done-up so that it not blow in the Catalina breeze, yet strands of it fell long just past her chin, tossing like streamers and illustrated by the sun with shades like blonde and faint glares of gold. Even from half a deck away, Billy could see the cool, frosty hue of her eyes squinting beneath the twisting streamers. Unconsciously squinting himself, he saw her skin the shade of a summer spent in the same spot upon the bow, lavishly contrasted by the paper-whiteness of her two piece bikini, gently indenting the firm flesh of her lower hips, her arced shoulders and suspended breasts. She was long, yet composed of a physique of total control, gliding in design from part to part like a Ferrari speeding some long back-street stretch in Bel-Air. But all this aside, her face was what put her in a realm which could never be darkened by the shadow of another girl.
It was so rare - the result of brilliant refinement through generation upon generation of beautiful marriage, a physical proof of that ever-dying American charisma. Her cheeks were as drawn as Abigail's sails, but thick and they were flushed faintly rosy in the centers. When they wrinkled it was like folds of silk drawn tight with witty character, and when she smiled, complete and balanced, a deep dimple appeared on each side of her precious grin. Her lips were always lips, never disappearing with the contortions of expression, and her nose was small and pointy, unnoticeable under her surging blue versions of deer-like eyes. But if asked, to this day, what Billy found beautiful about this face, he couldn't exactly say. He could just look off, or rather straight through he who asked in a kind-of blank stare as he did on the wide rail on the side of the deck that day, answering only to himself with a feeling he could never quite grasp.
"And it's Gladsten, Correct?" Mr. Harding asked suddenly, ripping Billy clean out of his day dreaming. He asked deeply, with a hint of arrogance. He had been engrossing a handful of the potential Sigma Nu's and a few Pi Phi girls sitting about near and around his helm as to how he came to possess such an impressive fleet and of USC in the seventies with a stubborn, implanted demeanor for more than a half hour now. Of course, most his audience was captivated by such a well to do man, not to mention one hell of an impressive father. But Billy had not heard a word from him the entire time until Mr. Harding inquired out of oblivion his name, making obsolete the moist breeze, the spouting mist from the starboard hull and the smacking of the sails. Billy sat up and placed his elbows onto his knees, looking over at Mr. Harding through sad, oval-shaped charcoal-grey eyes.
With a rare confidence, transformed from the conscious state of it that which we all know into a permanent implantation of unwavering, blistering character over his span of life, it was fitting for the round-bellied, thick armed, abrasive-eyed captain of the ship to bring attention to the quiet, handsome young man sitting on the side of it. Such reckless yet kind certitude conjures a beaming presence which has a tendency to raise itself out of a crowd.

"Yes," he answered. "William Gladsten."
"Where you from, William?" He asked, in turn shifting each young head of blowing hair in his audience at Billy.
"You can just call me Billy, though," he said back with nonchalant kindness and an intentional tone of reproach that he had already told Mr. Harding his name was William. He continued quickly. "But I'm from Mammoth, up North East here in California."
"I know it well. Snowboarder, huh?"
"That-a-boy," he said, much calmer than the typical use of the phrase. "I tried snowboarding out once. Didn't like it. Too awkward. It doesn't work with the natural way of things. It's not flush with physics."
"I never looked at it that way."
"Why didn't you start snowboarding?"
"Well I was already good at skiing. I liked skiing. I never even considered snowboarding."
"Skiing's a lot like sailing. You're yielding to nature and using everything it offers to propel you," he began, then paused to collect his thoughts on the matter. "With skiing you use a combination of gravity, the natural movement of your body and the slickness of the snow. Snowboarding you're sideways until you wanna stop. Our bodies are more athletic facing forward - you know, being squared up..." Mr. Harding began moving his hips in the fashion he would if skiing and held the wheel like it were his poles. "Sailing's a lot the same way. It never goes against nature. It's symphonic actually. I watch the sport better than I do it - skiing, I mean."
Billy nodded, unsure how else to respond until he realized Mr. Harding was expecting something from him, so he forced something out. "Why was it that you thought I was a snowboarder?" He asked, immediately hearing that it could easily be considered a dumb question and regretting having asked it. The response was quite unexpected.
A flashing grin swept Mr. Harding's face as phantom as a car speeding past another. "Well, it's not exactly in tune with nature to be sitting with both feet up on the side of a moving ship."
For the first time on board Billy smiled. He lit up, and in doing so his eyes turned to mere slits in the boyish complexion of his raised cheeks. His smile was in no way detached from the glow of his cheered spirit, and fell into the blend of all the connecting lines of his expression to make a smile never so solid and sure. And although his two front teeth were significantly bigger than the rest in his rows, he remained handsome when his small lips came apart, because they were a signature imperfection amidst a dozen strong points. One of those points - his dark, relaxed, eye-length hair, accentuated itself at the moment, blowing across his face wavy in the ocean breeze. Mr. Harding was now smiling back with arrogant cunning, although with quite friendly, gentle manner. Still sitting on the rail, Billy put his feet down on the deck. "Sorry," he said, still smiling.
"Don't say sorry, say thank you."
Still half smiling, Billy raised his brow and nodded and half gestured with his hand. "Thank you, Mr. Harding."
For all the boys waning at the opportunity to leave a memorable impression with Mr. Harding, each line he exchanged with Billy became something like a wealthy friend's constant purchases. In turn, Billy's reservation emerged more and more into evident charisma and sheer attractiveness. Just the simplicity of Mr. Harding's singling Billy out had already made him a favorite among the newest members of The Trojan's young men and the whispers of their young girls. Of course, the envy of those witnessing the exchange could've gone either way; that is, resentfully or admirably. It was only due to Billy's wide-eyed innocence that everyone took a liking to him. It was a coincidental fittingness that as all eyes were upon him, he sat alone on the railing, a bit above everyone else - as if on some makeshift stage for an actor on some far away sea.
"You pretty good?" Mr. Harding asked.
"At skiing?" Billy responded in a delayed rhetoric, quickly pausing in a long acquired worry of boasting. "I'm okay." And then, after considering it a bit more and not wanting to sell his self short: "I mean, I grew up there."
A few of the young men began casting attempts to engage in the conversation, interjecting their meager stories of family ski-trips to Breckinridge and Aspen and Jackson and Whistler, and some asked Mr. Harding questions about it. Billy first took this as an opportunity to get back lost in the breeze, but Mr. Harding gradually pulled him back in, knowing that Billy was now obligated to partake.
"I've got a place in Mammoth - got it when the girls were young."
Billy turned his eyes back on him. "Do you go often?"
Mr. Harding cast his look down for a reflective moment. "We try to get up there a few weeks each winter. But, you know, as they get older everything gets a little busier."

Billy nodded, signaling that he did perhaps know what Mr. Harding was talking about. Mr. Harding continued.
"I wonder if I ever saw you."
Billy's first thought was that the chances were quite low of Mr. Harding having shared runs with him, so as he replied his tone ascended from incredulous to an understanding appeasement. "Maybe... But we'd never know. You know how everyone looks the same out there. On the mountain, I mean." This was a similar thing to saying everyone from Connecticut looked the same, or everyone from Africa looked the same. Billy knew the standpoint of an outsider. Then another notion crossed him.
"Did you and your family ever eat at Grumpy's?"
Mr. Harding looked at him squinting, thinking. "Grumpy's... Is it a big wooden place, like a big cabin?"
"Three stories, huge gourmet burgers?"
"That's it, that's it. You've been there?"
"Never. Ha. The one time we went there the wait was too long. But I saw those beautiful burgers."
Billy was smiling. "They're good."
"You work there or something?"
Billy nodded quietly, his smile dissipating just enough to remain faintly drawn. "Just on the weekends, I did."
"Tough life," Mr. Harding said jokingly after examining him a few moments. "You ever sailed?"
Billy looked back at him, a bit timid to answer now knowing that all around were hanging on he and Mr. Harding's every word.
"Never," he said. "I've only been to the ocean a couple times anyway. But I've always wanted to." Billy looked up at the masts. "They're definitely easy on the eyes. I like them."
Mr. Harding somewhat ignored the second half of Billy's response.
"Well I'm glad to accommodate, William."
Billy leveled his gaze again and nodded, taking the comment as a good conclusion to the waist deep conversation. Upon Billy looking out to sea again, Mr. Harding settled the comment as a finale as well, content with Billy's politeness and too prideful to force the conversation on any further. Besides, the wealth of hungry youth in his company kept him easily occupied with simple and somewhat mechanical questions, affable enough for equally mechanical answers.
Perhaps if Billy had known at the time that Mr. Harding was the father of the vision his eyes were fixed upon for most the ride he would have conversationally inclined himself a bit more, or even ran wild with Mr. Harding's favoritism of him.
Quite consequently, however, it was the very standoffishness that Billy showed which brought Mr. Harding to so strongly approve of him. Yet Billy would only ever faintly know of it. He only obtained a slight sense of it later that evening when Scott Franklin, the well to do, living binary of geeky black-framed glasses, short hair and handsomeness who had loaned Billy the Top Siders informed him about the bloodline, establishing for Billy a translucent thread of connection between he and the Harding girl by the weave of he and her father's rather simple conversation.
"Yeah, man. She's his daughter. The girl's a vision."
"Like I said, he named the ship after her."
Beyond that, the decided words Mr. Harding used to vaguely inform his daughter of the well mannered boy named William Gladsten a bit later at the dock party only floated into the embracing warmness of the late summer evening. Mr. Harding did it naturally, after his daughter did what he knew she would do - approach him at one of the few moments he stood alone on the deck, where she hugged him and kissed his cheek. He spoke of many of her friends, but when it came to the subject of boys, he only spoke of Billy and nodded in his direction. "I like him," he said. He spoke simply, yet his devoted tone came with a certain air of conviction, with such authoritative directness that it would've been difficult for anyone to actually look over and see Billy.

So his words held there, half longer than usual parental advice. There was a tenderness in them which made them float about gently, in the kind of enchanted air that grips to anything equipped with any bit of promise of romance. But before they could be plucked from the coloring of the falling evening and used to carefully and gradually thicken that connecting thread, they deflated and swayed back and forth like a feather until they reached the blackening water of the harbor, where they dissolved beneath their own reflections. Billy had no reason to expect Mr. Harding to say a word about him to his daughter. He hoped it; indeed it crossed his mind, but in such company Billy felt rather unimpressive. Not that he lacked esteem - he was certain he was above the cut, happily received by many on the decks, but it was his high-guarded modesty which compelled him to doubt any productive dealings in his favor behind his back.
In fact, it was merely chance that prevented the two eighteen year olds from not speaking at all that night. At a point, somewhere in the blissful encounters of such a ripe party, pulsating with excited life on the decks of the three sister ships tied side by side, Billy began attempting to refrain from what he thought others might catch-on to see as blatant gockking. For most the evening, Billy knew without much effort where exactly she was. And quite naturally, it seemed that conversations became more interesting if they took place closer to where she was standing. She was distracting him. He wanted to be more attentive to the party. He had a posse of young men who had grown fond of him throughout the day, forcing him as the centerpiece of their circle. And there was no denying the handful of young Pi Phi's who no doubt found sexy his being, for the lack of their ability to properly regard him, the "strong and silent type."
Instead of bouncing away such attempts at friendship and a wide array of potential courtship with a detached disposition and a dreamy stair to something floating around the decks, Billy ultimately thought wise enough to reaffirm a strong impression with his peers in the midst of the beckoning stages of the next five years of his social existence.
He forced himself to become part of the conversations all around him. Certainly engaged, he was still quiet, as that was his style, especially when sharing decks with such inexplicably intimidating company. They seemed so much more worldly and experienced than him, with a swagger he couldn't quite put a finger on. It reminded him of guests on late night talk shows, or swankier, better refined versions of car salesman he had encountered in the past. They didn't even seem impressed by the fantastic clippers which they stood upon, all a polished shine and sparkle under the lines of golden lights strung high on the hanging things of the ships. This un-interest, in itself, impressed Billy as had his reservation impressed Mr. Harding a bit earlier. He went with it, as his modest outlook of the scene and stance amongst it kept him exceptionally connected to it. The constant locality of his upbringing, despite the small town from which he came being of the slightly Ritzier sort, had given him a heart and soul of simplicity and certainty, regardless of how complex his mind may have been. So when he did speak, usually in response, hardly as question, never as contribution, he did so surely, absent of trailing ends or descents in tone or missed beats in tempo, and everyone seemed charmed by it.
At another point - and although temporarily, he had forgotten about the girl. At Another, in that work of chance mentioned a ways back in the story, he found himself standing across from her.