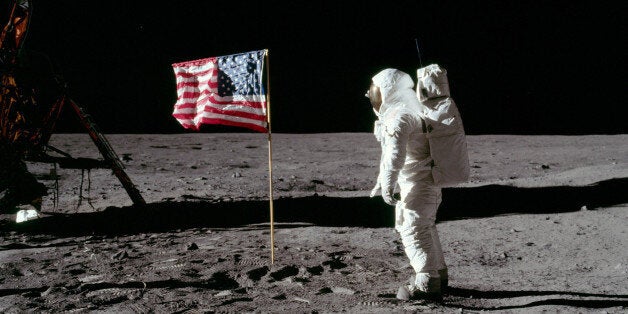 When the space program first started, the astronauts had no control over their capsules -- they were basically passengers on a massive ballistic object being fired into space and controlled by experts on the ground. They were national heroes -- but their own mission was out of their hands. When the Mercury project started, Chuck Yeager referred to the astronauts as being "Spam in A Can." This helpless feeling of being on a wild ride is precisely how I felt nearly eight years ago when I was told I had stage three breast cancer. You become a hapless passenger in the hands of experts speaking a complicated language with no controls of your own.
I'm all in favor of cancer becoming a huge part of our national conversation, as it has in the last month with high profile deaths (RIP Bowie) and Biden and Obama's declaration of the Cancer Moonshot. But as we discuss and dissect the realities of whether or not we can finally cure cancer -- there is still a huge part of the conversation that we are NOT having.
We get so caught up in the rapidly evolving technology and race for the cure that we aren't asking the right questions. Wouldn't it be better not to have to deal with this disease in the first place?! Cancer, the C word -- is in our hands. Yet we continue to look to the stars for the answers, we put our focus on the cure, instead of the cause. It's as if since the dawn of the 20th century we aimed to conquer the moon so we could get all that delicious cheese!
Again -- I'm very happy that we are aiming high and talking about cancer, and I spent the better part of a week consuming every article on the 'moonshot'... and I get it:
Collaborative vs. competitive research -- sounds good -- check.

Not spending millions of dollars on information and technology that lives in a 'silo' -- check.

Integration of advances in geno-technology, nanotechnology and new drug therapies. All good, makes sense. Check.
But what doesn't make sense to me is that in this discussion over 'how much we know about what causes cancer' there is radio silence on what we can do -- to prevent it.
It's as if we live in a world where everyone wants to be a hero: to be part of the team that cures cancer -- when the reality is we need to be our own hero -- and we can.
We now know that up to 70 percent of cancer deaths can be prevented -- up to 70 percent! Why is no one screaming that stat from the rooftops? As we wait for the geneticists to talk to the immunotherapy researchers - we need to also be looking closer to home - at what each and every one of us can do to prevent getting cancer in the first place.
The World Health Organization has announced that cancer rates are predicted to rise 57 percent in the next 20 years. We simply can't afford to wait for the cure. What this world really needs is a truly collaborative and integrative effort -- not just among scientists and doctors -- but with patients and people alike.
There are some incredible things we have learned about cancer over the years -- one of the most startling is that we all have cancer cells inside us, right now. And we have power over whether or not those cells will develop into a disease -- as they did in my case. The choices we make every day in terms of nutrition, exercise, stress management and toxin avoidance have a profound effect on a cellular level inside us. There is no denying how much we need technology, innovation and drugs to TREAT cancer -- but part of this new initiative has to be about stopping cancer before it strikes.
Cancer taught me a lot. One of the biggest things I learned is that despite all of the energy and awareness -- the general public knows very little about how the disease works, which is a deadly problem. When I came out the other side of cancer treatment I decided to make a film about what I learned and 2016 is the year I get to share that film with the world.
Our journey begins in D.C. on February 4 to celebrate Cancer Prevention Day with the great minds gathered by LessCancer.org. I made a film for people like me -- the ones who think they will never get sick; the ones who think cancer is something that happens to other people. It's also for the millions of people out there who want to turn the tables on cancer -- and take some power back into their own hands.
Interestingly, in the end, the mission scientists put a joystick in the Mercury capsule to give the astronauts some psychological leverage -- they understood that there is power in control. And as astronauts were the heroes of their day -- it's time for us to be our own heroes.
This blog post is part of a series produced by The Huffington Post and lesscancer.org, in recognition of National Cancer Prevention Day (Feb. 4), and in conjunction with lesscancer.org's event on Capitol Hill in Washington, D.C., that day. For more information about the event, visit here. To livestream the proceedings, visit here at 9 am on Feb. 4.
Related
Popular in the Community