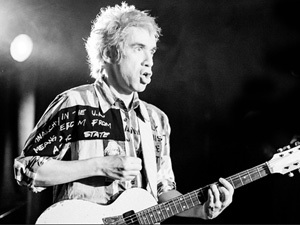 Countering the long, mixed history of comedians opening for musicians, it was promising to see a Brit-punk trio open for Late Night with Seth Meyers bandleader/Portlandia star Fred Armisen Saturday at the Paramount Theatre's final show of the Moontower Comedy Festival (even if singer/guitarist Ian Rubbish is merely a character Armisen originated on Saturday Night Live). Backed by two members of Seattle band Telekinesis, the spiky, frosted-quaffed "Rubbish" praised Austin's armadillos and launched into a snarling ditty consisting solely of the repeated line "Hey, policeman / Mah boot goes in ya face."
"What's th' really dodgy part of Austin? The East Side? Well this is about th' East Side, then," Rubbish decided, later claiming, "Did you know that Stephen Austin is th' first vegetarian that ever existed? It's absolutely true." Songs concerning "Living in th' gutter," Margaret Thatcher and "Taking a bird out onna date... but it's about Maggie Thatcher again," were plagued by blaring, muddy sounds, rendering the lyrics mostly indecipherable and relegating the highlights of the three-minute blasts to Rubbish interrupting himself to pose for photo ops or encouraging a singalong: "Do th' accents, all right? But try to sound vulnerable, yeah?"
Following the five-song set, Armisen reemerged as himself to offer "my impression of a guy who's into heavy doo-wop," subsequently losing his shit to The Marcels' "Blue Moon," and "my impression of a guy enjoying a blues band at an outdoor music festival, and for awhile it's great, but eventually I want to leave, but the band can see me leaving." Unfortunately the fleeting 15 minutes were the highlight of the evening; for the next 50 minutes Armisen fielded questions from the audience before closing with an irony-free cover of The Damned's "Life Goes On."
Though the Q&A initially saw Armisen playing drums (in the style of Ringo Starr, Keith Moon and a jazz musician) and making up a song about Amarillo with a local improviser, the time-filling ruse turned real old real quick. An overview: Can I take a picture with you? Will you marry me? Will you expand upon what you said about your relationships on Howard Stern? Can I take a picture with you? Will you play "Massachusetts Afternoon"? How can I break into entertainment? Will you do your Obama impression? Can I thumb-wrestle you? Can I take a picture with you? Will [Armisen's old band] Trenchmouth ever reunite? Will you prank-call my grandmother? Will you record an outgoing message for me? Can I take a picture with you?
The impish and ordinarily endearing performer didn't exactly flounder, but no compliments ("Look how polite you guys are! You're making Portland look rude,") shout-outs to former SNL writer John Mulaney, Mr. Show and Austin band Big Boys, or even a legitimately touching exchange with questioner Mark McKinney of Armisen's beloved Kids in the Hall could recapture the initial energy. Much like Armisen getting his fill of the imagined blues performance, around two-fifths of attendees sidled out before the indulgent riffs subsided.
REAL LIFE. REAL NEWS. REAL VOICES.
Help us tell more of the stories that matter from voices that too often remain unheard.