Newspapers led with news of the devastating tornado that killed 24 individuals when it ripped its way through Moore, Oklahoma on Monday.
The tornado directly hit multiple buildings and houses, including two elementary schools. Two of the most frequently used photographs on Tuesday's front pages showed scenes outside the Plaza Towers Elementary School, as first responders pulled children from the rubble. Both photographs were taken by the Associated Press' Sue Ogrocki.
One photograph showed a woman carrying a child through a field covered in debris near the collapsed school. The other photo featured a young girl being removed from the rubble of the school and passed along what the photographer described as "a human chain of rescuers."
The third photograph used on Tuesday's front pages was also an Associated Press photo, taken by The Oklahoman's Paul Hellstern. The moment captured showed teachers carrying children away from Briarwood Elementary School, the other school directly hit by the tornado. The teachers appeared bloody and injured, while one child walked away crying without shoes. While the building suffered major damage, local news outlets reported that there were no fatalities at Briarwood Elementary and all students were accounted for.
Some newspapers used short headlines to describe the scene such as "HORROR" and "HELL ON EARTH," while others ran straightforward banners about casualties. The Oklahoman's headline might have been most chilling though for local residents who have been impacted by the wrath of tornados in the past. It simply read, "WORSE THAN MAY 3RD."
Take a look at how newspapers covered the tragedy in the slideshow below. All images are from the Newseum.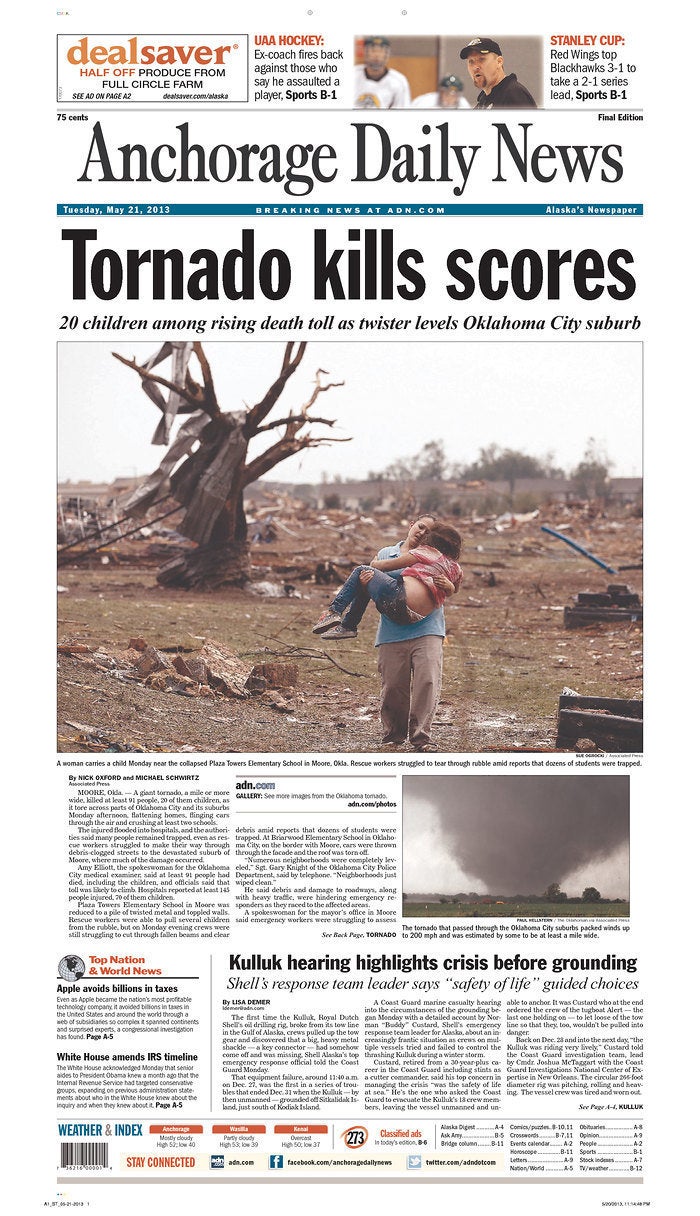 Newspaper Front Pages: Moore Tornado Coverage
Popular in the Community