This will be unreasonably brief and lacking in far too much detail, but sometimes things must be rushed and not overlooked, and today is one of those times. Today marks the 50th anniversary of one of the most beloved and still-appreciated cartoon shows, ever.
Yes, on November 19, 1959, Rocky and Bullwinkle appeared in the first episode of Rocky and His Friends, from the maniacally clever mind of Jay Ward.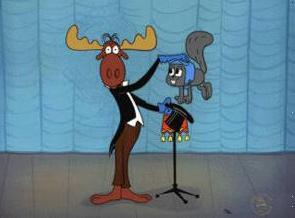 The series was populated by Rocket J. Squirrel and his adorably dimwitted friend Bullwinkle the Moose from Frostbite Falls, Minnesota, along with their nemeses Boris Badanov (the name being a parody of the Russian regent and later subject of Mussorgsky's opera, Boris Godunov) and Natasha Fatale, Fearless Leader, and all manner of lunatics. Bullwinkle would appear in his own sketches as the clueless "Mr. Know-It-All" and also try to introduce other segments by first attempting (always woefully unsuccessfully) to pull a rabbit out of a hat - after demonstrating, "Nothing up my sleeve." As if it mattered if there was...
Separate sketches took on a life of their own with the erudite dog Mr. Peabody and his boy Sherman; the noble, but incompetent Canadian Mountie Dudley Do-right (with his beloved and much more worldly Nell and the villain Snidely Whiplash), as well as the brilliantly insane "Fractured Fairy Tales" that turned old world fables inside-out and upside-down...and then spun around and twisted them for good measure.
What separated Rocky and Bullwinkle from every other cartoon back then - and even today - was its reliance on puns, self-deprecating humor and creator Jay Ward's insistence on writing that would appeal as much to adults as kids.
The endearing voice of Bullwinkle was performed by Bill Scott, and Rocky by the legendary June Foray (who recreated the character in the semi-live action movie version released in 2000). In fact, Ms. Foray is still going strong, and just had her autobiography published, Did You Grow Up With Me, Too?, co-written with Mark Evanier and Earl Kress. The narrator of the show was William Conrad, who later went on to TV fame as the detectives, Canon and Jake and the Fatman.
But for a look at the fellows themselves, take here's a trip back in Mr. Peabody's Waybac Machine.
This is one of the show's original openings, in black-and-white -
Here is Bullwinkle as Mr. Know-It-All, explaining to all how to get into a theater without buying a ticket --
And finally, an episode of the classic Moon Men series, that's centered around the world's most powerful rocket fuel made that's made from Bullwinkle's grandmother's fudge cake recipe --
Happy Anniversary, Moose and Squirrel.
Support HuffPost
The Stakes Have Never Been Higher
Popular in the Community