 An estimated 2,000 activists gathered at Marshall Park in Charlotte, N.C. on Monday, providing the latest jolt to a coordinated Moral Monday movement against recent actions by the GOP-controlled state Legislature.
The Charlotte News & Observer reports that the protest was one the city's largest. It focused largely on the work of a trio of Charlotte-area Republican lawmakers, including the city's former mayor and current Gov. Pat McCrory, the first Republican governor to lead the state in 20 years.
Gene Nichol, director of the Center on Poverty, Work and Opportunity at UNC-Chapel Hill, addressed the crowd, accusing McCrory and other Republicans of "waging war on poor people and granting more largesse to the wealthiest North Carolinians," according to the News & Observer.
"Our governor and our General Assembly looked at those strong inequalities and decided to make them deeper," Nichol added.
Large groups of protesters had gathered outside the state general assembly in Raleigh for 13 consecutive weeks earlier this year, displaying vocal opposition to a number of measures then being debate by Republicans. The protests led to more than 900 total arrests over a period of three months.
When lawmakers left the capitol at the end of the legislative session, organizers vowed to take the movement on the road. Rev. William Barber, president of the state chapter NAACP and a key coordinator of the movement, has announced plans to hold rallies in each of North Carolina's 13 congressional districts.
Before You Go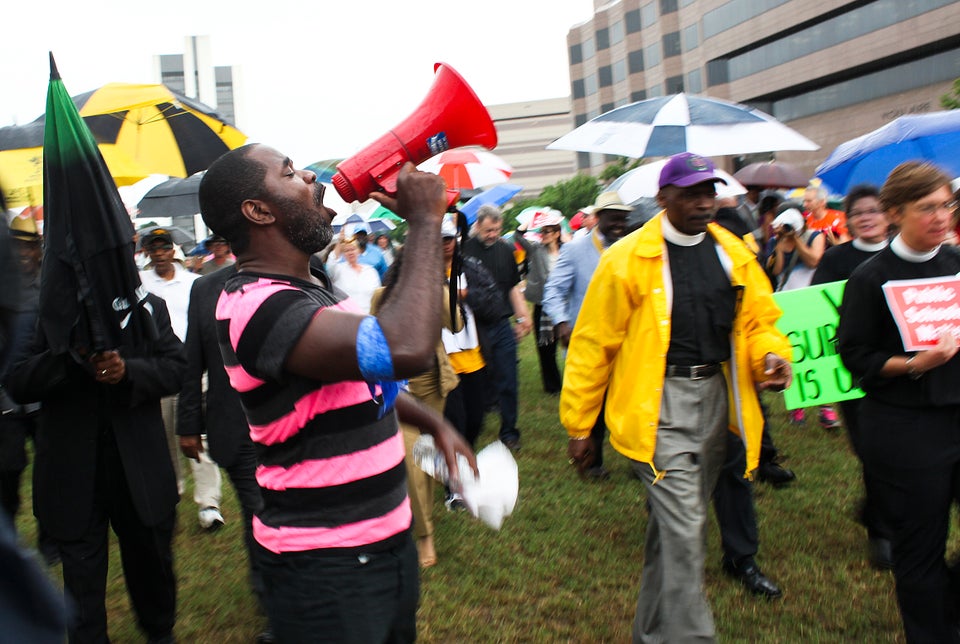 Moral Monday Protests
Popular in the Community