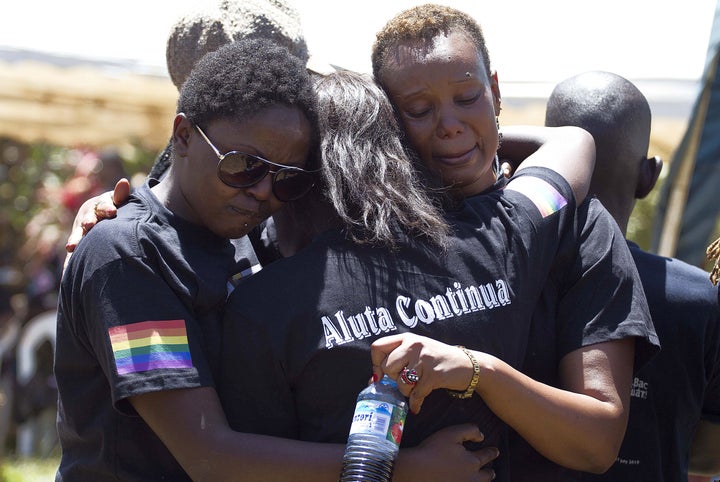 Editor's note: The following is a statement by the Rt. Rev. Pierre W. Whalon, Bishop in charge of Episcopal Churches in Europe, on the murder of David Kato.
David Kato paid the ultimate price for being gay in Uganda. A leader of Sexual Minorities Uganda, which seeks to change fellow citizens' minds about lesbian, gay, bisexual and transgendered people, he was murdered in his home in Mukono, Uganda, on Jan. 26. He had been targeted as a "top homosexual" in a national newspaper last October.
The fear and hatred that inspired David's killers are not confined to the uneducated. Recently, a lawmaker proposed legislation that would make homosexual sex a capital crime in certain cases. The churches in Uganda have been slow to act. In fact, reports from David Kato's funeral affirm that an Anglican priest loudly interrupted the service to condemn "ungodliness," which led to the villagers refusing to bury his body. His friends had to haul his body to the grave and inter him themselves.
It would be easy to point fingers at "those Ugandans" but we cannot exempt ourselves. Gay people continue to be targets of violence across Europe and Asia, as well as the Americas. It is not enough to insist on the rights of people to live free from fear and harassment, though that is necessary. We Christians need to go further.
Followers of Jesus are to work at living a new kind of life that allows us, among other things, to conquer our fear and hatred of "the Other" -- whatever that Other is like. This must happen in order to honor the God who became one of us that we might become like God (2 Peter 1: 3-9). Jesus, the supreme Other, came so that we would reject him in fear and loathing, and kill him. In his death and resurrection, Jesus overcame fear with joy, dissolved hatred with love and conquered death with everlasting life, for you and me. Through the power of his Spirit, given in baptism, we can and we must give the Other not only justice but also love.
God does not fear, nor does God hate, people. Those who would call themselves Christian cannot do so, either, and still be "children of God" (I John 4: 20-21) If we Christians cannot first live out this gospel imperative, then trying to address any questions about holiness of life or morality is foolishness, chasing after wind.

Popular in the Community