Renee Miller not only understands the essence of #BlackGirlMagic but how each of us can achieve ours from the inside out. The certified Life Coach and Founder of Elements by Renee, a collection of jewelry made of reiki-infused gemstones and precious metals which hold within them healing and inspirational properties, is clear in her vision and committed to helping women live their best selves. I first had an opportunity to meet the dynamic Ms. Miller this spring during her launch of "The Peacock Collection", where I immediately felt the undeniable vibrational pull and reiki amplifying energy in her jewelry's stones. I was delighted further to hear Miller's passion come through when we recently chopped it up about what makes her stones so special. It is clear from the start, The Peacock Collection is about more than beautifully designed jewelry.
THE VISION AND THE FOUR TENANTS: "To bring light and love into the world by beautifying, inspiring and informing others." – Renee Miller
At the core of our ability to live our best selves is our availability to be in-tuned with, own, and listen to one's gift as given by the divine. In this case Miller is birthing her gifts of light, love, and earthen manifestation of stones that impact the interconnectedness of our bodies, environment, as well as our auras to begin healing our physical and emotional selves.
I last wrote about women of color of all ages, backgrounds and walks of life feeling uplifted, encouraged, and inspired to be fearless. For those who are living their best selves, there is opportunity to uplift and inspire those on the journey to letting go of fear, worry, self-doubt, disappointment, and the negative thoughts that prevent many from realizing her own #BlackGirlMagic. Doing just that, the jewelry in Miller's Peacock Collection offers four tenants to women who are living their best selves and those on the journey:
Grace – Speaks to changing our internal conversation towards forgiving ourselves and knowing we will each achieve our vision in the time meant for us. Be encouraged that you are on the journey however imperfectly.
Beauty – Referring to internal and external beauty, every woman is beautiful and each of us is designed to own what makes us special. Know that you are beautiful inside and out.
Power – The cornerstone of The Peacock Collection and my favorite as a fellow entrepreneur. Power speaks to women truly owning all of what is inside you to birth the life that you want and be the best and highest version of yourself. Freeing ourselves from judgement and the things we allow to keep us from owning our unique, talented and authentic selves.
Wisdom – Gives us the ability to reflect light and love in the world. Everyone can play a part in making the world a better place. By contributing our gifts to create a better quality of life for ourselves we in turn can be a gift to reach and teach others.
Each of these four tenants provides a foundation for pushing past the challenges, and to act with clarity of vision in manifesting our gifts as given by the divine. The journey is pertinent for one to regain her confidence when blocks and barriers have come to occupy space once filled with excitement, unbridled enthusiasm and fearlessness.
THE JOURNEY: To embrace and clear away the fear is a combination of a spiritual regime and exposing the lies that run through our heads daily. The formula for success is available to each of us.
When I asked Miller about her own journey of letting go of fear and taking the leap to launch her jewelry collection, she spoke of first identifying key categories one needs to be physically, spiritually, mentally, emotionally, and financially healthy. It first takes healing oneself to be able to then help others heal. Fortunately, the journey is on-going as there is no finish line to self-actualization. While each journey is unique, Miller's journey included the exercise of clearing out the lies and letting go of that "I am not enough" internal conversation. If one can shift her perspective on past experiences from failures to lessons, we are able to change the conversation we have with ourselves from doubt to continuous improvement.
The Peacock Collection calls on women to stretch themselves, pairing Miller's life coaching and personal development with the jewelry. The key is knowing we are all capable of doing it. Those who have been able to self-actualize have found the formula for success, and it is a formula that is there for everyone. While my journey is and will look different than yours, everyone can benefit from asking questions such as, "What conversations do I need to have with myself that are the truth?", and distinguishing the difference between activity and action which takes celebrating our victories along the way, while never taking our eye off the prize. Then there is the exercise I gravitated towards most in which Miller shared her process of visualizing her life if she manifested her gifts vs. if she never fully tried.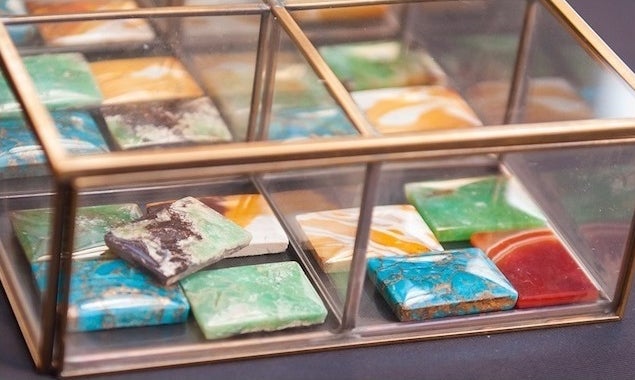 FOR THE PEACOCK IN YOU: We are fearless. The universe does not grant access to some and deny others.
Part of the journey is in mastering our craft. Combining rock hounds with her own experience of digging stones from the earth, Miller is hands on, personally cleansing the stones, smoothing them out then beginning the reiki process. I am inspired by Miller's passion for her stones from crystals, quartz, and amethyst, to jasper and agates. They are beautiful as they are powerful.
For all of you wondering how to jumpstart your #BlackGirlMagic with The Peacock Collection, rings are currently available on www.elementsbyrenee.com, by following @elementsbyrenee on Instagram, and look out for the Elements by Renee App to come. Up next from The Peacock Collection, Miller will be releasing cuffs, necklaces and pendants. And do not worry gentlemen, Elements by Renee will soon roll out its collection of reiki infused stones for men committed to living their best selves.
If you are ready to take your journey to the next level, in the months to come, three-day claim your inner peacock workshops known as "The Peacock Academy" will be hosted by Miller beginning with a 6-city tour providing coaching, healing arts of crystal intelligence, reiki, and training. At the completion of the Academy, attendees are awarded a ring from The Peacock Collection representing their on-going journey, accountability, and to reinforce the positive habits learned from the workshops.
Each day one wear pieces from The Peacock Collection, the jewelry is a reminder of that woman's four tenants of grace, beauty, power, and wisdom. As someone who has experienced the power of stones resonating with my aura while wearing a ring from The Peacock Collection, I can attest to the presence of mind to put mental clarity first, of getting rid of disempowering thoughts, and taking my fearlessness back. For me, my journey starts with listening for clarity in what are my gifts from the divine, and consciously living life feeling 100% comfortable in my own skin. We must each believe owning our unique gifts is an inspiration to others, and where I aspire to go is to know my own level of required growth. Thank you, Renee Miller, for living your best self and for showing us your journey…to us it is a magical one.
Related
Popular in the Community