Jewish facilities around the nation were rocked by two waves of bomb threats Monday, forcing evacuations in at least 16 states.
On Monday morning, at least 13 Jewish community centers and eight day schools in Alabama, North Carolina, New York, New Jersey, Indiana, Pennsylvania, Florida, Maryland, Michigan, Virginia, Rhode Island and Delaware received threatening phone calls, The Huffington Post has confirmed.
Several centers in the west of the country, including in Arizona, Nevada, Washington and California, received calls in the afternoon. At least one of the centers, the Lawrence Family JCC in San Diego, had been targeted before.
The Anti-Defamation League's office in San Francisco was evacuated late Monday afternoon as well. The ADL explained in a statement that a staff member answering calls received a bomb threat around 4:20 p.m. local time. The offices were evacuated without incident.
Law enforcement officials were investigating Monday's threats. Authorities did not find explosive devices in any of the centers that were targeted in the morning.
Jonathan Greenblatt, CEO of the ADL, said that sometimes Jewish community centers and day schools are either "co-located" or near each other. "It is deeply troubling to see that these anti-Semites are expanding their scope to target a broader section of the Jewish community," Greenblatt said. "These JCCs often house preschools and elder care programs and they often house after-school activities for teenagers."
There have now been at least 90 bomb threats made to over 70 Jewish community centers since January. The Huffington Post is tracking the threats here.
The majority of the threats have come in waves and often feature a disguised, robotic voice. One of those calls warned of "slaughter" by explosion. So far, no explosive devices have been discovered at any of the facilities targeted.
It remains unclear who is making the threats and if it's one person or a group, but they have rattled communities around the U.S.
The FBI and the Department of Justice told HuffPost previously that they are investigating possible civil rights violations in connection with the threats.
"We are not going to allow this person or these persons to change the way we live," said Paul Goldenberg, director of the Secure Community Network, which advises Jewish groups on security matters. "We're going to keep on going to synagogue, we're going to stay in our JCCs ― Jewish communal institutions remain safe because of the resources that we are putting into training the staff."
The network is an affiliate of the Jewish Federations of North America and the Conference of Presidents of Major American Jewish Organizations.
"We need to be focused on getting these people into custody and prosecuting them to the full extent of the law," Goldenberg added. "They need to understand they are going to face jail time. The FBI are putting a tremendous amount of assets into this investigation."
Monday's threats arrived just a day after dozens of gravestones were toppled and damaged at a Jewish cemetery in Philadelphia. Just days prior to that, vandals in Missouri damaged a Jewish cemetery in University City, toppling at least 100 headstones.
Anti-Semitic hate crimes make up the largest portion of religiously motivated attacks in the U.S. These threat incidents are part an overall rise in anti-Semitism around the nation that began in 2015.
Heidi Beirich, director of the Intelligence Project at the Southern Poverty Law Center, said last week in an interview with HuffPost that the spate of bomb threats since the new year is "unprecedented."
"I've been working at SPLC since 1999. I've never seen a string of attacks like this that are targeting the same kind of institution in the same kind of way. This is new," Beirich said.
Brian Levin, director of the Center of Hate and Extremism at California State University, San Bernardino, said "different types of offenders" are often behind such extreme actions.
"Some are ideologically motivated, some are sociopaths, some may have some kind of personal beef with JCCs specifically," Levin said. "For someone to do this level of work suggests to me that there is a uniquely personal motive."
Steven Goldstein, executive director of the Anne Frank Center, called on President Donald Trump to respond immediately to the threats.
"Do something, Mr. President. We are experiencing a national emergency of hatred against Jews and you must stop it immediately," Goldstein said. "It doesn't matter whether you think you are personally responsible for the continued acts of hate against Jews, including today's latest bomb threats. You must do more than belatedly condemn anti-Semitism. You must act to prevent it as if all our families were at stake."
Last week, Trump addressed the recent wave of bomb threats for the first time, saying that the JCC threats are "horrible, and it's going to stop and has to stop." It was his clearest denouncement of anti-Semitism yet and follows intense criticism that, from the time of his presidential campaign, he has not forcefully condemned hate speech and extremism.
Extremist groups have become emboldened under Trump ― and although the number of Americans who directly support hardened hate groups remains far lower than in prior decades, a recent report from the SPLC indicates that the number of hate groups in America is rising.
Since the election, the president had multiple opportunities to address concerns over rising anti-Semitism. Until last week, though, he either downplayed or denied the rise. Last week, when a Jewish reporter asked Trump explicitly about the recent spike in bomb threats against JCCs, Trump cut him off and told him to sit down. He also told the reporter his question wasn't fair and claimed to be the "least anti-Semitic person that you've ever seen in your entire life."
Trump's denouncement of anti-Semitism follows the controversy last month over his statement in honor of International Holocaust Memorial Day. The statement did not explicitly mention Jews or anti-Semitism, setting off a wave of criticism from both Democrats and Republicans. The ADL also ripped Trump for the statement, which it called "puzzling and troubling."
"I think President Trump, from both a pragmatic political standpoint but more importantly from a socio-historic standpoint, needs to recognize how damaging anti-Semitism in particular is on a society," Levin told HuffPost in an interview last week following the fourth wave of bomb threats. "Anti-Semitism strikes at some kind of unraveling of the moral fiber of a country and its ability to be religiously pluralistic. It doesn't stop with Jews ― it will often start with Jews, but it doesn't stop with Jews."
This story has been updated to include information about threats received by centers later Monday afternoon.
Before You Go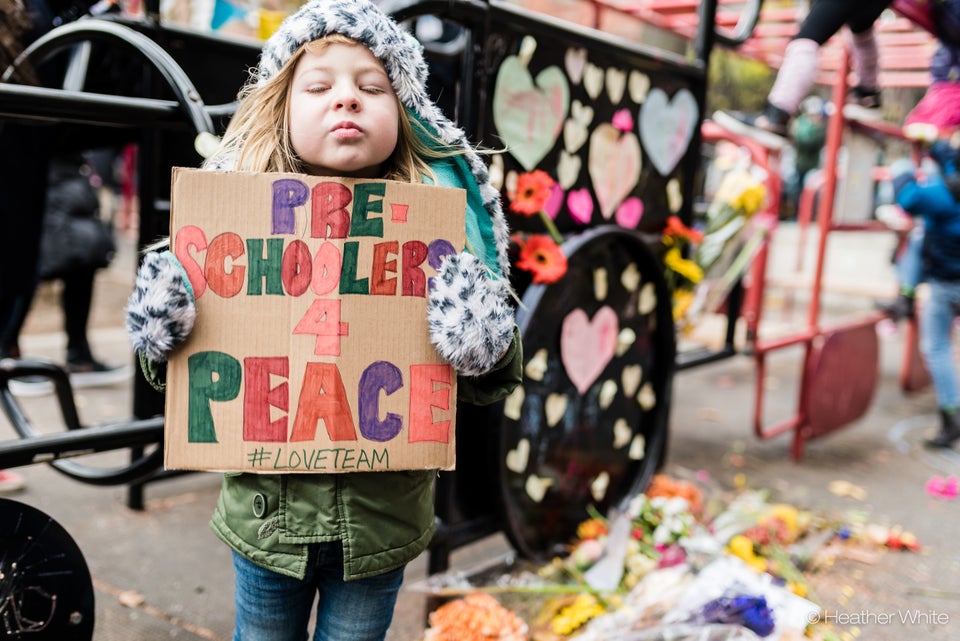 Kids Standing Up To Hate At Adam Yauch Park
Popular in the Community