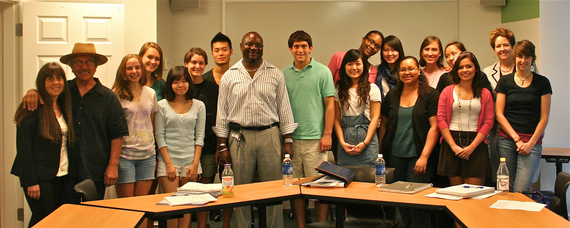 Back in 2003, exoneration stories of the wrongfully accused did not seem quite as common or frequent as they might today. But that's not the only reason that the story of Darryl Hunt struck me then, as it does now, as extraordinary.
On Christmas Eve of that year, authorities in Winston-Salem, North Carolina, where I was based as a reporter for the local NPR station, released Hunt after nearly 20 years in prison for a rape and murder he had not committed. He spent some nine years in prison even after DNA seemed to remove him as a suspect. Eventually, through the relentless work of local and national attorneys and a stunning, award-winning series of articles in the Winston-Salem Journal, Hunt won his release and, a couple of months later, exoneration for the crime. He later received a monetary settlement from the City of Winston-Salem and became the subject of a documentary and the recipient of many awards and much acclaim.
But he recently died. He was 49. Authorities don't yet know why but believe it was suicide; it could have been cancer, but it also could have been related to a mental illness, like depression. He was found dead in a parking lot, alone.
Before I delve into the sad, albeit powerful, metaphorical meaning of that image, I feel called to describe another, perhaps more powerful image, from that Christmas Day homecoming in 2003. As I reported on Hunt's freedom at a press conference, another reporter asked what he most looked forward to, now that he was a free man. "I just want to watch the sun go down," he said.
In eight years as a journalist, I filed hundreds of stories, with thousands of interview quotations, but that one stands out among all others I heard. The room audibly exclaimed, thunderstruck that a man who could have easily lashed out in anger instead found the space to appreciate something which many of us, myself included, take for granted in our daily, free lives--to admire a sunset.
The image at the top of this piece says a lot. Taken the day Hunt was finally exonerated, in 2004, it clearly shows a man overcome with emotion--probably the "happy tears" many of us shed in times of great triumph. But it may also have revealed the fears of a man whom the state robbed of nearly half of his life, who had no idea what to do now, or where to turn for help.
That wasn't the only thing that kept Hunt up, evidently. He had gone through marital separation, even an order of protection filed against him (later withdrawn). At a vigil, supporters contended that "the burdens he had had become more intensified recently; they were constantly with him. He had been through so much." Another said, "What didn't get calculated into the equation was how he internalized his fight with the legal system. It became a form of internal obsession to not let happen to others what happened to him....Darryl had a lot of pride, dignity and didn't put himself out there for his own care. He never took the time to get the counseling that someone who had his experience needed...He was trying to make some sense out of his life..."
I can't blame him. Hunt was imprisoned from roughly age 17 to 36. I am 37, and while I have discovered some important answers as to my purpose in my life (loving spouse and father, committed public servant, etc.), I am still searching, and I had nearly 20 more years of freedom than Hunt did.
I don't know why Hunt did not get counseling, but he undoubtedly needed it. He admitted he would hesitate each time he opened his household door, even years after his release, thinking it would open automatically, as it did in prison. "And after he leaves the house and before he returns, Hunt drives to an ATM. It's not that he needs money in his pocket. He's focused on getting a receipt and he takes comfort in knowing that his picture is taken. Those two things -- a receipt and his picture -- serve as his alibi just in case Winston-Salem police officers pick him up and throw him in jail."
We will have to wait for the answers to many questions about Hunt's death. But my question goes beyond him: what does a society, and a justice system, which egregiously mistreats a man like Hunt, owe him in return?
So much of our justice gets practiced in a "retributive" form. Someone is accused of harming another person, and a group of jurors legal professionals decide that person's guilt or innocence, often without any input from those directly involved in the alleged act. Guilt means some form of punishment--but seldom, if ever, any help for the victim or that victim's family.
Restorative justice, on the other hand, understands that a crime impacts more than a single victim, and the offender bears responsibility for their actions. Communities can come together and determine how to make each other whole, whether through deeds or words, and not simply lock up a perpetrator and say goodbye for life.
And what if the alleged perpetrator becomes the victim, as Darryl Hunt did? Yes, the City of Winston-Salem and the state of North Carolina paid Hunt a total of nearly $2 million, and the City apologized, and those gestures matter. But neither they nor countless foundations or individual donors opened their wallets for Hunt's work with ex-offenders. And Hunt, like the ex-offenders he wanted to help, didn't know where to turn--for others, and for himself. To a degree, Hunt had seemingly been kidnapped by his past, but money couldn't pay the ransom. He needed something more--he needed someone, or perhaps many someones, to help him chart his future--a future of physical and mental health and personal fulfillment. He couldn't find it. And he died alone.
Should someone imprisoned--rightfully or unjustly--be given more care in prison than in freedom? If that question doesn't impact you, consider that you (and the rest of the public) spend more than 20 times the amount of money on imprisoning someone than is spent out of jail on probation for that same person. With more than 40 percent of offenders re-offending within three years, according to one Pew study, it seems clear that former inmates (be they true ex-offenders or wrongfully imprisoned) cost much more to punish than to help. What could we do to help them live freely? How can we invest in their freedom, beyond paying for their punishment? And what do we owe someone we wronged beyond belief--stealing decades of life away?
Darryl Hunt's lonely death pains me, not because I knew him personally, but because I can't forget his words--his desire to savor a sunset as his first act of freedom that cold Christmas Eve more than a decade ago. I also can't forget his story--either the story of his imprisonment or the story of his next chapter, one tragically left unfinished.
We run from that which makes us uncomfortable, and those convicted of crime can easily give us that feeling. In the case of Darryl Hunt, I plan to sit with this discomfort and ask myself what care a free person deserves--no matter their past.
Calling all HuffPost superfans!
Sign up for membership to become a founding member and help shape HuffPost's next chapter