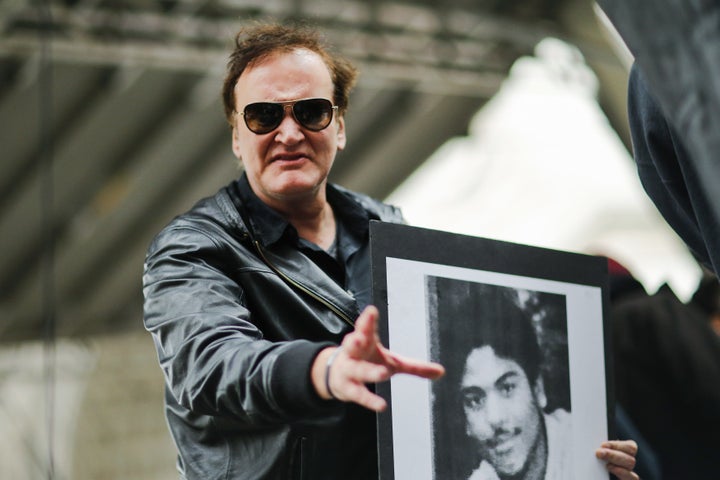 Philadelphia and Los Angeles police unions joined a call started by their New York City counterparts to boycott the films of Quentin Tarantino for allegedly anti-cop comments he recently made.
The director of "Pulp Fiction" and "Django Unchained" came under fire after speaking Saturday at a Rise Up October demonstration in Manhattan against police brutality.
"When I see murders, I do not stand by," Tarantino said. "I have to call a murder a murder, and I have to call the murderers the murderers."
"Tarantino has shown through his actions that he is anti-police," said John McNesby, president of the Philadelphia union, in a statement. "Mr. Tarantino has made a good living through his films, projecting into society at large violence and respect for criminals; he it turns out also hates cops."
The Philly union's board of directors voted unanimously to boycott Tarantino's work, McNesby said. Tarantino's next movie, "The Hateful Eight," is scheduled for release on Christmas Day.
The union officials considered the timing of Tarantino's remarks to be insensitive. He spoke at the rally days after NYPD Officer Randolph Holder, 33, was fatally shot on duty in Manhattan's East Harlem neighborhood.
"We fully support constructive dialogue about how police interact with citizens. But there is no place for inflammatory rhetoric that makes police officers even bigger targets than we already are," said Craig Lally, president of the Los Angeles Police Protective League. "We fully support this boycott of Quentin Tarantino films. Hateful rhetoric dehumanizes police and encourages attacks on us. And questioning everything we do threatens public safety by discouraging officers from putting themselves in positions where their legitimate actions could be falsely portrayed as thuggery."
Attempts to reach Tarantino through his agent were unsuccessful.