DEL RIO, Texas ― The Trump administration's scorched-earth tactics against unauthorized migrants, most potently symbolized by its family separation policy, have emboldened a growing number of Democrats to embrace the idea of abolishing Immigration and Customs Enforcement — a complex policy proposal that would reassign the functions of an agency that employs tens of thousands of officers.
But when it comes to challenging the immigration prosecutions that allowed the White House to split up more than 2,000 families at the border — a simple proposal that would involve repealing a single, 120-word federal criminal statute — Democrats have found no such consensus.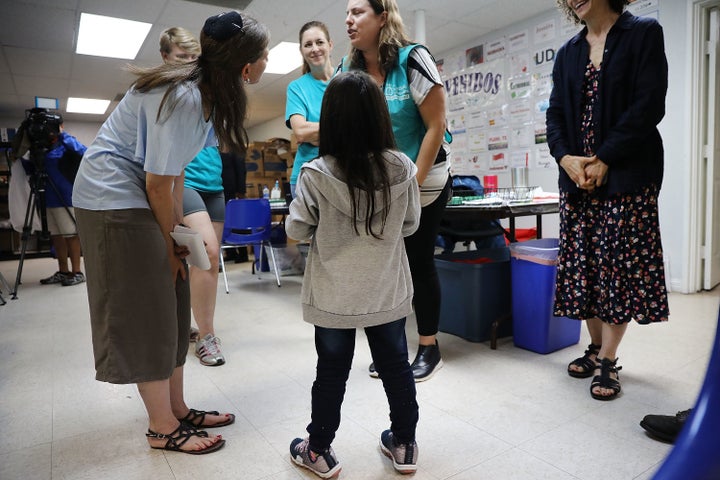 Crossing the border without authorization is currently a crime ― punishable by up to six months in jail the first time and up to 20 years for repeat offenders. That leaves federal prosecutors spending their time funneling people into jails who will then face the civil immigration system anyway. Such cases have consistently accounted for about half the federal criminal caseload over the last decade ― an entirely duplicative system of immigration enforcement. When the White House began separating families en masse, it relied on that criminal statute.
HuffPost asked more than a dozen prominent Democratic members of Congress, including some of the most liberal on immigration matters, whether they favored repealing the law that criminalized unauthorized immigration and made Trump's family separation policy possible. Most declined to respond. Only one, Rep. Raul Grijalva of Arizona, said yes.
As the representative for the Tucson area, Grijalva is familiar with the system of immigration prosecutions that swallowed up half the federal criminal docket years before Trump took office. The magistrate courthouse there has had the capacity to charge and convict up to 70 migrants per day for years.
But his Democratic colleagues, consumed by the politics of family separations at the border or the urgency to find a solution for Dreamers after the White House repeal of the Obama administration's 2012 Deferred Action for Childhood Arrivals program, rarely discuss reforming the migrant prosecution system. He suspects that even if they did, getting people to support it might present a challenge.
"Nobody wants to be like, 'Oh, I want to undo a law that has been around forever,'" Grijalva said.
Indeed, some Democrats, like Sen. Catherine Cortez Masto of Nevada, who vocally opposes the Trump administration's family separation policy, see little problem with criminalizing unauthorized migration.
"We always want to have that be part of criminal law," Cortez Masto said of the statute criminalizing unauthorized border-crossing, noting that she used to serve as her state's attorney general. "I respect strong borders. What we should be doing is assuring that we are not prosecuting people seeking asylum."
That view, however, is increasingly out of step with a growing grassroots movement to upend ICE and separate the criminal justice system from civil immigration issues.
"Separating families with no plan to reunite them is a nightmare," Judy Greene, the co-author of a Texas Observer article arguing that Congress should repeal the statute making unauthorized border-crossing a crime. "And the root of the problem is criminalization."
Even some former law enforcement officials have grown skeptical of spending so much time jailing migrants over misdemeanors. A group of 75 former U.S. attorneys penned a letter calling Attorney General Jeff Sessions' "zero tolerance" policy of indiscriminately prosecuting border-crossers an expensive and dangerous way to traumatize children. Alonzo Peña, the former deputy director of ICE, called the zero tolerance policy "totally ineffective."
"You're spending time on really senseless, useless cases that in no way are going to improve national security or public safety," Peña told HuffPost. "How's that going to serve justice?"
A Segregationist Legacy.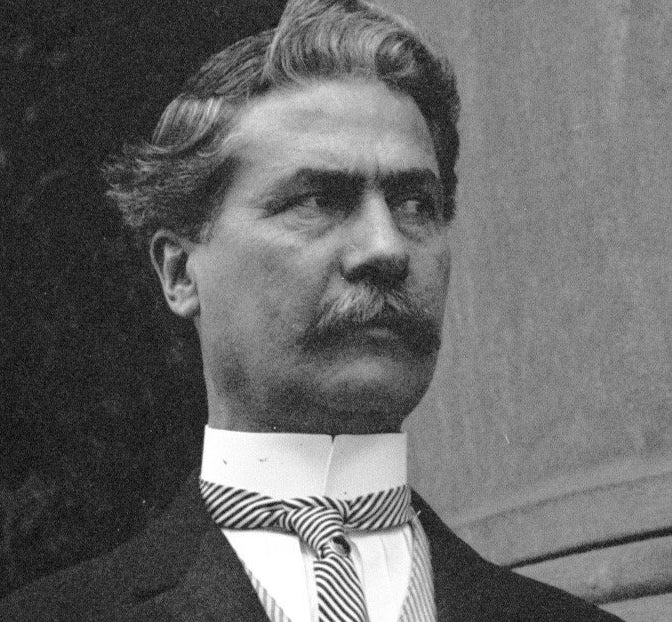 The statute criminalizing the act of crossing the border outside a port of entry traces its origins to 1929, when it was put forth by U.S. Sen. Coleman Livingston Blease ― a segregationist and immigration hard-liner from South Carolina known for publicly celebrating the lynching of black men with a ritual dance.
Blease's proposal to criminalize unauthorized immigration immediately led to an expansion of the federal prison system, according to the book City of Inmates by Kelly Lytle Hernandez. Congress later enshrined the criminal penalty for crossing the border illegally in the Immigration and Nationality Act of 1952.
But the modern practice of prosecuting migrants for illegal entry in addition to putting them through deportation proceedings traces its origins to the three-story brick courthouse in downtown Del Rio, Texas ― a 36,000-resident border town.
In 2005, the area around Del Rio saw an uptick in the number of Central Americans crossing into the United States. Unlike Mexican nationals, Border Patrol could not immediately repatriate them ― the U.S. lacks international agreements with countries beyond its borders to carry out such swift deportations. But the area had exhausted its detention bed capacity, so agents had little choice but to release many of the people they arrested with notices to appear in immigration court.
To find more bed space, the departments of Justice and Homeland Security teamed up to create a new initiative: Operation Streamline. Under that program, the Justice Department would prosecute dozens of migrants at a time to funnel them into pretrial criminal detention in jails run by the U.S. Marshals Service before sending them for processing in the civil immigration system. A plaque on the first floor of the courthouse hung in 2008 and signed by former Commissioner of Customs and Border Protection Ralph Basham commemorates Streamline's founding, praising the program as a "successful collaboration to protect the borders of the United States while safeguarding the rights of individuals to due process."
But what began as a narrow project to create detention bed space in a single city quickly morphed into a border-wide initiative. By 2009, the year after the economic crisis wreaked havoc on the U.S. economy, the number of border arrests had plummeted to fewer than half of the 1.2 million registered the year Streamline started. But the number of immigrant prosecutions kept rising, peaking at more than 90,000 cases in 2013, and leaving President Barack Obama with the unexpected legacy of locking up more people of color on federal criminal charges than any president in recent history.
The federal government shelled out at least $7 billion over the program's first decade in incarceration costs alone, according to the 2016 book Indefensible, co-authored by Greene. That figure that doesn't include the costs of judges, public defenders, transportation and other services needed to make those redundant prosecutions happen. Grassroots immigrant rights activists routinely protested the prosecutions, particularly in Tucson, but the trend went largely unquestioned by Democrats during Obama's presidency.

The disconnect between the plummeting number of illegal entries and the federal government's enthusiasm for prosecuting that crime is now clearly on display in Del Rio, where the system began. The day after President Donald Trump signed an executive order halting his administration's family separation policy, 26 migrants wearing orange pants, dark blue V-neck shirts and surgical masks sat on the benches before U.S. Magistrate Judge Victor Roberto Garcia at the federal courthouse in Del Rio. The shackles restraining their hands and feet clanked when they stood to face their charges.
Border Patrol agents had arrested the migrants and referred them for prosecution. A single public defender handled all the cases, offering some variation of the statement that his clients had come to work and send money home to spouses and children back home. None had been separated from their children before appearing in front of the judge.
Democrats Increasingly Like The Slogan But Lack A Vision.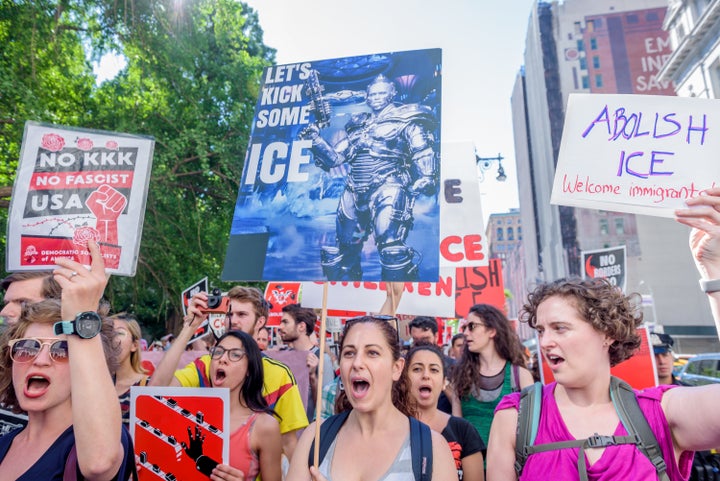 The White House's stance on these sorts of prosecutions is clear: Vigorous enforcement of immigration as a criminal matter deters would-be unauthorized migrants.
Multiple independent studies undermine the conservative contention that immigration prosecutions act as a deterrent, but the conservative position is at least consistent. The Democrats' stand on migrant prosecutions is not. Obama embraced them with little complaint from his colleagues in Congress. Democratic presidential candidate Hillary Clinton took no position on the issue during her 2016 campaign, even as Trump promised to increase mandatory minimum sentences for people convicted of illegal re-entry.
And unlike the White House, the minority party in Congress appears largely unfamiliar with the issue. Indeed, rallying around the cause of abolishing ICE in the wake of the family separation policy points to confusion about how the immigration enforcement system works.
Sen. Dick Durbin (D-Ill.), for example, derided ICE as a "group of incompetents" in an interview this week with CNN, saying the agency was "focused more on toddlers than on terrorists." (A spokeswoman for Durbin's office clarified he doesn't favor abolishing the agency.) But ICE, which is responsible for detaining and deporting migrants, had little to do with carrying out the family separation policy, which fell primarily to Border Patrol and the Justice Department.
The call to dismantle the ICE, first cogently argued by Sean McElwee in the pages of The Nation, predated the official announcement of the family separation policy. McElwee contended that conflating immigration enforcement with the wider goal of national security, as Congress did when it created ICE and put it under the Department of Homeland Security in 2002, undermines human rights. It logically follows, according to McElwee, that Democrats who embrace the vision should also support decriminalizing migration.
"'Abolish ICE' is a demand, and the correct and appropriate way for the Democratic Party to start meeting that demand is to start coming up with policies," McElwee said. "These policies are explicitly racist and premised on white supremacy."
But many Democrats who jumped on the #AbolishICE bandwagon following the outcry against the family separation policy have yet to articulate a vision of what they'd replace it with, if anything. The first member of Congress to put forward a bill contemplating the end of ICE was Rep. Mark Pocan (D-Wis.), who announced his proposal after visiting McAllen, Texas, amid the outcry over family separations. His bill would establish a commission to recommend a substitute for the agency, relieving him of the responsibility of floating a proposal.
Other prominent Democrats, including Sens. Elizabeth Warren (Mass.) and Kirsten Gillibrand (N.Y.) and New York City Mayor Bill de Blasio, have floated an ethereal proposal to scrap the agency and replace it with some unspecified, better thing. Sen. Bernie Sanders (I-Vt.) tweeted a still more vague yet somehow more expansive vision Tuesday, calling for "restructuring the agencies that enforce our immigration laws, including ICE."
Such aspirationalism allows establishment Democrats to harness the power behind the idea of abolishing ICE without taking a meaningful position on the underlying goal that animates that movement ― to radically undercut the government's deportation efforts.
But when it comes to taking a position on the prosecutions the White House used to separate thousands of families at the border, most Democrats in Congress don't even have a vague aspiration to tweet. They have no position at all.
Popular in the Community