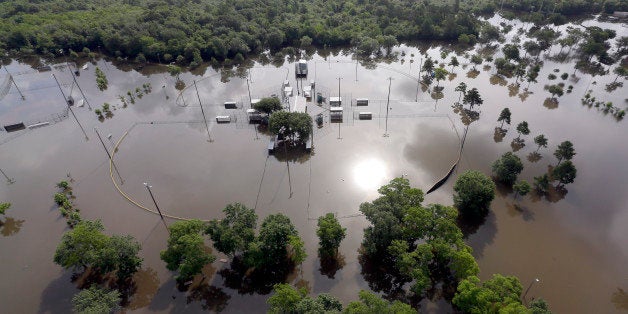 (Updates death toll, adds dateline, byline)
By Lisa Maria Garza and Jim Forsyth
DALLAS/SAN ANTONIO, May 30 (Reuters) - Rain caused flooding on roads in parts of Texas on Saturday, an official said, after severe weather killed at least 23 people during the week and prompted U.S. President Barack Obama to declare a disaster in the state.
Texas has endured record rainfall in May. This week, flooding turned streets into rivers, ripped homes off foundations, swept over thousands of vehicles and trapped people in cars and houses.
Obama signed a disaster declaration late on Friday to free up federal funds to help rebuild areas of Texas slammed by the storms. No estimate has been given for the damage in Texas.
The body of a woman was recovered on Saturday from the Blanco River at San Marcos in central Texas, the city said on its Facebook page. The death was the 23rd from the flooding.
Flash flood warnings were in place for several counties in North Texas, including Dallas County.
The National Weather Service forecast scattered thunderstorms along a cold front stretching from Texas to the northeastern United States.
There were reports of vehicles stuck in flooded streets in Rowlett, a community of nearly 60,000 northeast of Dallas, said National Weather Service Meteorologist Jamie Gudmestad.
Carrollton Police used a raft to help evacuate residents from Sandy Lake mobile home park, which was submerged from the weekend's torrential rain.
A Lubbock policeman directing traffic around flooded areas was seriously injured when his patrol car was smashed into him by a suspected drunk driver, the department said.
Rivers and lakes around cities such as Houston, Dallas and San Antonio continued to swell above dangerous levels, officials said.
In neighboring Oklahoma, a man was shot dead by at least one state trooper when he fought with officers after being told to get away from rising water on a road near the town of Okmulgee.
In Wharton, about 60 miles (100 km) southwest of Houston, water has been rising steadily since Thursday when the Colorado River began flooding into the city and the mayor issued a mandatory evacuation order for about 900 people living nearby.
"We are hanging in there," said city spokeswoman Paula Favors. "No homes have been affected yet, we have about 35 homes evacuated." (Reporting by Alex Dobuzinskis in Los Angeles; Editing by Raissa Kasolowsky and James Dalgleish)

Popular in the Community